Joined

Oct 29, 2014
Messages

16,456
Reaction score

34,997
Location
Normally, I write my trip reports a the morning after complete a day. However, after 12 hours travelling and 7 time zones, the day just seems to have been erased - or at least blurred. It's sort of weird to lose a day without alcohol being involved.
The whole trip started on the heels of the Denver Meet-up. We flew home, I headed into work while
@Mrs Poker Zombie
ran some laundry and finished the stitching on the hoodies for the Stockholm Syndrome.
Once I finished my shift it was back home to pack and get up in the air. If you followed the Denver meet-up thread and then the Stockholm meet-up thread, you will see me wearing a lot of the same clothes. This isn't because I have a limited wardrobe, it's because it's really easy to dump the laundry basket into the suitcase and say "that's 4 days!"
The flight to NY was uneventful - and by uneventful I mean that we weren't bringing the in-flight poker table this time. Different countries have different rules regarding "gambling devices", and the last thing I want is to run afoul of some totalitarian law that takes away our airplane table. Also, at $100 for an extra checked bag meant that we were going to use a carry-on with clothes, shoes, and little things like charging cables, instead of a table.
Of course when we board to go to NY, the plane is full and they ask passengers to check their carry-ons. We do, because they offer to do it for free, and
we already have 2 checked bags, so what's one more?
They also need someone to move to the Economy plus seats because a couple in the exit row had a language barrier. I know that when you request a seat in the exit row, there is a line that asks if you understand English. Of course that line is in English, and anyone can check a box. But because we volunteered, we got the extra leg-room. #PocketAces
In NY, things started to go wrong. First our plane was delayed. The airplane was arriving from Ireland, but due to a "medical emergency", it landed in Canada, then had to be sterilized. I don't know what happened, but I'll bet'cha it was gross. 28 years in emergency medical service brings to mind many calls where I just thought to myself, "they lost grandma, but they're going get a new carpet, so they got that going for them."
The hour-long delay led to some in terminal heads-up poker in the terminal. Even without a table, I still have emergency cards, which I have carried ever since
@courage
's meet-up.
OK,
some
alcohol was involved in the blur of the day.
Back into the air we flew over Greenland around midnight, and directly over Reykjavik. I waved at
@Gunnar
, but he didn't wave back.
Probably because of the cloud cover - or the late hour.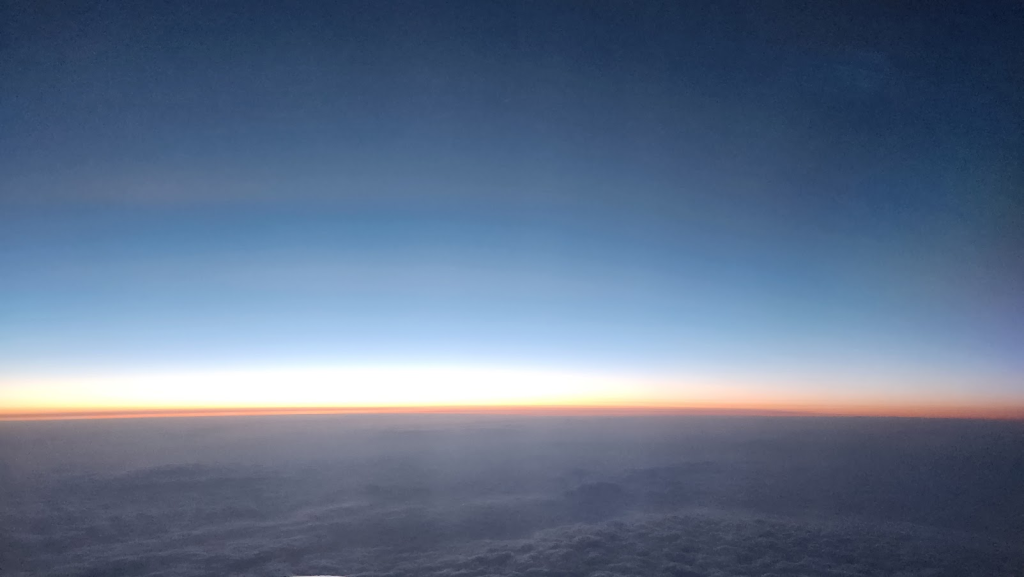 Yes, this is midnight. Welcome to the land where the sun doesn't set.
Finally we get to Sweden.
This place has water
everywhere
. I now know why Greta Thunberg is such a vocal advocate against global warming. If my city was just a toilet-flush away from sinking, I'd be concerned about rising ocean levels too!
Then the bad beats hit us. Only 2 of our 3 checked bags arrive. We check United app, and it's clear. Our carry-on that we happily checked - it was in New York. Clothes, charging cables.
We already have 2 checked bags, so what's one more?
Yeah, there's a reason I turned that text green. Envious of everyone that didn't start their vacation with 2 hours in the airport trying to figure out who to submit a claim to. The correct answer is "not in this terminal".
Yep it starts here. Departures. Because that is the first place I would think you should go to file a claim for missing luggage.
We file our claim, then head out. Well, there's that juggle with the renal car agency where we book a car, but because we used a digital credit card, we couldn't present the card - because that's how digital cards work. I have a different card, but that requires them to rebook the car under the new card - at a much higher rate. But we are finally underway. First stop, lunch. We confirm that in Sweden, a hot dog is not a sandwich.
It's a wrap - with bacon and mashed potatoes and lettuce.
With my phone (with our directions) down to 23% and without a charger, we scope out a mall in an attempt to find a kiosk or a store that sell cell phones, as they would likely have a charger we could plug into the car. Sure enough we find a mall and hurry over. I glance at my phone: 8%. We better be right, because only have one shot. Sure enough, there's a place that sells phones- and USB cables! With victory on our side we stroll back to the car and find a parking ticket, and learn that Sweden has places (like this mall) that require the use of a "parking disk". Since this is a rental car, you know that they will stick us with a fee on top of the fine, so we have to figure out how to pay this.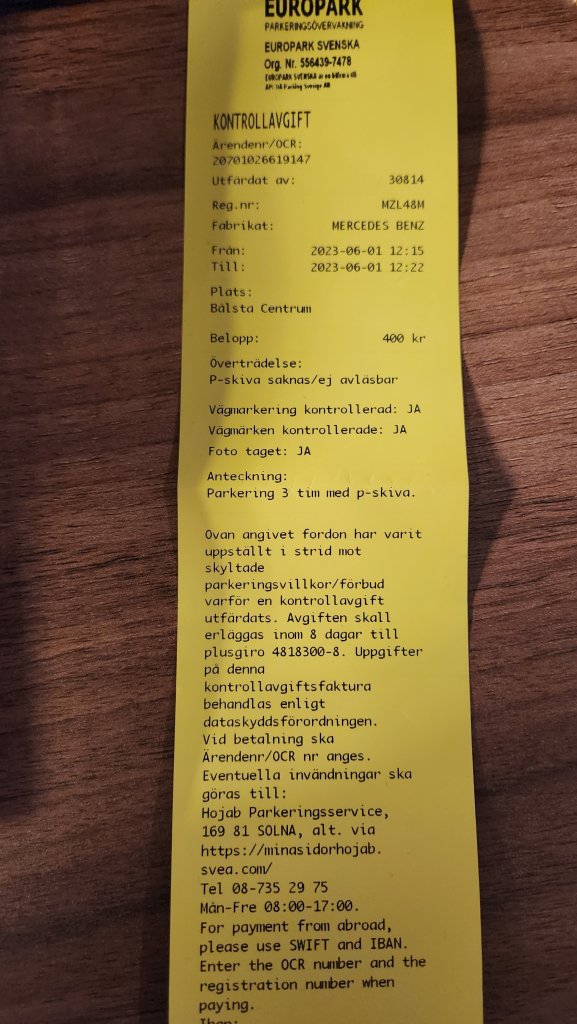 You wrote the whole ticket in Swedish, except the part where you send payment from abroad? #PocketAcesCracked
However, the phone is now charging, and we take a scenic route to the hotel.
We planed to also visit a castle, but with all the delays, it's late enough to check in and grab a 30 minute nap.
We're off to the meet-up!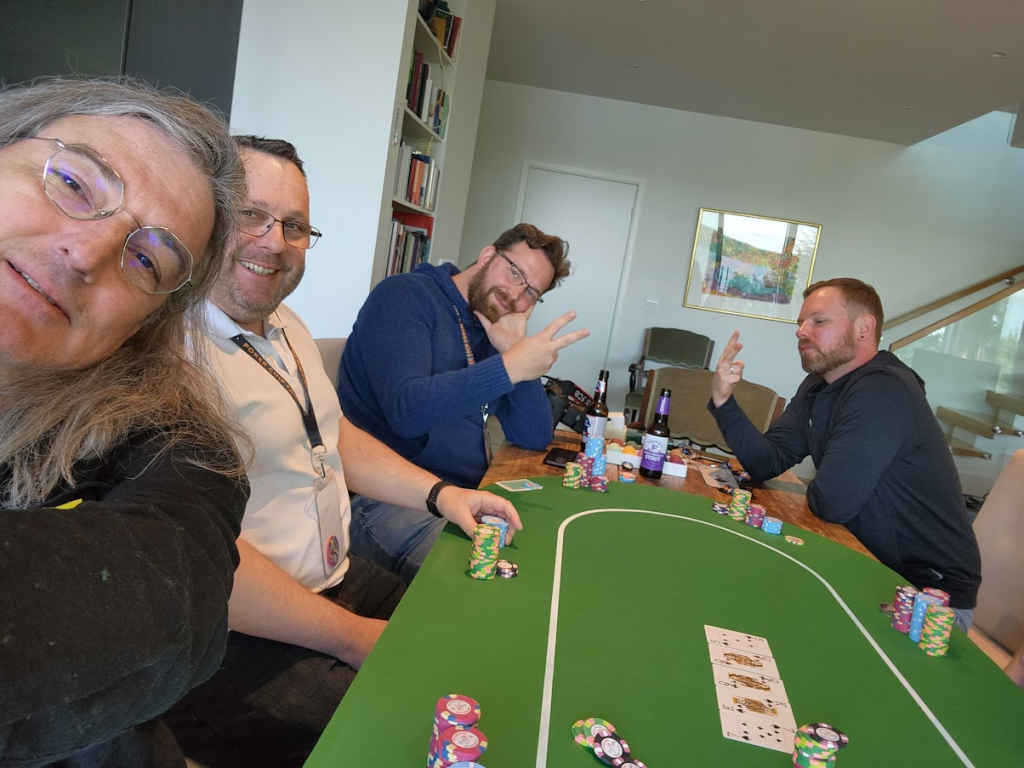 Chippers from USA, England, Germany, and Sweden! I think this just beat any meet-up for number of different nationalities! Started play on a Paris set.
Pizza outside of the USA can get weird.
But delicious!
Ended the night on Proteges with Matsui plaques.
Card capper from
@Machine
, because he gave it to me (pot splasher) in Denver, so it was still in my suitcase. You are now internationally known.
The Zombies call it a night "early", but it's been 37 hours with nothing more than brief naps. It only takes a couple more hours to get to bed because of limited parking at the hotel - and we do not want another ticket! Hint: parking at the hotel is free, but only certain spaces, which are full. there are directions on how to pay, but they are in Swedish. Hello, Google Translate app!