Joined

Feb 19, 2014
Messages

563
Reaction score

807
Location
(Trip Report continues in Posts 8 & 9 in this thread)

TRIP PREPARATION
I bought non-stop round trip flight tix on Oct. 19 for $260 on Southwest out of Flint, Mich. for the Jan. 12-18 Vegas trip with father-in-law (AKA Beeman) and brother-in-law (AKA Ace). This was the lowest ticket price I had seen after checking for the previous few weeks, so I jumped at it. In comparison we've had to pay between $300-400 in previous years. I'm staying at the Flamingo while Beeman and Ace are staying at Harrahs. I prefer the Flamingo because of the poker room ($2-4 limit always going, don't think there is any other low limits like that on the strip).
I'm taking my current gambling bankroll of $3K for the 6-day trip. My goal is to average $100 in wins per day (trip goal of +$600); I don't expect any huge wins playing at my financial level but I also don't expect to lose real big either. If I can come home breaking even, I would be satisfied with that too....just don't want to lose too much on the trip.....a bad run over 6 days in Vegas could get ugly for the BR. (I do not count eating and hotel costs in my bankroll, that comes out of family vacation money. Drink tips do come out of my BR as I'm usually tipping with chips from my stacks at the tables.)
DAY ONE
Tue., Jan. 12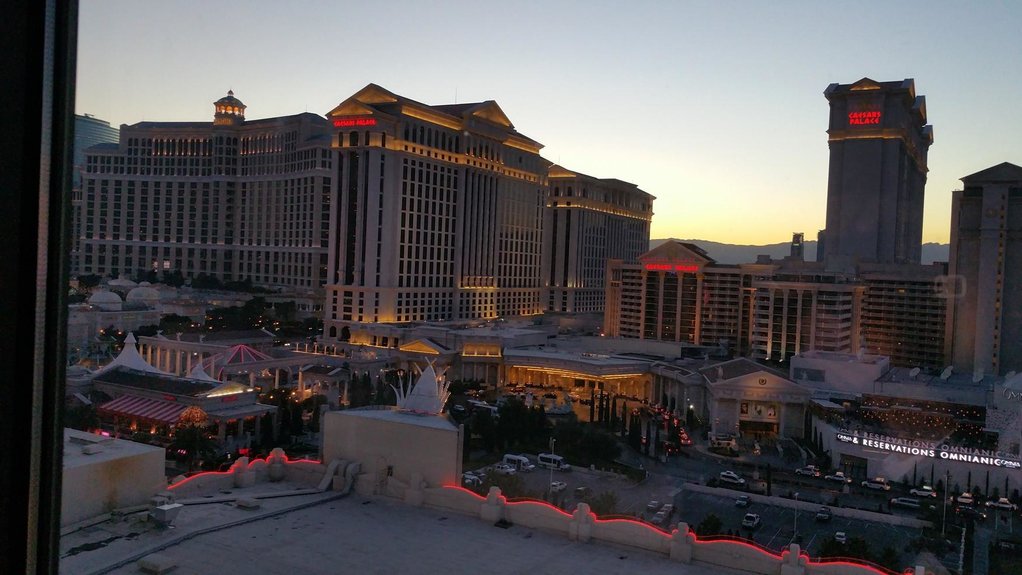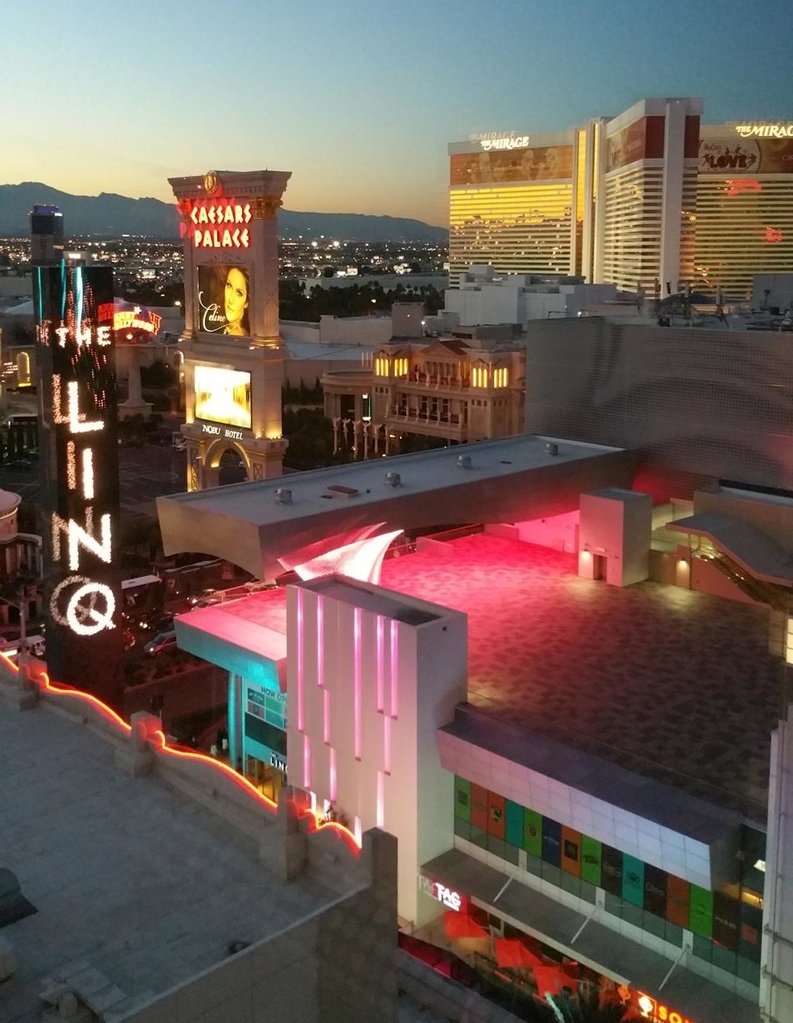 After checking in to the hotel around 5 pm, these were my views from my Fab Room 138 on the 15th floor. After unpacking, I headed down to the casino floor to play some table games with Beeman and Ace; I proceeded to lose about $400 in just 2 hours ($300 at Ultimate Texas Holdem/Flamingo and then another $100 at Paigow/Harrahs). Should have left sooner, but was sucking down a couple Capt. & Cokes and trying to enjoy a little time at the tables with my traveling companions upon arrival in Vegas. Was on tilt, not so much for losing but rather for staying at the UTH table too long, so I went to my room and took a nap.
Woke up at 2:30 am Vegas time and went down to the poker room and played $1-2 NLHE/Flamingo. Bad luck was continuing as I was card dead for 3 hours, before finally hitting two nice hands......flopped Ace high flush for about $150 pot, and later my pocket Aces held up vs. English kid who pushed $200-ish stack all-in with AK pre-flop. (I made a pre-flop raise and then he shoved).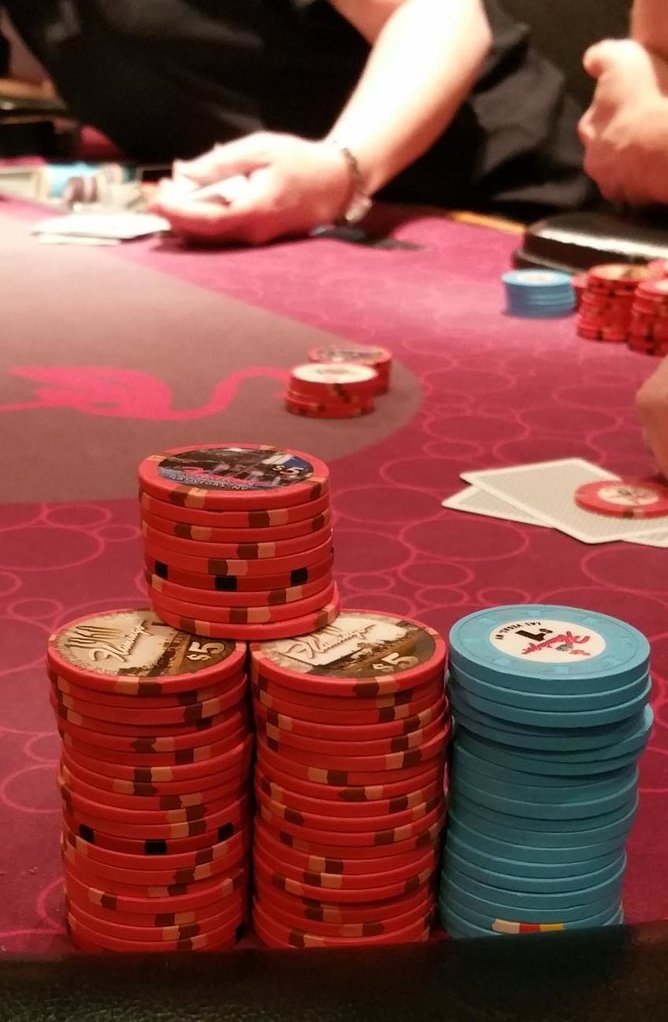 The highlight of the night/morning (and the trip for that matter) came at about 7:00 am, 4 1/2 hours after I sat down at the table. I was really tired and getting ready to leave, but thought I would first take a quick picture of my chip stack (for the "Show Me Your Live Stacks" thread on PCF). That picture is shown above; now as I was checking the picture on my phone and not paying attention to the hand, a big pot was developing heads-up. When the betting ended (all-ins) the guy on my immediate right flips over pocket 3's for quads and yells to his opponent, "Show me your straight flush!". Bingo! He had it.....Bad Beat! Flopped quads lost to a turned straight flush.
Loser of the hand (a guy from Chicago) got $1500 for the beat and another $500 for flopping quads. The hand winner (from Oklahoma City, shown on his cell phone at the end of the table in one of the pictures) won the nice pot of almost $600 plus an additional $599 for delivering the bad beat ($599 not $600, so he doesn't get a 1099 and have to pay taxes). All other players at the table got $150 apiece. My first experience at a bad beat table, nice to pick up $150 and I'm not complaining, just too bad Caesars got rid of the progressive bad beat they used to run a while back with all of their properties ..... that would have been a whole lot sweeter.
Cashed out at 7:30 am; in for $150, out for $320 plus another $150 for being at the bad beat table (minus $15 dealer tip for the bad beat).
Day's total: -$90 (and darn happy with that after my start)
DAY TWO
Wed., Jan. 13
$2-4 LHE/Flamingo was good to me in a 3-hour mid-afternoon session, hit a couple straight & flush draws and had a couple 2 pair hands that held up. As I was racking up, I played one final hand UTG and got rivered as my A-Q (top pair with Q on board) got beat with a Jack on river by Q-J hand (about a $40 pot).
In for $100, out for $215.
The guy who beat me in that last hand (a KC Royals fan) a short time earlier hit TWO straight flushes, both in spades and only about 10 minutes apart. Just unfrigginbelievable! In his first straight flush hand, he had 8-9 spades with a 10-J-Q board. He and his opponent kept re-raising each other about 4 times and our table was ready to celebrate a bad beat jackpot. Mr. KC Royal finally just called and asked his opponent if he had Ace-King, guy shook his head affirmatively but must have misunderstood cuz he only had A-4 spades. Table groaned and we all wondered WTF he was doing by continually raising. He got a little pissy when another player tried to explain that he shouldn't have kept re-raising so many times with the straight flush board showing. Anyway, KC Royal guy got $100 for each of his straight flushes per Flamingo promotion.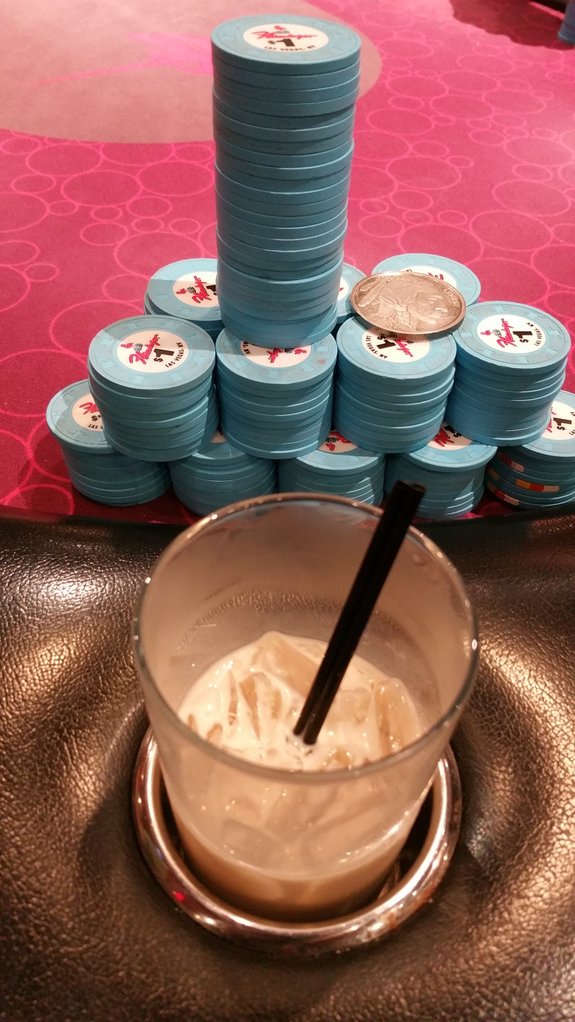 Here is a picture of some of those purdy blue Flamingo singles along with a Kahlua & Cream (actually a little Kahlua and mostly milk....but still a refreshing drink!)
$2-4 LHE/Flamingo (6:30-8:30 pm), again connected on a few hands like flush & straight draws.
Local lady to my immediate right flopped quad 10's and then quad jacks only a couple hands later. I can't believe all these great hands I'm seeing. I have seen three flopped quad hands and three straight flush hands with all of the quad hands missing me by one seat position. I've never seen such big hands in such a short period of time (less than 24 hours).
In for $100, out for $210.
Took a walk down to the Venetian with Beeman to rail Ace for a little while in a $125 NLHE tournament (he ended up chopping for $1680 w/ 4 others) . I lost $20 playing VP. Was very tired and walked back to Linq area and went to bed around 11 pm Vegas time....I'm not as young as I used to be and needed some shuteye after 30 hours in Vegas with only about 4 hours of sleep since my flight.
Day's total: +$205
Trip: +$130
DAY THREE
Thur., Jan. 14
$2-4 LHE/Flamingo for 2 1/2 hours (now played enough hours to qualify for Friday freeroll tournament). Started hot but hit cold streak at end of session.
In for $100, out for $130.
We drove downtown for the day.
Played blackjack at The D, got down early but made a strong comeback. Their
BCC
chips are in great condition and handle and shuffle nicely.
In for $100, out for $200.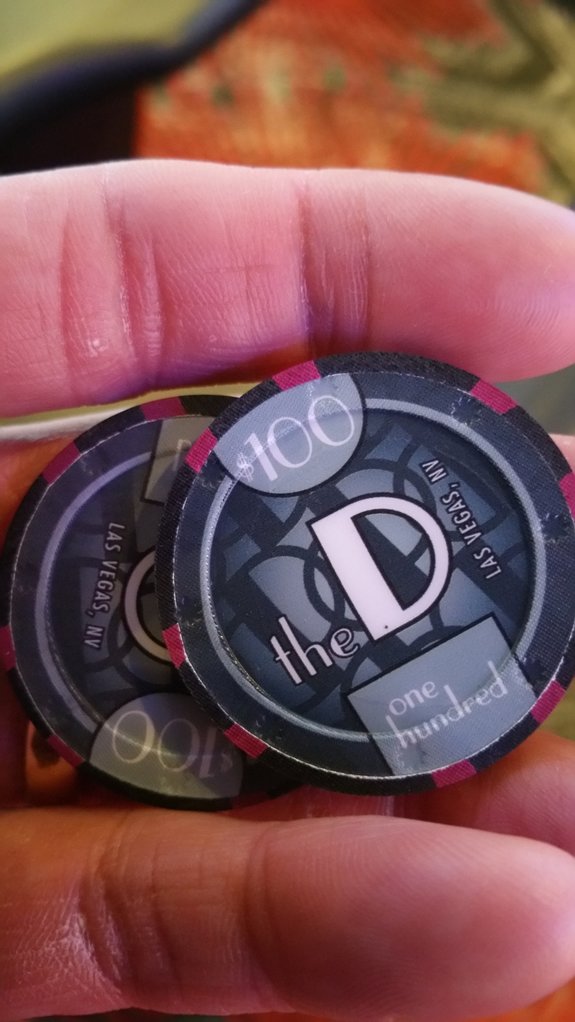 Also played the D's mechanical horse racing game on the top floor, lost $5. Odds are set on various combinations of horses finishing first and second. Each bet is 25 cents. Lots of fun as people were cheering and rooting on their horses.
After walking around Fremont Street for a while, we drove out to Jerry's Nugget in North Las Vegas for a couple hours.
Jerry's is an older, smaller casino, still privately owned. Dealers were all very friendly, sometimes too chatty as I really had to focus hard at the blackjack table at times while they were jabbering. One lady dealer gave me her personal 6-year history of dealing in the place; she had worked at Jerry's prior to leaving for self-employment with her husband (they owned an 18-unit motel for a few years before selling); she got re-hired at Jerry's for the health insurance benefits after her husband (a dealer at the Mirage) was relegated to part time following the poker decline in the late 2000's.
Signed up for a player's card and got free deck of used BJ cards (clipped and marked on a corner with black marker) and a canvas-type bag.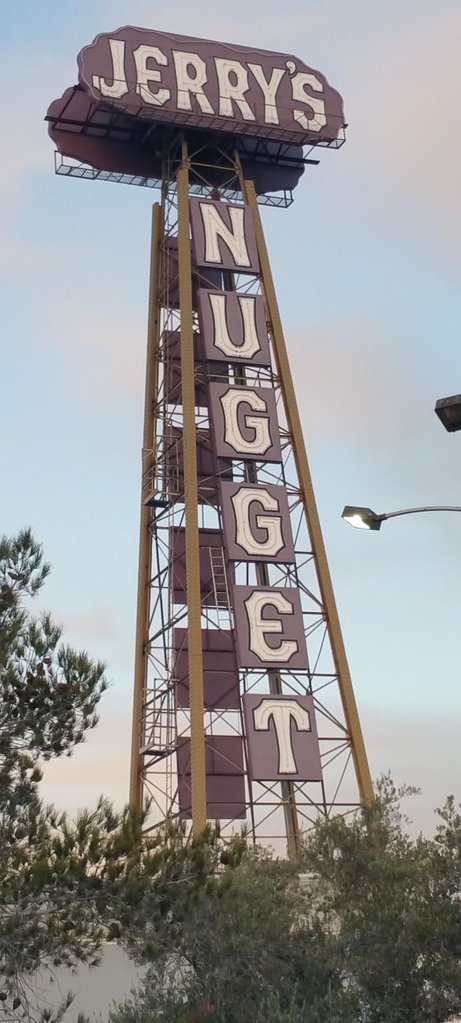 Played some $2 minimum Ultimate Texas Holdem; that game has been kicking my ass, big swings and I've been on the wrong end of it lately; Beeman & Ace love to play it and seem to have better luck at it than I do.
In for $100, out for $6 in souvenir singles.
I slid over to a double-deck blackjack 3:2 table and had a nice run over about an hour's time.
In for $100, out for $350.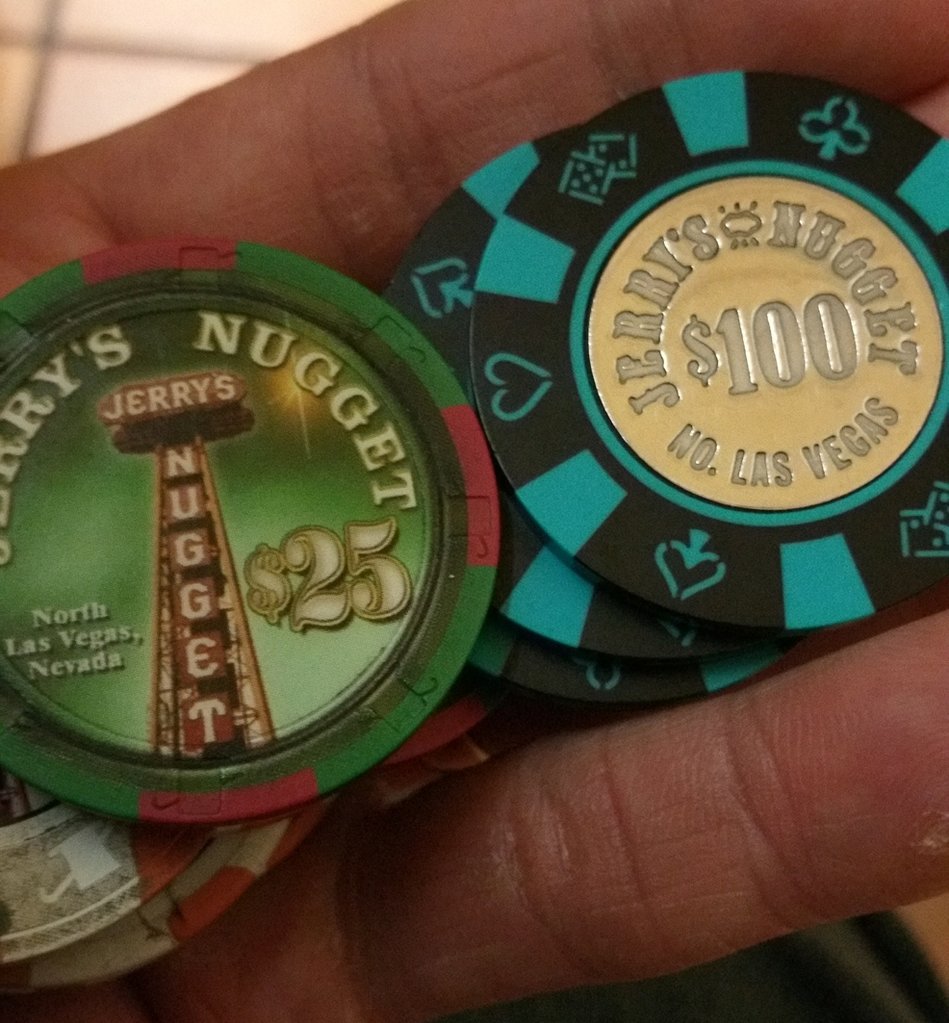 I really like their $1 chips with those sweet edge spots and iconic sign inlay (they were really filthy, but cleaned up nicely); took 6 home with me, probably should have gotten more. They have Bud Jones
CIC
hundos, first casino that I've personally seen
CIC
chips in.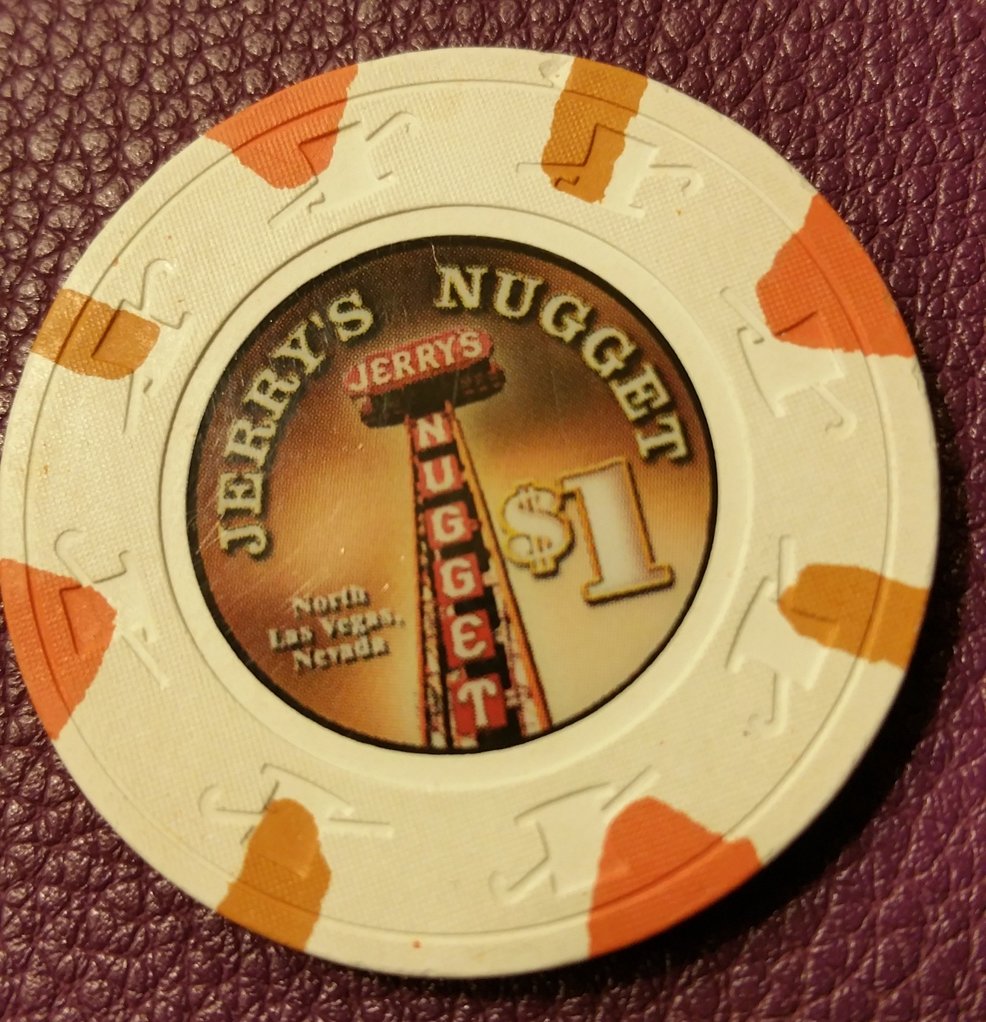 We drove back to the Strip at night and I proceeded to lose $50 at both paigow and single deck blackjack at Harrahs (just 1 win in 8 hands), headed back to my room to call it a night.
Day's total: +$175
Trip total: +$305
Last edited: