Straight Flush
Supporting Member
Joined

May 20, 2019
Messages

9,722
Reaction score

32,096
Location
Well in about a week Brie and I will have been around for 18 months....
Not busy at work today and off the top of my head, I decided to sit down and write out our chip count (we get asked all the time and I really had no clue)
25 playable sets, 14 cash and 11 tourney...that I can think of.
This has been an amazing journey and wouldn't trade a minute! Of course I have never been more broke in my life!! Haha
Yes some of these chips are slugged chips from before the forum.
We don't have a bunch of what I call "meet up worthy chips" but still have accumulated a few quality sets!
Many of my pictures are out dated and sets have grown to the numbers listed. I don't have photos of everything... but figured I would share some!
1) Burbon Basement CPC customs on the B mold by @detroitdad.10/2020
2) PCA secondary cash Paulson Leaded THC,
@FordPickup92
prize possession. The nicest chips in our collection.
3) Aces Casino and Sports Bar, Paulson RHC grand inlay. When we first started chipping... before we even knew what Paulson was, I found one if the $3 Blaze orange chips on ebay and fell in love. The perfect pumpkin chip!
Brie found a complete rack of $5s and a mixed rack of $2s and $3s from one seller on ebay and bought me my first 2 racks of paulson's. Apache still had one 500 chip set avalible at the time and so began my journey for a playable set of casino used Paulson chips!!
4) Garden City Casino, Paulson RHC grand inlay. Again when I first started the serch for the Aces, it wasn't uncommon to come across Garden city chips, loving the weird denoms, I really liked the $2 and $3 chips. Apache had a playable set offered but it was pretty expensive given I was also working on Aces at the time. I found a previous year Black Friday sale that still had $2 BCC, $3 BCC and Paulson $5 chips for $.30/$.30/$.45 a chip and ordered quite a few times because I am addicted to chips and couldn't say no to the price... but I had no idea how much of a pain it was going to be to find the other denoms. Apparently they didn't have very many $1 chips or someone must have a monster limit set out there! Lol
Once I started as with most it became a quest to fill in the holes in the set. Just when you think it's not going to happen and start to give up hope... someone lists the perfect chips you need! I know many out there are still trying to get playable with these... they exist, don't give up hope!!
5) sold off a set here but will save this spot for our JOkers Wild Cali THC set, I will post pics when I get the rest of them in hand and cleaned!
6) BCC Fan of Cards Giant inlay on the Sun mold.
Around the same time as the Aces and Garden citys were happening in our first couple of months, I found a small set of Paulson Royals Flush chips on ebay, basically the same chips other than manufacturer and reversing the order of the cards. Our group only play tourneys, but there has always been talk of maybe playing cash. I thought well... what would be better than a cool real clay set of Micro stakes cash for a family friendly game? I don't ever want to get a family feud going over playing poker, that would defeat the purpose of me being in this hobby all together! I figured if we play tourneys with rebuys for $20... why not try a cash game for the same stakes? We still have yet to play cash with the home team, but we did get these in play at an Ohio meet up this year!
As I continued to serch for chips to add to my paulson set, I quickly found that the BCC version was more readily avalible and the colors are actually much more vibrant on that series as well. Today the set is 2,800 chips and only some of the nickles and dimes are still paulsons, I sold the rest off or traded to get this a majority BCC set!
This set would still not be playable if it wasn't for the help from my good friend
@Chipandchair
who owned a truly amazing collection of these and passed them on to us!
The left stack is for 2 tables of $.10/$.20 blinds $40 buy in, the right stack is for 2 tables of $.05/$.10 $20 buy in.
7) Atichoke Joe's, Carson City Nv. Paulson THC leaded.
Very early on I found myself curious if anyone had ever made nickles of even pennies... seems crazy that a casino would invest that much in tiny micro stakes denoms, come to find out many casinos had nickles but I only found 1 that made pennies... not only that but on occasion they are avalible as singles... so I started buying a few.
It wasn't long that I figured out my ultimate goal would be a rack of these nickles, but who knows how long that would take, obviously I missed the train on racks long before... but did I? Shortly after Spinettis listed a rack of dimes and I thought well... get them while I can, then my buddy David Aka.
@AfterTheFact
shared that he had scores a rack on a recent trip to vegas andcould help me get a rack for myself! Quickly this dream of a 10 year plus quest became reality that it was going to be expensive, but I could actually get a playable set! Spinettis help me have a dream come true in a very short period of time, buti t wasn't cheap or a delightful experience let's say. Still looking to get to (40) of the $1 chips, but as of now it is playable with 20/20/12/20/1 starting stacks for 10 players at $20 each... plus plenty for rebuys with the $4 chips!
I realize the spot progression is terrible and the puke yellow chip isn't the best, but to get it playable I had go go with what I could get! Over time I would love to change to the Peanut House inlayed quarters and beautiful yellow fifty cent chips, but for now it is an all original playable casino used micro stakes set! The prize of my collection in my opinion.
8) casino used $.25 limit set all Paulson THC but not complete.
This was a recent Idea,
@Beakertwang
is really a fan of limit Omaha or pot limit games. After making other sets work at our Ohio meet up last month I decided maybe I should build a fun set that is built for that particular game.
The concept is stolen from
@Irish
with his amazing Taste the rainbow set... each player starts with a rack of different color quarters. Then rebuys will be made (hopefully with $2 HP chips if I ever find any) and possibly a rack of HP $20s down the road.
Again this one is a work in progress... only playable as a quarters game right now, but it will shape up eventually.
9) Ash St Club, Ventura CA, Paulson THC.... our $1 limit set. Always loved green $1 chips, anything with a clover or luck related a bonus, Ventura highway by the band America is my favorite song! How could I not jump at the chance for these.
I wouldn't own a single chip of it wasn't for my buddy Derrick
@juankay20
, the higher denoms in this series are RHC and no decent $20 avalible for a value chip, so I found 2 used not great racks of 98 CDIs to relabel as a $20 Ash st, which is not complete yet! Beautiful colors, still cleaning these. But one of the few sets I would call meet up worthy!
Chips with the future $20 value chip shown.
10) The mixed Hot Stamp cash set, Paulson (mostly THC some of the $1 eldorados are RHC for now to get it playable)
When I was serching for THC fracs on ebay a while back. I came across a lot if the peach/flesh/tan Treasure Chest fracs... I knew it would be the perfect match to the Eldorado $1 chip... I love hot stamps and the old vintage idea of owning a set was worth building something around those chips! Currently it has 2 fracs because we play some $.25/$.50 games and some $.50/$1 games... still working on the treasure chest chips and looking for more town tavern $5s, but definitely one of my favorite sets.
11) Pick Hobson's Riverside Hotel Reno NV. TRK Scrown mold.
I was told by a veteran chipper early on at our first meet up that "it is not the feel of TRKs, it's the bright colors that draw people in"... I wanted to find out for myself, I loved the Bright pink $5 chip here and decided to find a few... he was wrong! Lol I absolutely love everything about old school TRKs, extremely heavy and buttery to shuffle. Definitely getting harder to find and not many amazing chips here but definitely playable for a couple of tables, another nice retro aspect of the collection!
Recently with Bries help we finally got to (60) of the Pick Hobson fracs! Also 124 of the dimes... just need one more!!
12) Santa Ysabel Resort and Casino, Santa Ysabel CA, Paulson RHC
When these chips were announced to be sold as sets, I truly fell in love with the unique colors... we decided this was anand RHC group buy that we were going to put some effort into building a nice multi table set.
We have 4 racks of the Pink chips we are turning into fracs, our only standard RHC inlay chipset in the whole collection.
13) 05 CDI cash, Paulson home mold, fantasy line.
When I joined the forum I like many others was in a quest for Bond chips, I knew these existed but the prices being around $3 a chip... I didn't think I would ever afford a playable quantity... also the cash side of this series I wasn't very fond of the security factor, the most produced fantasy line ever, and my primary concern was the tourney set. Many if these were part of a purchase of a larger set and were mostly just sitting around...
I thought well... if I come up with a relabel for the $20 and $100... then I could build a small set for cash and have a CDI themed evening.. when
@Polochris
listed these customs he had already made fir a resonable price... I knew it was a no brainer!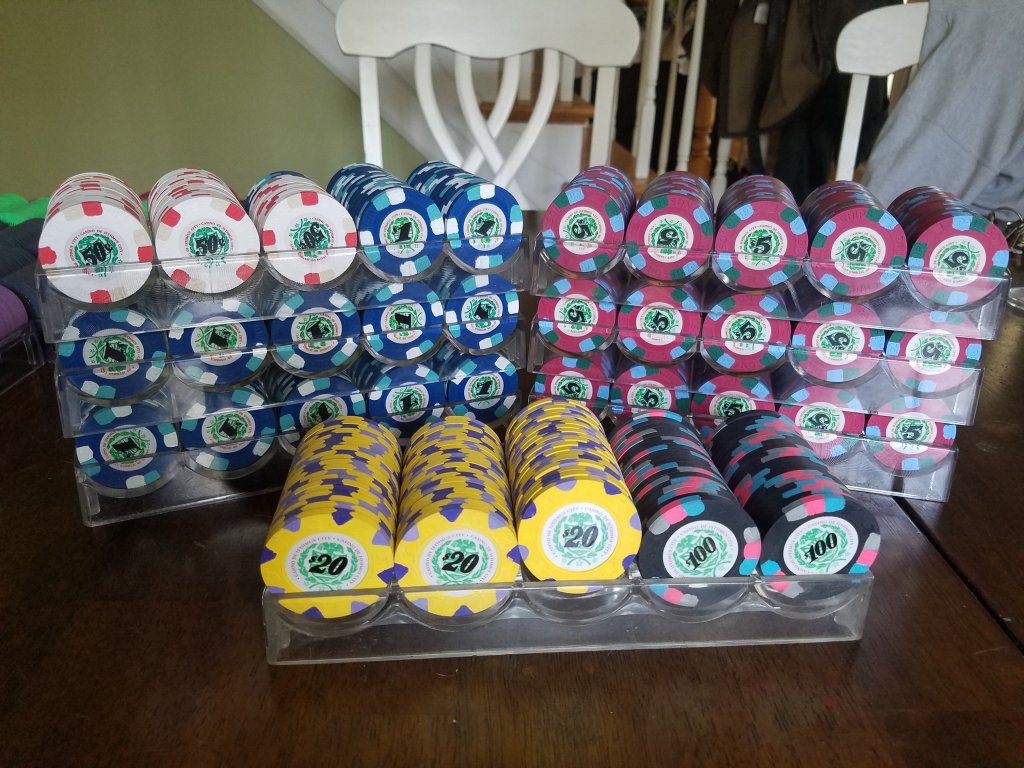 Obviously this has grown given the set numbers in the first pic, We are up to 3 racks of fracs, 3 racks of $1s and 3 racks of $5s.
Well that's the cash sets... post #2 coming!
Fellow Chipper Ben
Last edited: