***THESE WILL BE RECTANGLE SHAPED TOPPERS AS PICTURED. THEY WILL NOT BE OVALS.***
ORDERING OPEN UNTIL WE GET TO 60 TOPPERS. (CAPPED AT 60)
PAYMENTS ARE DUE WITHIN 14 DAYS AFTER I PM YOU THE PAYMENT DETAILS.



Custom 6mm thick PCF Poker Table Toppers with protective edge banding

More pics
https://www.pokerchipforum.com/thre...ppers-order-thread-2-closed.30238/post-599943
Size:
1800mm x 900mm (70.86 in x 35.43 in)
Thickness/Backing:
6mm black foam rubber (mats on amazon and eBay are typically 2mm)
Printing:
Dye Sublimation
Once the order is placed, it takes 1 or 2 days to process and then production (up to 15 days) will start.
Shipping from China to me can take about 32-35 days once they leave port.

Price per mat: $48
(PLUS re-ship to you)
Pricing breakdown:
Mat: $28
Shipping from China: $20 per mat
Re-Ship to you:
Via USPS Priority and Ground Service.
Cost varies by destination.
One topper re-ships in a ULINE 36" x 5" x 5" box @ 10 lbs. (add $1.38 for box)
Two toppers re-ships in a ULINE 36" x 10" x 6" box @ 20 lbs. (add $1.97 for box)
Three toppers re-ships in a 36" x 18" x 6" box @ 30 lbs. (no cost - reusing box)
Find your Zone and shipping price below.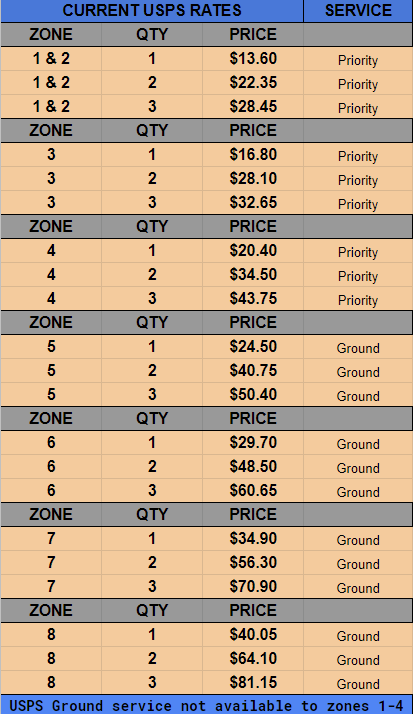 ITALY is same price as Finland
If your county is not listed, please PM me your shipping address for a quote. Shipments going outside of the US require a phone number.
ORDERS
Last edited: