Joined

Dec 11, 2017
Messages

1,424
Reaction score

1,501
Location
I've been holding off on posting regarding this project so as not to potentially influence the contest I organized for the dragons add-on.
My Dragons...
...are a mult-purpose set; filling the role of limit cash or tourney (though obviously not in play at the same time for both purposes).
I've always liked hotstamps and want something that will serve as a full cash set using that medium. I've been working at these colors for quite some time and can say that they are 95% what will be sent for production.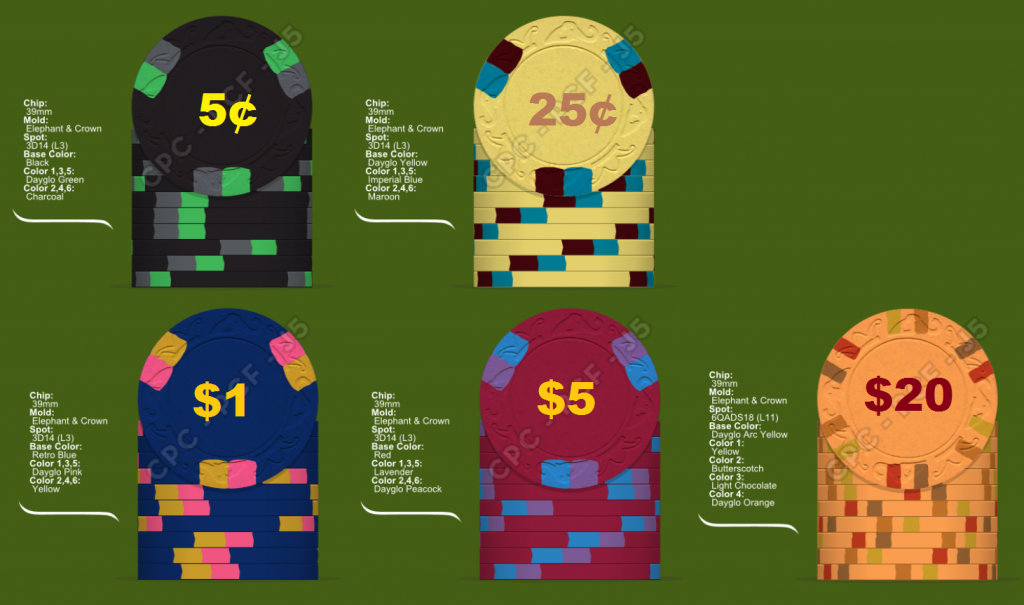 Yes... a black nickel.

I like black hotstamps especially and given I'm not producing a $100, I wanted to fit one black denom into the set. Fracs generally have a lot of latitude in colors so... why not. I don't really need $100 chips anyway; and though I was tempted to get a few, I don't want to spend $50-150 for another die for a chip that will likely never hit the table.
Also, though I know many cash sets vary their spot patterns but I just have an affinity for 3D14. I REALLY like those spots. The $20's are purely for rebuy/bank and I want them to really stand out.
The varied denom colors in the mock are just so they stand out in the pic.
The stamps will all be gold in color.
A major concern I have is the stamp diameter for the Elephant mould. CPC lists it at 3/4's of an inch... a opposed to 7/8th's on "A" and "Jockey". In general, I prefer the inlay/stamp area to be larger.
David S. provided me some mocks so as to give me an idea of how large the stamps will appear:
I already have a set with A's, and I'm not a fan of Jockey at all.
What I must answer is:
1) Is the 3/4 stamp diameter something I can live with:
2) If not, do I want another set on the "A" mould?
I have some thinking to do.
I have some time given the funds aren't available for me to go forward yet. 5 separate dies, die setup, & stamping fees ratchet up the cost per chip considerably.
The next major step to complete though is the stamp artwork.
Like I did for the Dragons, I'll be contacting one of our talented PCF denizens to design the stamp art. Once that step is complete I'll get some pics posted here.... probably in the next 2-3 months.