Joined

Sep 26, 2015
Messages

9,852
Reaction score

16,760
Location
UPDATE OCT 7
I have decided that the arrangement I'm willing to do with staking for this 25/50 game is:
1. I put up 5K of my own money towards bankroll
2. I sell additional action at an 80/20 split (i.e. if your profit share is $1,000 you get your backing money back plus $800 in profit)
3. no tax forms will be issued, all parties are responsible for reporting and paying any income/taxes they are responsible for
4. I pay for all my own expenses (travel, hotel, food, asian triplets)
5. If I have a losing session, the loss is shared evenly (i.e. we have a 20K bankroll and I put up 5K of it. We cash out with only 10K left. I get $2500 back and the backers get their share of $7,500 back)
6. At this time I am planning to shoot for their November livestream (expected near the 3rd week of November) so I can ensure I get in early enough to be on the livestream and so I have an opportunity to view the livestream held on Oct 23rd to see what to expect
ORIGINAL THREAD:
Just came across this today, Best Bet in Jacksonville FL has livestream poker, including some PLO. I watched a bit of a 5/5 PLO game and saw plenty of atrocious play (I have Q955, I will raise, HURR-DURR!)
I checked their schedule and saw they also have a 25/50 PLO game that is livestreamed. I'm going to do some more investigating, see if there are any prior livestreams of that limit and how the action is. Reach out to their contact for the livestreams and see what the buyins are, etc.
For those who've followed along on my journey, quit my job in Sep 2019 to play PLO for a living and still going strong. Primarily play 1/2/5 and 2/5/10 as those are the games readily available and within my bankroll. I dabble in 5/10/25 when it runs, but it's rare. And recently started playing a private 5/5/25 game but don't have a ton of time in it yet.
Anyway, 25/50 is obviously outside my bankroll comfort level, so would need to sell some action if I do play it. Most likely the smallest piece of action I would sell would be $500, and obviously would keep some of my action as well, not selling 100% of it. At the moment I'm just gauging interest, so if you'd want to buy some of my action for a livestreamed 25/50 PLO game please post here.
My graph by session since I started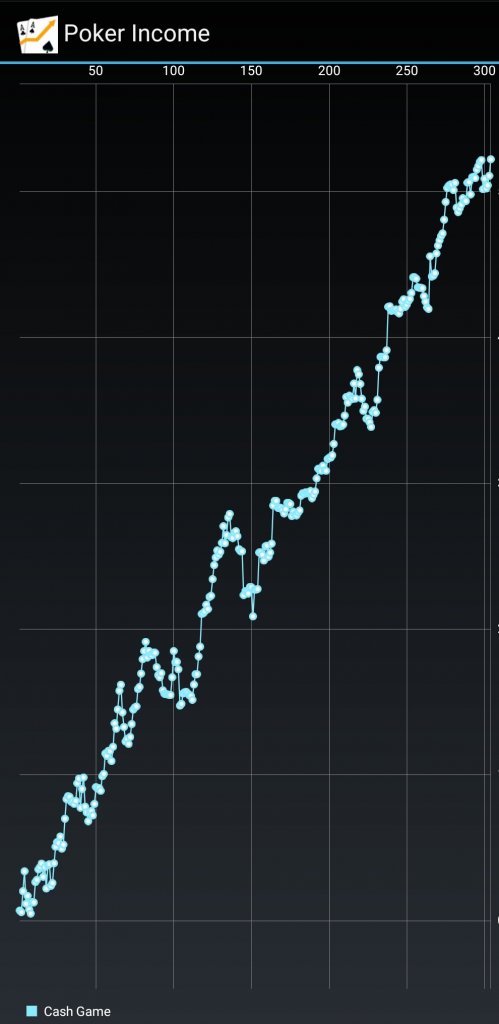 INTERESTED
1. k9dr
2. JustDave
3. MH (facebook)
4. Moose/FDLmold/Burke group buy?
5. TB (facebook)
6. TF (facebook)
7. Poker Zombie
8. CraigT78
9. Skylines
10. cpac54
11. Shorticus
12. Nezara
13. Lucks7Shadow
14. BarrieJ
15. Pltrygst
Last edited: