Straight
Supporting Member
Joined

Apr 9, 2020
Messages

969
Reaction score

1,307
Location
So after having the opportunity to go to the grand opening of Pittsburgh Live, just this week I had the opportunity to go to a preview day for Philadelphia Live.
First off if you ever have the opportunity to check this out it is one of the nicest casinos I have been to. The place is huge and it has a great poker room, which I can't wait to play some tournaments in. Dealers were great and knew what they were doing. I guess they were able to poach them from other places and didn't need to train a bunch of new ones. There are also plenty of table games. It almost seems as if there is as much space dedicated to tables as slots. They had about 10 craps tables and I love that Philly is a craps town because it's my game of choice.
The preview was awesome because they were giving out free play to all the guests and I won a t-shirt on a prize wheel. Well technically a hat but asked for a shirt and they gave it to me instead.
Better yet I did a much better job harvesting here than I did at Pittsburgh Live. I was able to walk away with my display chips, a giveaway chip, and a rack that I am going to be auctioning off here -
https://www.pokerchipforum.com/threads/rack-of-philly-live-1s.68472/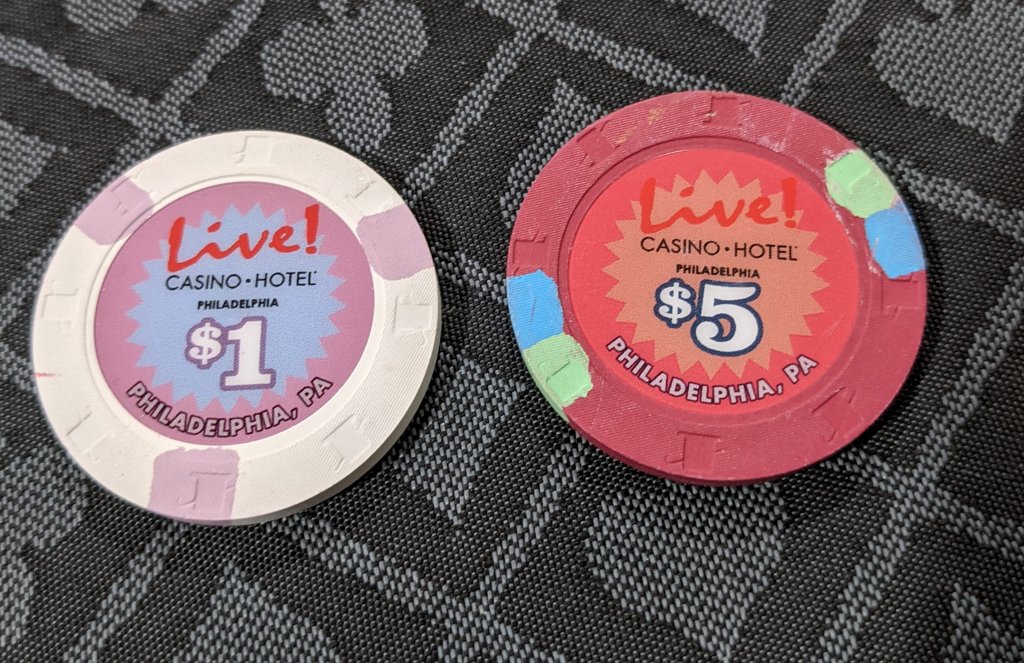 So here is to another single-chip giveaway. I know it's not everyone's style here but you are receiving a mint $1 chip even before the grand opening of the casino on Feb 11th. To make sure you read the post simply reply with what item I originally won on the prize wheel before trading for a different one.
Good luck all! Giveaway entries will end Sunday, Jan 31st at 9 pm Eastern. 6 person Hold'em hand to follow.