Full House
Supporting Member
Joined

Jan 25, 2020
Messages

3,200
Reaction score

6,672
Location
In search of a few additional racks of 2005 CDIs to build on the set I had bought on eBay, I signed up for a PCF account exactly 365 days ago. I remember Everything was confusing. The terminology was new to me (RHC vs THC took me a few weeks to really understand), I didn't even understand how to get to "10 posts" to be able to buy chips on here lol.
Two things I always remember people saying on here to newbies (1) buy sample sets (2) this hobby is a sickness
, and very expensive. It seemed some PCF'ers were in "chip rehab" or otherwise "not allowed to buy anymore chips" - be it from their significant others or a voice deep inside their head. I remember the first time I looked at a Big Top Poker sample set. It came with some cut cards and a button and cost $125. I couldn't believe how expensive that seemed. I sent screen shots to a friend just to laugh at people who were spending this kind of money. Man, these people really must like poker chips a LOT to be spending money like that. By the time I saw a listing for a full ESPT set, I just figured people were trolling me.
As I navigated the different threads and sections within PCF, and tried to remember what a "edge spot progression" meant, I kept my eyes out for CDIs to hit the the sales thread. I was surprised how addicting it felt refreshing the classified system. What were "barrels" and why did everyone seem to need one? There seemed to be some kind of obscure "Dibbs" system at work here, and I began to understand a bit how chips were acquired. I found a few racks of CDIs, people were incredibly friendly via DM. I don't think I had ever been a member of an online message board/website, it brought me back to my AOL Online days. I bought some Aransas Queen $5's (took a few weeks before I understood not to call them "Arkansas."
I made my first few purchases on PCF in the weeks leading up to the March lockdowns in New York City. Nearly all of my PCF life has been spent *without playing any live poker* (my wife and I are pretty strict around the COVID protocols given that we have parents we occasionally see who are in their 70s). You would think that lack of live play would slow down by chip purchasing urges, but quite the opposite. I had found what I needed for my CDI set, but really I mostly hosted tournaments! Well, makes sense I buy a tournament set though right? Maybe not the $8k BTP set though, so I started off with the 36mm WSOP Cinci chips. The final game I hosted was on March 11th and after washing all of my racks, I got them into play one time before lockdown!
Then, a WTHC set came up for sale. Well, a partial set. I couldn't pull the trigger initially but I keep thinking about them every night they sat out there in the classifieds. "Well maybe I can sell my CDI set and justify purchasing this set instead, its only a few hundred more..." I think that's when my defense mechanisms around acquiring additional clay disks officially collapsed. By late April I was purchasing singles, sample sets, random barrels I had no use for, racks with no plans for them, I was quite friendly with my USPS mailman. When I did some quick math, I realized I had spent almost $10k on chips in just my first few months on here. It seemed insane. I am a social worker after all, the money isn't especially easy to come by. The pandemic however did have some benefits I was finding, and one of them was online poker. I was running good in both cash games and tournaments online and my winnings had more or less kept up with my new chipping addiction.
I used to collect baseball cards. Have many albums full of mostly worthless (or worth little) cards from the dead-era of 1987 to 1995 when it finally dawned on me that the cards were losing their value quicker than I could unwrap my next Topps pack. This seemed like a hobby that could make sense for my life. I had just turned 40, been playing poker for about a decade and began playing for more serious stakes a few years back (NL300-500), nothing crazy, but enough to take a nice vacation every year or... find a new hobby.
By the end summer I had spent upwards of $15k on Chips (CDI 2005 set, CDI 98 set, two WTHC sets, Cinci set, 7 racks of solids for a tournament project, a Tonkawa set, every sample set I could find, a few hundred singles from all over the place... oh and lots of EBay and shipping fees! I realized it was becoming a bit much, and that COVID lockdown was moving me to busy myself with purchase that didn't even really make sense. I began selling off a few sets, it actually felt good to de-clutter. I began to really focus on Marie Kondo's concept of interrogating "what brings me joy?" Some chips did, but others maybe not so much. I focused. I outlined what I really could use in my games or really liked looking at and what I could let go of. It was an interesting learning process.
Current Chip Collection:
A few things I think I've learned or gained some insight on, hopefully this can be helpful for new members:
1.
Don't be afraid to ask questions.
PCF is probably one of the friendliest and most supportive online forums around. I've met some really good people on here, some of whom I hope to play with in person at some point, at least here along the east coast!
2. The two things I was told when I joined PCF last January, the advice about getting sample sets and that this hobby is a sickness, well both of those proved very helpful in their own ways! Save yourself money and shipping and lots of refreshing classified pages by purchasing smaller amounts of chips in person before pulling the trigger on major purchases. And "sickness" might be a bit harsh, but PCF can definitely have addictive qualities. If I had to guess how many times I visit this site daily over a period of a year, I would guess ~10 times a day. That's wild over a one year period! With addictive things comes exercising some responsibility, and I'm still navigating that myself.
3. What you like in your 1st month of joining may well not be what you what you like 6 or 12 months in. I remember sketching out a custom CPC set for myself when I first joined... when I look back at the things I thought I liked, I shutter now. I'm SO glad I didn't spend $3000 on a custom set that I wouldn't be happy with today.
4.
Practice patience:
you might think you need a certain chip or set RIGHT NOW, but you probably don't. I definitely don't. I'm still not playing live poker for a few more months it looks like. It's good exercise to practice patience, give yourself time to figure out exactly what you want and then ask around and build what really "gives you joy" slowly and methodically.
Ok this is getting to be a bit long lol and I want people to
participate in the giveaway
. It's a sample of 35 Chips. Mix of casino, fantasy, RHC, THC, mint condition, casino used condition, and everything in between. It will hopefully give a new chipper a good sense of a wide variety of chips!
Chips are FREE and I will ship them (my cost) within the United States or at the winners cost internationally.
Anyone who joined PCF 3 months ago or less is eligible
. If you don't need the chips, save them for someone who does please.
The "contest"? Just post, as a new member,
what you're hoping to accomplish in your first year as a member of PCF AND what is one New Years resolution that you are hoping to follow through on in 2021
? I will pick a one person by Next Sunday evening at 9pm!
Oh and here are the chips: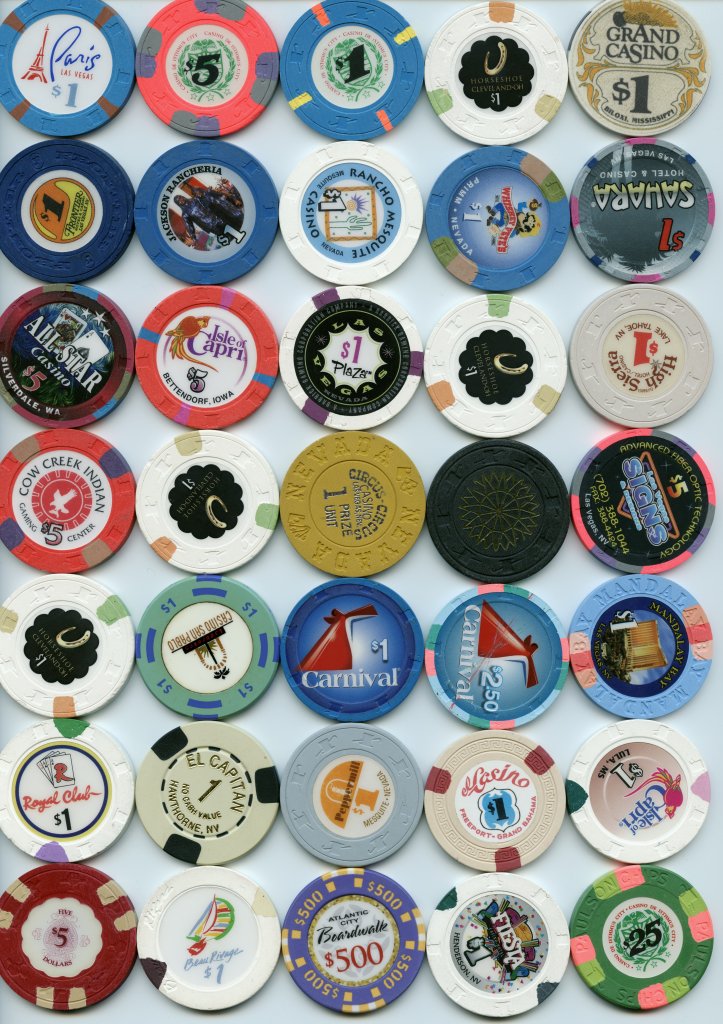 Last edited: