Joined

Jul 1, 2020
Messages

177
Reaction score

513
Location
On Wednesdays, we play poker. No reason - just because it's Wednesday night.
Breakdown
:
100 (.50)
500 (1) (50 unique spot color/inlay per player)
500 (5) (460 shown just to make the photograph layout more OCD-friendly)
40 (13)
200 (20)
100 (100)
...plus a bunch of extras of each of the above.
Each game each player will start out with 40 of their own color $1 supplemented with $5 chips up to their total buy-in (most buy in for between $100-200) except Fessie who is only allowed to buy in for multiples of $13 and will only receive $13 chips.
Spots/colors/graphics
:
.50 - 1/2 pie - blurple/lavender - group illustration
1 - 418 - bright white with spots of...
Randy - red
Doc - dg peacock
Gary - dg saturn
Larry - gray
Moscow - dg tiger
Lou - green
Brad - light chocolate
Jack - lavender
Greg - dg pink
Josh - black
5 - tri-moon - mandarin red/light blue - RIP Wade
13 - tri-moon - arc yellow/chocolate - Fessie
20 - tri-moon - charcoal/dg green - group illustration
100 - tri-moon - dg pink/retro blue - group illustration)
Some answers in advance to question I anticipate
:
- I am Greg;
- Moscow is Moskovitz;
- Fessie is Fessenden;
- Garo is Gary;
- Doc is a doc;
- Finkle is Einhorn;
- The spot colors assigned to the players have no particular significance with a couple of exceptions not to be revealed;
- Wade gets his own chip because he is dead (RIP);
- Fessie gets his own chip because he got me into the game and because he can't restrain himself from betting "baker's dozeeeeeen" no matter how large or small the pot;
- No, 60 chips per spot color/inlay design does not meet minimum CPC numbers; yes, there is an additional fee;
- Spot splits are extremely, extremely low throughout the set (I haven't seen a single fully split tri-moon spot and there are fewer than 10 total split 1/8" spots in the full order); photos accurately reflect the percentages (I didn't pick out the splits because they don't bother me);
- Height variance among 20-chips stacks is very slight;
- Sorry, no sample sets;
- Order placed June 23, 2020;
- Yes, I noticed one of the photos is super dark; what do you want I'm not Ansel fuckin Adams;
- What will I do when people die or we get new players? The dead ones will get their own denoms and the new players will get $1s ordered for them with the dead guys' spot colors;
- Will be debuted at tonight's game, so will try to get some action and splashed pot shots.
Hat tips to other sets that inspired certain design choices
:
- Atlantic City $1s for the $1 spots. Until sometime recently NJ required $1s to be white with 1/8" spots, so if you collected a bunch of various casinos' $1s you'd get a rack much like the mixed-color spot rack below;
- Mapes for the tri-moon-except-the-$1 design (frac doesn't count because fracs are gross chips and should not be discussed - and certainly not used - unless absolutely necessary);
- Riverside for the pink hundo (yes, I know the Riverside hundo spots are black).
Miscellaneous thoughts:
- Saturn works great on a bright white base which causes it to look more lime than green-yellow, but is otherwise kind of a tough color to use;
- Will probably look for an excuse to add a dg yellow-spotted $1 since dg saturn doesn't really represent a yellow color;
- Retro blue spot on dg pink chip looks almost blurple irl;
- I expect my non-chip aficionado players to care about these for about 20 minutes before forgetting they are any different from the ceramic chips we play with at others' houses or the dice chips we played with until a couple years ago;
- Illustrations ranked in order of most accurate to least accurate representation of the actual guys: Garo > Lou > Doc > Randy > Fessie > Wade > Larry > Brad > Greg > Jack > Josh > Moscow;
- After wavering between 7/8" and 1" inlays on the scrowns, I have absolutely no qualms in saying that for the vast majority of designs, I think 1" is the way to go on this mold.
Credits
:
All design work (including all original illustrations) done by Christian Steinbacher (Instagram
here
). This was Christian's first chip design, but he's a professional graphic designer. You can also see his work on the episode art for his podcast, Report This Post (Instagram
here
). The podcast, which compiles the worst posts ever made online on a variety of topics, is very highly recommended if you have a thick skin. If you do not, it is very highly recommended that you never listen. Christian has done one other chip design for me and it came out as fantastic as these. If you're interested in speaking with him about a design, DM me and I'll put you in touch.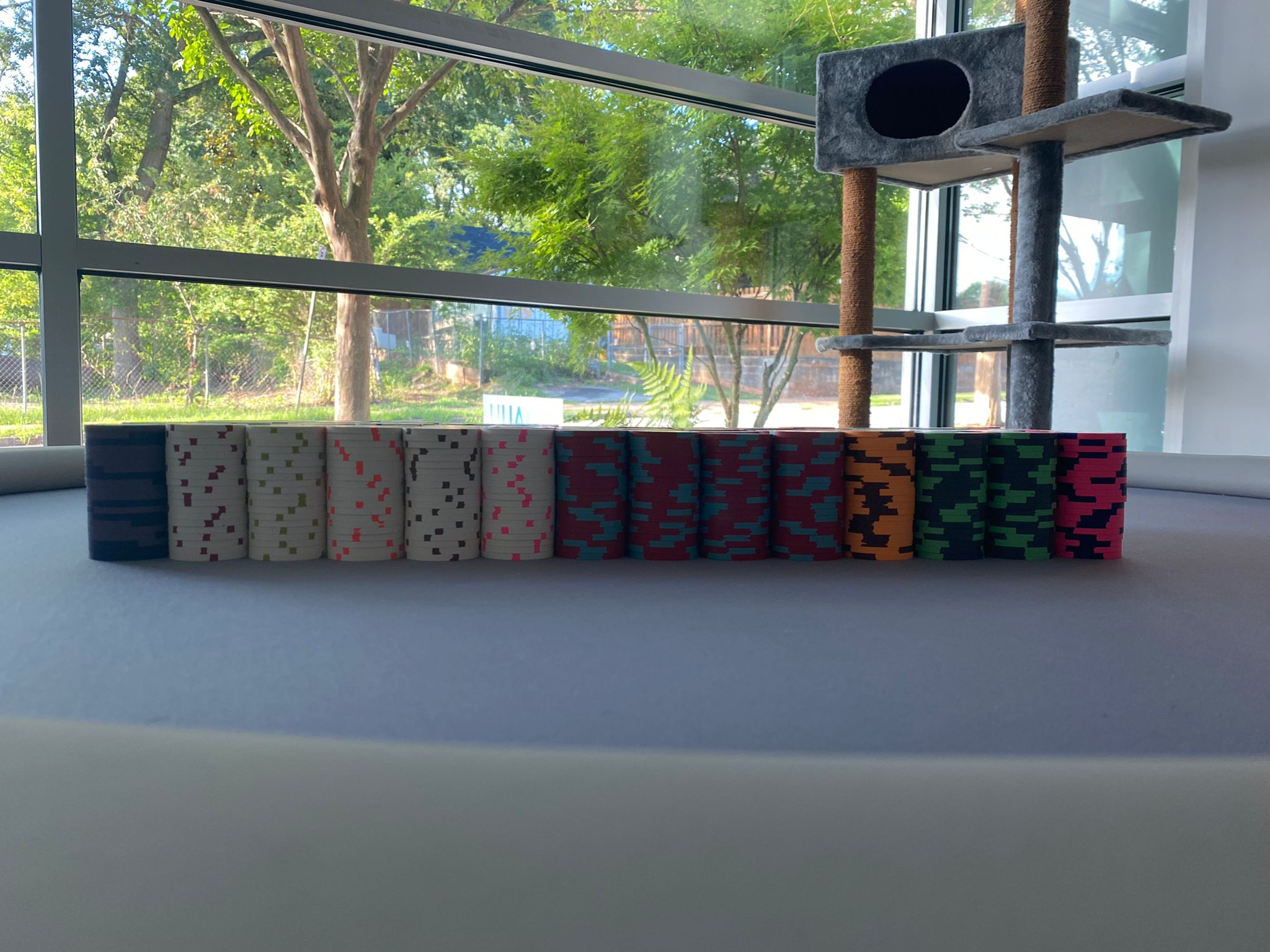 Last edited: