Joined

Oct 29, 2014
Messages

15,770
Reaction score

32,856
Location
You would think that I would have thought about this earlier, but I've been posting most of the trip report on Twitter (@TN_Fireman). It's quick and easy, and I am lousy at typing on a phone, so Twitter gets up to the "minute" updates. Y'all get a "Hey, I'm not doing anything now. Post on PCF".
First, Fly in. Southwest, first class seating. "Whaaaa?" you say, "Southwest doesn't have 1st class". I beg to differ.
Ok, the movie is 8 years old, but those were 2 mighty fine martinis. I call that a win, and we haven't even landed yet.
Then it was a limo trip from the airport. Had the limo driver stop off at a party store so we could buy a case of water, because in Vegas, staying hydrated is key. Also, the limo surprised us with free champagne - It's no longer their policy, but you gotta love a driver that says "fuck policy, sparkling cider sucks".
As Vegas is the home of all things bribed, we slipped the girl $20 at check-in at the Bellagio. Boom, upgrade! Nothing super awesome, but a corner room with a couple of great views. This one from the Jacuzzi:
Then it's over the Planet Hollywood. I love me some Earl of Sandwich. Then a few steps into the poker room for a daily tournament. Lousy blinds that do not get the BGinGA seal of approval. Chips do not get anybodies seal of approval.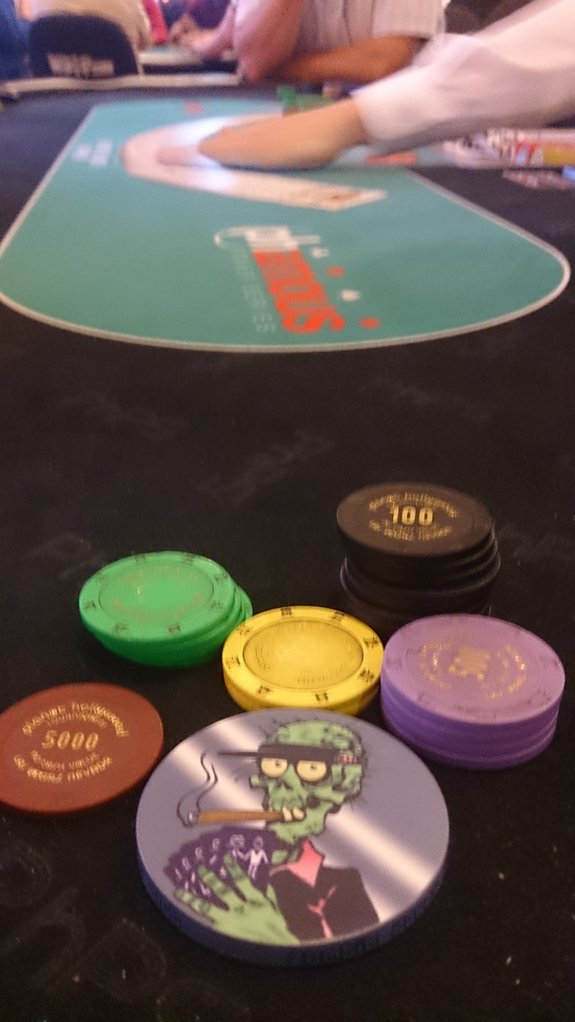 This is one of those rare occasions where chips photograph better than they look. The T5000s were repeatedly mistaken for T500s. No love for the Zombies though. We busted from the 2x blind increases. Que Sera Sera
For those of you that do visit Vegas, but don't do Facebook, you might not want to read about how we used the MyVegas on Facebook rewards to play some free video poker. Free. $75 worth of spins. We cashed out with exactly $75. For free. If you're too cool for Facebook, you probably wouldn't enjoy video poker either. I'll spend that free money for you.
For dinner, we stroll behind the strip for a steak dinner. Bet $1, get the dinner for $9.99. Our bets earned us $7. Dinner comes with a pretty good 20oz craft beer too. Food for thought.
The nightcap was over to Casino Royale. They had a promotion on the video poker and slots so we gave it a whirl. Not much love there (Mrs Zombie cashed out up 80 cents), but the Craps table had the right energy flowing, and we played wayyyy to late into the night, fueled by plenty of free martinis. When all was said and done, we hoofed it back to the room, $36 richer somehow.
Day 2 will be posted later...