Joined

Aug 13, 2013
Messages

6,507
Reaction score

13,781
Location
Thought I'd re-post this from the other site...
A year or so ago a giant hoard of vintage, 50-year-old TRK Riverside Hotel & Casino $5 chips appeared on ebay. I watched the listing with interest, in part because up to that point I'd never had any T.R. King chips, and in part because they had a great old-school casino look to them. While they were well-priced on an individual chip basis, given the size of the hoard (28 racks!) it was a fairly expensive proposition. But think of the possibilities! While I was daydreaming, our fellow chippie David P (AfterTheFact here on PCF) scooped them up, and soon had some of them listed on CT (pics shamelessly lifted from his thread):
I was sorely tempted to buy some, but was very hesitant at first, since I knew that once I did I'd be committing myself to building a set around them. And I knew that finding other chips
in
quantity
from the Riverside would be an extremely difficult proposition. And...did I really NEED* another set?
*Yes. Duh, this is an addiction, not a hobby.
But as I said, I've been interested in TR King chips for some time, and really wanted to get some. David didn't make it any easier, by making me an offer I couldn't refuse on four racks. Well, once I got them (and after cleaning a stack), I couldn't get over how great they looked and felt. I was smitten and definitely bitten by two bugs: the TRK bug and the vintage-obscure-casino-playable-set bug. Soon, two more racks were on their way to me. Then two more!
Rack of Riverside $5s from David P's hoard, awaiting the removal of decades of grime from storage:
Truth be told, many available casino sets don't really do it for me. Rarely do I like the artwork (oftentimes cheesy or gaudy), the colors/spot patterns (casino chip designers either have bad taste or must be colorblind), the casino name (Aztar, I'm looking at you) or its location (typically some obscure backwater). But in this case, I was drawn to the old-school simplicity of the inlay, devoid of artwork other than the text, which has a great 1950s-60s look. And I liked the simple, classic name of the casino. And while the gold standard of Nevada locations is Las Vegas, I actually loved that the Riverside was from Reno, which is STILL an old-school gambling town. But that's not all: the Riverside has a storied and famous past not only in Reno itself but also in the broader history of casinos and Nevada. And here is the absolute icing on the cake: unlike many golden-age casinos from the '40s, '50s & '60s--virtually all of which succumbed to the wrecking ball--the Riverside's original building is STILL there, a landmarked historic site in the heart of Reno. She's still standing today, although no longer a casino:
Then:
Now:
I owe David P a shout out and a lot of gratitude (although my wife and wallet would say blame!)--in addition to making it possible for me to start along this path, he was very generous in (a) working with me to find other Riverside chips to complete my set, (b) selling me some other Riverside denominations to fill in my set and (c) throwing in a few additional Riverside chips for free when he had extras to spare. Thanks David. Also, Mikko at Spinettis was invaluable in helping to chase down some of the rarer denominations, and Courage kept me from being one chip short of a full stack on one of my harder-to-find denoms by very generously sending me a chip he had and refusing my repeated offers of payment. My thanks to all three of you.
When I decided to plunge head-long into building this cash set, I knew it was going to be a "forever set" for me. I wanted it to be as flexible and future-proof as possible. Originally, I also figured it would be extremely difficult (not to mention expensive) to get higher denomination chips, so I wanted to maximize the workhorse chips (thus my decision to go bananas on the $5s and buy nearly a third of the available stock). In the end, with some old-fashioned detective work, blatant luck and David's help I was able to find virtually all the chips I wanted, and I originally settled on a 1,200 chip set, with the following breakdown:
25c x 100
$1 x 200
$5 x 800
$25 x 80
$100 x 20
Total bank of $8,225.** Playable for a full table .25/.50 up to $1/$3 and perhaps beyond.
With the exception of a few of the $1s and most of the $5s, all of the other chips are mint. (Other than three mint racks of Bluebirds, the rest were grimy and dusty prior to cleaning, but virtually all stand on edge and are in excellent shape.) Also, as you can see below, with the exception of the $1s, the base colors are somewhat unusual, even for mid-century Reno (Nevada then, as now, does not have legally mandated standardized chip colors--in those days there were as many, if not more, chip color variations as there were casinos). I've started calling the $5s "bluebirds" and the $25s "chocolate chips."
And not to guild the lily, but I also found a solid sterling silver, oversized $5 gaming token from the Riverside, which in its air-tite is perfect as a dealer button.


**NOTE: Since starting this set in mid-2013, I have added to it when I could, and the set is now considerably bigger. I now have a set of 2,040 chips, with the following breakdown:

25c x 160
$1 x 200
$5 x 1,500
$25 x 140
$100 x 40

Total bank of $15,240.
​
Now, on to the pr0n, which are pictures of the original 1,200 chip set. As soon as I can find some spare time, I'll drag out the whole set and post new pron: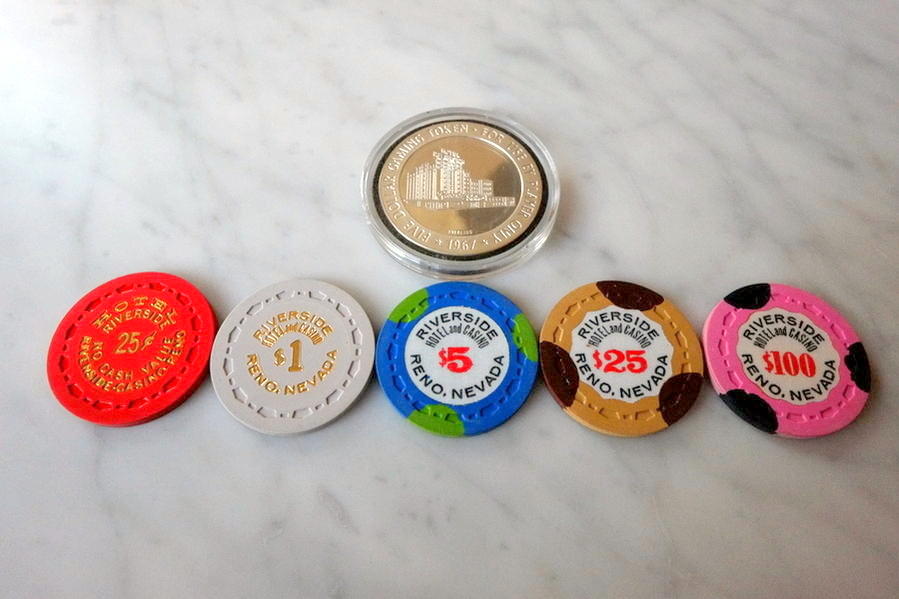 Splashed pot:
Close-ups: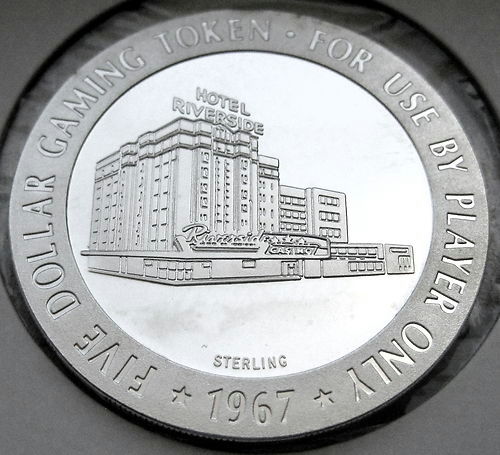 More pr0n to come!...
Updated pron in post #35 here:
Updated Riverside Pics!
Last edited: