So since I can't stop tinkering, and because my semi-custom spirit mold cash set got the juices flowing, I decided to start working on a semi-custom tournament set. I went out and got a 630 chip set of CPS blanks from
@Lars
. Good deal and I only ended up losing one orange trip to transit. The blank breakdown (and planned denominations) is as follows:
165 - orange - T25
165 - black - T100
85 - yellow - T500
145 - red - T1000
45 - green - T5000
25 - tan - Bounty
@Gear
helped me with the artwork with my cash set, but I had been hearing great things about the work that
@p5woody
does.
I had a theme in mind. I grew up with my family taking the boat up and down the Chesapeake Bay every summer. At the time I thought it was incredibly boring, but looking back on it, it was pretty special. Now that I have children of my own, I can only imagine how great that must have been for my mom and dad. Anyway, the name of the boat was the Beggar, so I wanted to use the name and, if possible, the font of the name on the boat or a picture of the boat on the chip. I gave
@p5woody
broad parameters and he ran with it. Below are a few of what he came up with for the first round.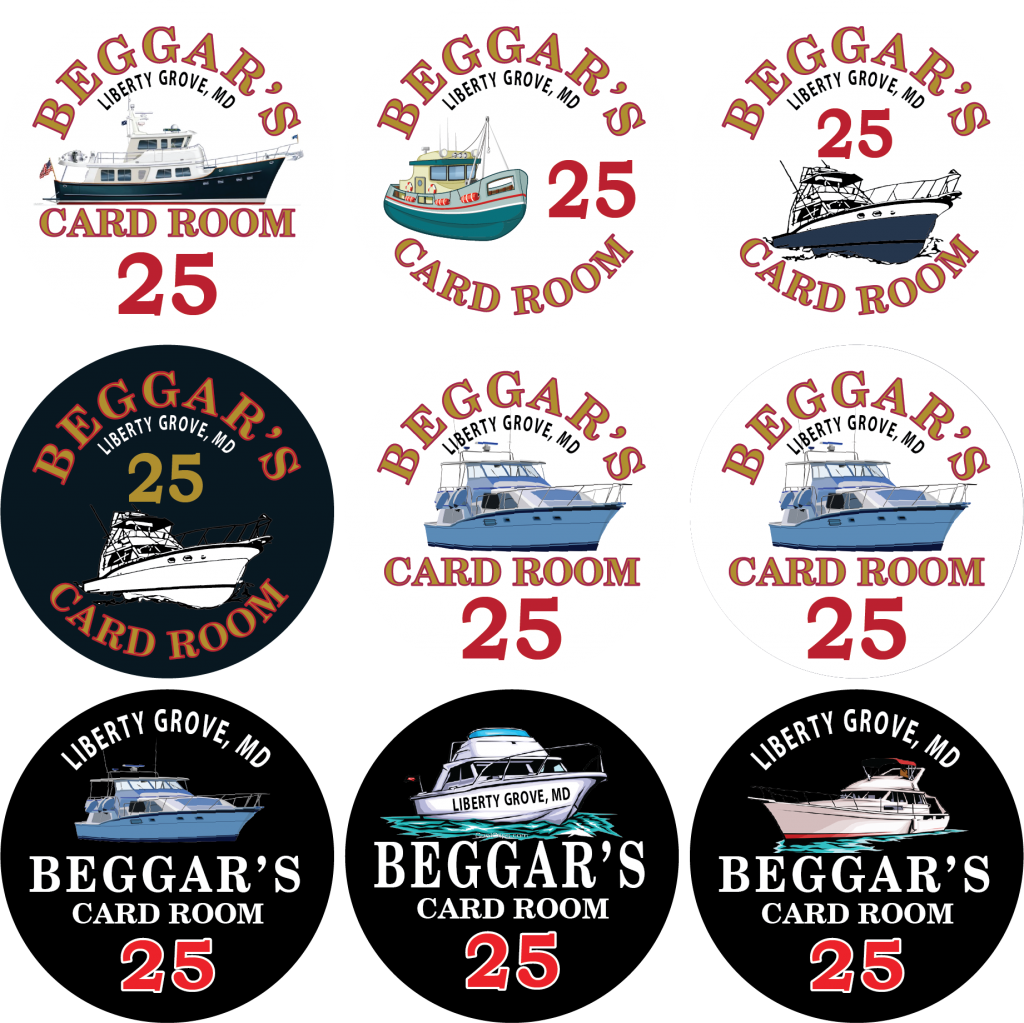 I really wanted a black background because my cash spirit molds are a white background, and I wanted them to be different. Along those same lines, the color progression on this set is the opposite of my cash set. I mentioned to him that I liked the font of the black one in the second row, so he came back with this:
Out of these four, I like the all white boat the best. Its not the same as our family boat, but I don't want to overthink it. People will get it.
Anyway, I've got a pretty good idea of which one I want to go with, but there are a lot of people who have seen a lot of chips, so I am curious as to what you guys think.
Closing though on this post, if you are reading this and thinking about going the semi-custom route, reach out to
@Gear
or
@p5woody
, they know what they are doing and have great ideas!