4 of a Kind
Supporting Member
Joined

May 20, 2019
Messages

6,215
Reaction score

18,370
Location
In another thread it was brought up that a couple of us prefer smaller plaques. It seems the norm that plaques increase in size as the denominations get larger... I am not a huge fan of this. Why you may ask? I prefer the extra elbow room on the table. Maybe this isn't even worth discussing but with a group buy for MSK plaques curently happening, rather than clogging up that order thread I thought maybe I would move this to its own thread.
Especially at final tables when multiple tables are combined... everyone can't wait to combine tables and stop playing 5 of 6 handed in an orbit eating up your stacks in blinds pretty quickly. This usually results in combining tables to their full capacity (usually 10 but some places combine at 9) All of us have been there and even at a full size table you can't help but feel cramped up! For chip leaders this can be even worse with a mound of chips in front of them... Which brings me to my question.
If poker chips are generally the same size, why do plaques generally increase in size??
Usually plaques in the top end of your set only account for 3 - 4 denoms if not less, if it is acceplatble for 4 - 5 denoms of chips to be the same size, can we not do the same with the plaques? Of course the answer is yes but it seems like most sets all increase in size as they go up!
I get that they a larger and more appealing but when table space is at a premium all packed in there, wouldn't you prefer to have the most space possible? Also storage of different sizes can be an absolute nightmare, my real question here is are you a fan of the plaques increasing in size?
I wish I had more pron I have many plaques at home and can share later, thi one shows what I am talking about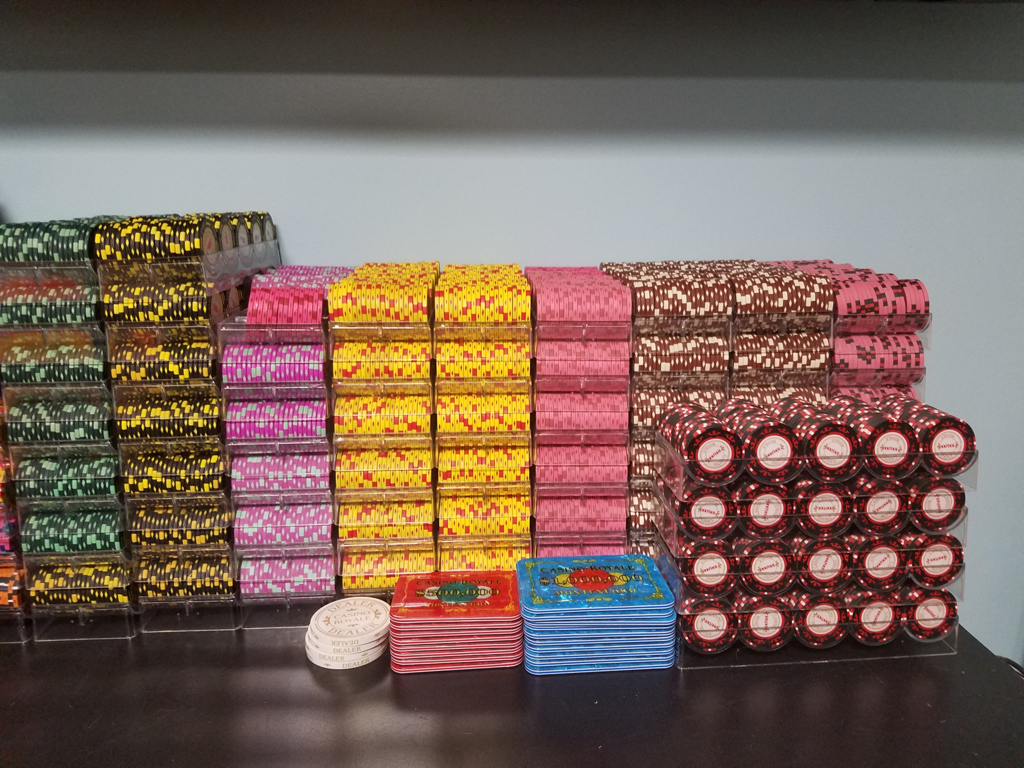 I was thinking about the recent group buy that
@Perthmike
ran for the custom PCA plaques. I absolutely love the small ones, but 2 denoms in one size and 2 in the larger... Curious Mike if my comments above have any merit? Do you like having the larger plaques with the smaller ones, do you think all of them being the smaller size would take away from the set?? I do understand that as the larger plaques are put into play that the table will not be filled any more and really this does play a part in the discussion. Also
@Poker Zombie
,
@AfterTheFact
even
@BGinGA
... excuse my ignorance, i am not sure if you own sets that include plaques but assume you do sir. Any opinions on plaque size and table space in your opinions!
Because of the table spacing concerns above I would prefer the entire set to be the smallest size avalible (shown below the Blue $1K and yellow $5k PCA plaques)
This pic is a mess and not in order to really show plaque size, but its the only one I have of Mikes Plaques!! Lol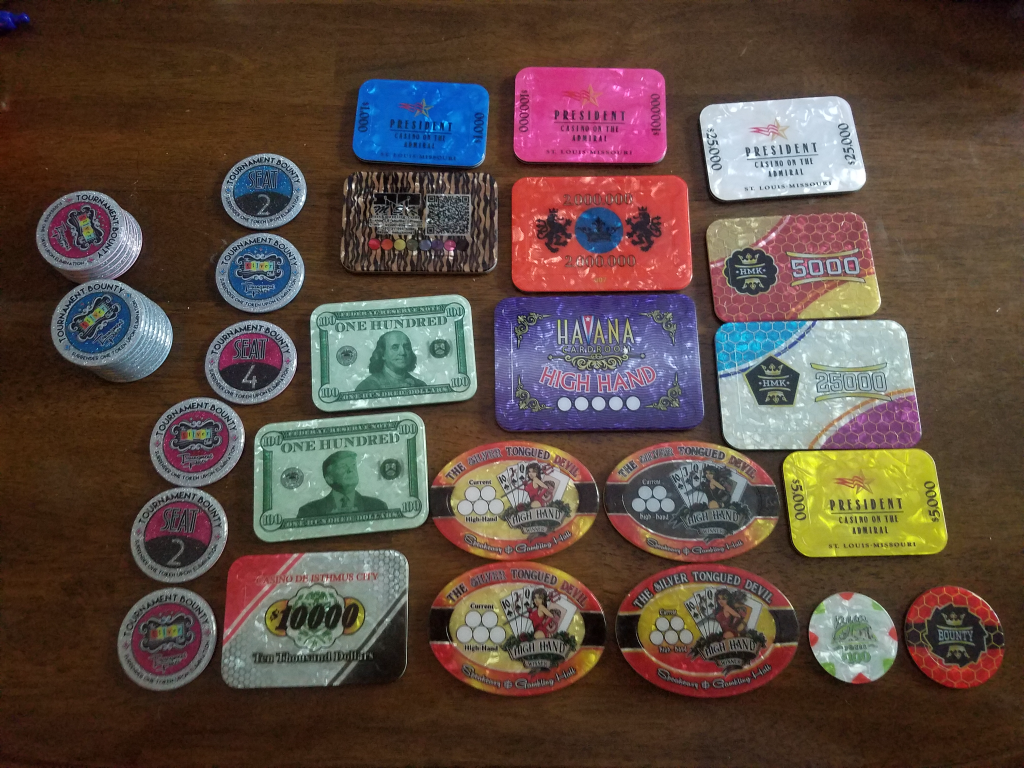 Hard to really tell but the small PCA plaques are truly much smaller than the larger sizes shown. The Havanah High Hand Plaque is absolutley awesome but massive!
I realize this is probably not the best written OP but seriously interested in peoples opinions on plaque sizing and think it is a valued discussion to members thinking abut making a high value investment in custom plaques.
***Anyone with quality Plaque Pron rather the same size or increasing feel free to share, since I failed showing quality examples! Lol
I realize this is another BEN book and appreciate anyone that takes time to read this, when it is honestly a relatively minor issue.
Fellow Chipper Ben
Last edited: