I am doing a small add-on of fracs and $5s in the next
CSQ
run, and thus started considering if I want to make another small change.
This is my existing lineup. All chips already physically exist, so I am not looking for any overall recommendations, as this is only a potential tweak:
And this is the tweak I am considering: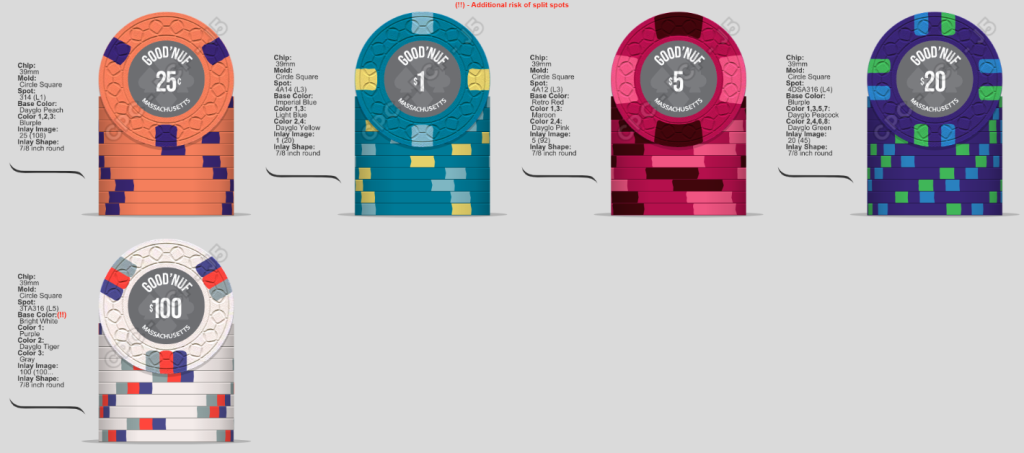 Thoughts?
Issues with the existing lineup are:
1) Charcoal is kind of close to imperial blue as a base color. But this is not a huge issue since the $20 is usually the biggest chip on the table and they aren't going to get lost.
2) That said, while I love the chip alone, it doesn't pop enough as what is usually the biggest chip on the table.
3) Repeat edge spot color (gray) w/ the $100.
4) I chose charcoal as the $20 base to additionally accommodate 18xx games because they like gray $20s, but I now realize that was mostly pointless. I don't ever host 18xx games myself, and even if I did, I don't have the rest of the denominations those crazies prefer anyway (they usually like to use all of 1,2,5,10,20,50,100,500,1000,2000 ugh).
Potential issues with the possible replacement:
1) The base color repeats from the frac edge spot color. But I like my fracs and have no desire to change them, and they are not consecutive chips as with the repeat color in the original lineup.
2) Some form of purple now shows up 3 times in the set.
I am open to any other suggestions as well, but again I am only looking to change out the $20 (could also possibly switch it to a $25, but that's not really relevant).