4 of a Kind
Supporting Member
Joined

Jun 23, 2019
Messages

6,911
Reaction score

17,006
Location
I wasn't entirely sure where to put this, but I wanted a dedicated thread because of the demand of these chips and the volume of questions etc. spanning many group buys and many individual purchase decisions. Thanks to
@Pinesol13
for sending me your amazing chips to photograph.
I wanted to say first of all that these are all fantastic chips in their own right and I think everyone who has received their chips has been pleasantly surprised. That being said, there are some minor differences. While I wouldn't say that one is better than the other, you certainly would not want to mix add-ons from company to a set from another.
Mold:
The cards mold mold appears to be different to me. I did not realize with the naked eye, but after photographing up close it seems there are various differences Anita's chips have a slightly rounder card edge while Tina's cards impressions have sharper edges and the way the cards meet appears slightly different. The inner circle impression seems more broader on Anita's chips. The injection marks on Anita's chips are indents while on Tina's chips they extend outward.
Edges:
Edges appeared sharper to the feel and sharper in photos up close on Tina's chips.
Color:
This is the most obvious difference. In general, Anita's chips have a much more matte finish. It is the most matte finish of any ceramics that I have on hand or recall seeing. It is hard to explain but the color of Anita's chips have a very slightly more transparent appearance compared to Tina's. I would almost compare it to the way the materials and color looks between Paulson (Tina's) and CPC (Anita's) where the material that Paulson's have a more dense color. Tina's chips have a little more pop with the denser color. It would be hard to compare exact color matching because I did not have the same sets made by both manufacturers. Color spotting was an issue that Tina herself has mentioned. And you can see in the photos below that the color printing on Anita's chips are much more uniform with smooth printing with absolutely no color spotting issues. On Tina's chips you see color spotting (the non-uniform color printing hat appears to give the chips a textured look) on many of the chips across different colors. This is certainly noticeable in these photos, but in my opinion, is not a terrible flaw because in person it gives the chips a textured look. I noticed on some of the darker chips that the color was applied more thoroughly to the cards impression on Tina's chips than on Anita's chips so that the color on the impression was lighter on Anita's chips, more so inside the edges of the impressions.
Edge alignment:
This is an issue related to the manually aligning of edges. It would be difficult to compare this on a small sample and this would vary from batch to batch due to operator error.
Again, these are all rather minor differences and there are pros and cons to each. I don't think anyone is going to be unhappy with any of these chips.
Various ceramics
Sunfly 43mm Hyrbids | Anita's 43mm | Anita's cards mold (new vendor) | Tina's cards mold (original vendor) | BrPro​
Anita's (new vendor) | Tina's (original cards mold vendor)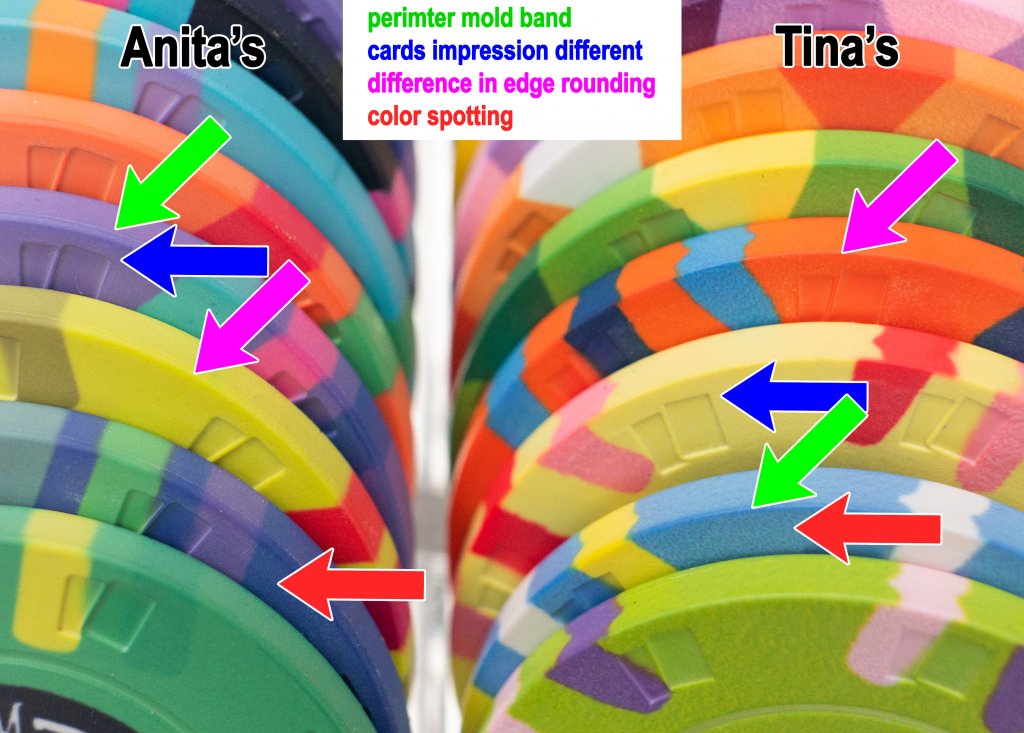 Anita's (new vendor) | Tina's (original cards mold vendor)
​
Anita's (new vendor) | Tina's (original cards mold vendor)
​
Last edited: