Straight Flush
Supporting Member
Joined

Dec 21, 2015
Messages

8,267
Reaction score

17,086
Location
I've received a lot of messages from people trying to find out more info about the Paulson WSOP Binion's chips. Here is everything I know about them and can share without giving away any names or outing specific people. Hopefully this helps anyone else looking for chips and/or answers.
History...
Check out
@Zmasterben
's great post about the history of the WSOP chips in play over the years here:
https://www.pokerchipforum.com/threads/wsop-chip-usage-binions-horseshoe.40067/
The Binion's crime family held onto (all of?) their casino chips after they were supposed to have destroyed them per Nevada gaming commission rules. They kept them in a storage locker or vault and had someone laundering them off as singles on eBay for many years (at least a decade?). This secret stash of over 100,000 chips has been well known about in the singles collectors community (
CCGTCAGGTCCATGCCTA
?) for more than a decade. There were pics posted on the chip board forum from inside that storage unit many years ago showing an insane hoard of chips. The photo below (which I've received from a few different sources now, but won't say who) shows almost 20,000 $1s and at least as many WSOP Paulsons in it. You can probably hunt down the rest of the photos from that storage unit with enough effort by searching through cached web pages on the wayback machine on some other similar site. But there were A LOT of chips in there. I don't know when that photo was taken or how many were sold before this recent lot of chips surfaced, but it at least gives you an idea idea of the minimum amount of how many of these chips are out there. These chips have provided a steady stream of income over the years for the Binion's crime family just laundering them one by one through the 'business101101' eBay ID (pretty much the only thing that account has ever sold are Binion's chips from what I can tell), and I'm pretty confident that this is also the family source that every reseller who got a hold of their chips from today originally got theirs from. Also, it appears that they still kept some of the chips because that eBay ID just listed more singles again (despite having told the people they sold to that they were getting everything they had leftover).
I don't know if the chip hoard had anything to do with any of the Binion's crime family's other secret stashes of goods or not (see the youtube link below that discusses some of the stolen silver from their vault and buried treasures, which also has shows chip boxes in the background), but they did keep a lot of other stuff of value from Binion's from what I understand. The video also discusses Teddy Binion (one of Benny's sons) that was murdered in the late 90s, which some think was connected to the family's stolen treasures.
As far as who has what, and how many are known to exist, I really don't know much. I first found out about these chips a few weeks ago and have slowly learned more and more as time went on. But it seems as though all of the Binions chips came from the same original source (the Binion's crime family's storage unit or vault). The chips were offered to multiple resellers in large quantities. There may be more of these that will surface too (I think it's likely, but I don't know). There are at least a few sources for getting these chips now. Many have seen the listings in JrChief8's vendor section for a while now, so it's no surprise that some went to him. There are also at least 2 people who appear to be working together on eBay that are selling these chips. They listed one rack at auction but mention in the listing that they have a lot more. You can easily find the listing if you are looking for it. There is also a third source here, a member who I don't know was able to get a hold of a few thousand chips and has been selling them behind the scenes to various people here via PMs. I'm not sure why it's been such a super secret project though. But a lot of people here have been aware of these chips for a couple weeks now, and many of them have already traded hands. I don't know specifically who has what though, and don't really care.
The quantities that I'm aware of that have been offered for sale through all of the sources I've learned about combined (so far) are as follows. However, I suspect that more could surface. But your guess is as good as mine about how many might show up one day and who has them. Although, if I had to guess, I doubt we'll see the T500s and T5000s showing up in quantity at all. Those were probably in short supply to begin with, just based off of how many were likely ordered from Paulson at the time. They have probably been sold off as singles over the years through eBay. The T1s may be the same. Not sure if we'll ever see those in quantity or not. I have no idea how many were made, and those rarely pop up for sale. So they might already be in someone's private collection outside of this community, or they might have all been sold off as singles already? Who knows.
T1 - 0
T5 - 2800
T25 - 3400
T100 - 2100
T500 - 0
T1000 - 700
T5000 - 0
I bought mine from the people reselling them on eBay. I offered $3600 for 400x T5s, 100x T25s, and 100x T100s because that's what they were worth to me. My offer was accepted and I received the chips in a timely manner. The chips were safely packed in Bud Jones chip boxes, each wrapped in bubble wrap and placed inside a FedEx box. I also picked up another rack of T25s from Mel because she's so cool
The pics below are representative of the conditions I received, which I believe are pretty similar for all of these. They all show casino use and could benefit from some cleaning and oiling. The T5s show slightly less wear than the T25s and T100s, but the differences are pretty minor. They stack well, but not perfectly. I'll probably end up flattening all of them at some point just because I'm pretty OCD with my chips, but they're not bad and most people would be perfectly fine with how they stack.
Good luck with the hunt guys. They're out there. Perhaps more will surface, perhaps they won't. But this is all the intel I've been able to piece together so far. And no, I won't give any names out. But I felt that everyone should have access to the same information to minimize some of the insider trading that goes on around here when some people have more access to the information than others. I'm sure someone else probably has more information than me as well. But this is what I know.
Oh, and I don't know much about the Bud Jones chips. I'm not really sure what all is out there. But the only source I know of for those is
@JrChief8
's vendor section. I don't think there were near as many Bud Jones chips made though as the Paulson chips, because those were made to supplement this Paulson set once field sizes in the main event started to blow up in the Moneymaker era.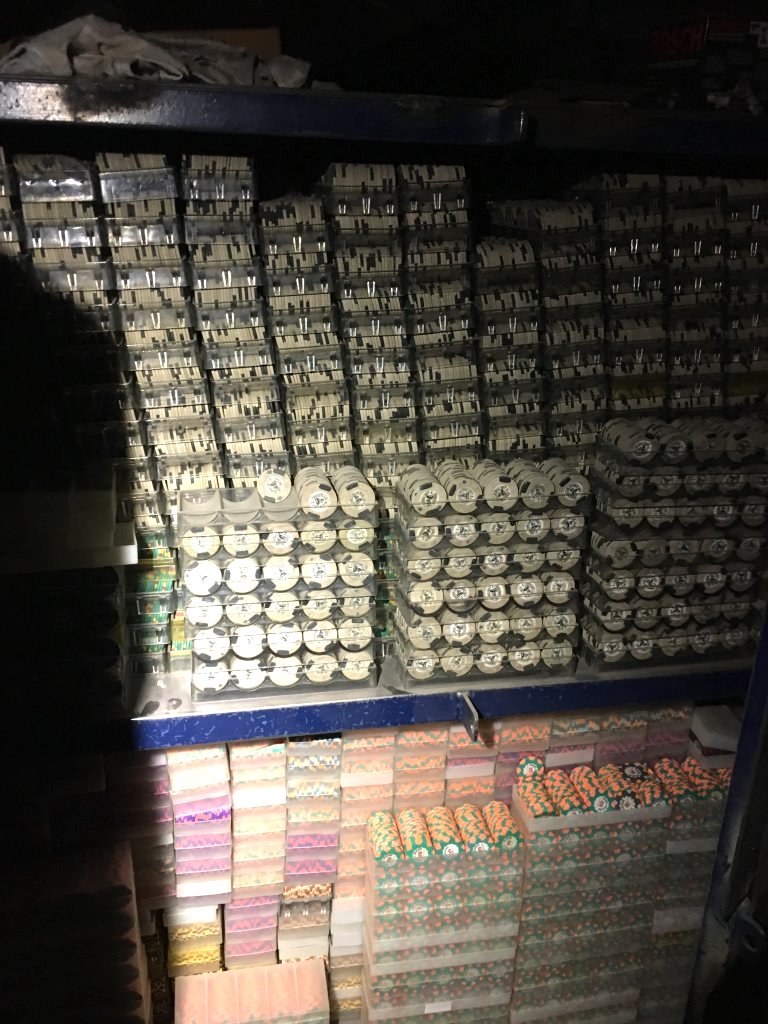 Last edited: