Joined

Nov 7, 2014
Messages

1,759
Reaction score

5,047
Location
WSOP Chip Usage History – Binion's Horseshoe
The World Series of Poker was the brainchild of casino legend and old school cowboy Benny Binion. After attending the lone held 1969 Texas Gamblers Reunion which assembled some of the most infamous gamblers alive at the time, he decided to host his own event at his family owned casino. Ever the showman, the event was intended by Binion to be more of a P.T. Barnum style grand spectacle instead of the massive poker tournament we know of it today. The idea was to attract patrons to his casino to watch the best poker players in the world battle it out on the felts.
The evolution to the modern WSOP as we know it was not predicted by anyone involved in its early stages. In 1973, when asked how big the Main Event could be, Binion speculated it could eventually grow to over 50 players. In interviews in the 1980s, players from the early 70s like Amarillo Slim and Puggy Pearson were asked if they could have imagined tournament fields would grow to the sizes they had. All players said they never would have imagined the tournament sizes they were witnessing. The 1987 WSOP Main Event had 152 entrants, the 2018 Main Event had 7,874.
The following chip uses apply to bracelet events only. Some bracelets are considered retroactively rewarded as they were not officially used as prizes until 1976. Information on what chips were used in non-Main Event fields before 2003 have been mostly lost to time. I was forced to make some assumptions on what may have been used outside of the Main Event tournaments.
1970 – 1978

Chip History
These chips were introduced in 1970 to be used in the cash game of that year. They were again used as tournament chips between 1971 – 1978. These were not tournament chips but active cash chips at the time. Players were given the amount of cash chips based on their buy in. These also most likely had a $5 and maybe even $1 chip used with them in smaller events that cannot be confirmed.
WSOP History
The WSOP was introduced in 1970 as a cash game session played by the best known players in America. Johnny Moss, Amarillo Slim, Sailor Roberts, Doyle Brunson, Crandell Addington, and Carl Cannon all competed to prove who was the "best poker player in the world." Johnny Moss was voted so by his peers and is considered the first WSOP champion.
In 1971, the format switched from a cash game to the 'freezeout' style tournaments we know today. The idea of these tournaments is credited to poker legend Puggy Pearson, who urged Benny Binion to change the format for the 2nd WSOP. The 1971 WSOP saw five total events including four 1k preliminary events; Seven card, Razz, Five Card Stud, and Limit A-5 Draw. The winner-take-all Main Event cost $5,000 and saw six entrants. Johnny Moss won the event, making him the first player to win a WSOP event, the first to win a Main Event, and the first to win back-to-back Main Event titles.
1972 only saw two events, one of which was a heads-up 10k Five Card Stud event won by Bill Boyd. The Main Event had a $10,000 buy in for the first time ever (though Binion provided half of each buy in to increase the pot and attract media attention) and saw eight entrants. Amarillo Slim 'won' the controversial tournament that saw Doyle Brunson and Puggy Pearson purposefully lose after Jack Binion led TV cameramen into the room to document the event. Brunson and Pearson were afraid of IRS tax audits and being shut out of cash games. They struck a deal to let Amarillo Slim win but cash out their current chip values.
The 1973 WSOP saw 8 events and 13 entrants into the Main Event. Puggy Pearson won three events, including the ME beating Johnny Moss heads up in the winner take all tournament. In 1974 six events were held including the Main Event in which Johnny Moss outlasted 15 others to win his third Main Event title. The winner takes all event was his biggest win of his historic career, taking down $160,000.
1975 had five total events and the Main Event had 21 players and was won by Brian Sailor Roberts. 1976 had 8 events and a new Main event record with 22 players. Doyle Brunson won his first bracelet, the 5k 2-7 Draw, and the still winner take all Main Event. He would repeat the Main event in 1977 beating out 33 other entrants. 1977 saw a record 12 preliminary events including the first ever ladies' event; the $100 Ladies Seven Card Stud won by Jackie McDaniels. 1978 saw 11 total events and Bobby Baldwin overcame 41 competitors and won the first Main Event that wasn't winner takes all.
Between 1970 – 1978 a total of 59 events were held. For reference, 78 WSOP bracelet events took place in 2018 alone.
1979 – 1983? [Maybe 1986?]

Chip History
In 1979 the $5 orange and $25 gray Horseshoe building chips began being used. The $100 chip remained the same and two different $500 gray Benny Binion chips appear to be used. The 25-cent red chip began being used as a 1k chip at Main Event final tables.
WSOP History
Hal Fowler won the 1979 Main Event that featured 54 entrants. He is considered the first amateur to ever win the ME. Stu Ungar won the 1980 and 1981 Main events making him the third person to win back-to-back titles after Moss and Brunson. He defeated Brunson heads up in 1980. The ME of 1982 was the first to have triple digit entrants with 104 players trying their luck. Poker legend Jack Strauss took down first place and was the first player to win over half a million dollars in a single event at the WSOP. 1983 saw Tom McEvoy win his first two bracelets; the 1k Limit HE and the more impressive Main Event.
Jack Keller was most certainly player of the year in 1984 winning the 5k Seven Card Stud and the 132 entrant Main Event. 1985 saw Johnny Chan win his first career bracelet in the 1k Limit Hold 'Em. Bill Smith won his lone bracelet but it was the big one, outlasting 140 others in the Main Event and beating TJ Cloutier heads up. Berry Johnston took down the 1986 Main Event that had 141 entrants.
1987 – 1990

Chip History
The WSOP introduced their first Paulson chip set in 1987. The 5 through 500 chips use the 8V pattern while the 1k features the quarterpies and the 5k uses the 4TSA18 edgespots. There was also a solid white 1 chip, though it is unclear if it ever saw play.
WSOP History
In 1987 poker legend TJ Cloutier won his first of six bracelets in the 1k Limit Omaha. Johnny Chan was the fourth person to win back-to-back Main Events in 1987 and 1988 outlasting fields of 152 and 167. The 1988 final hand of the WSOP Main Event in which Chan traps Eric Seidel is one of the most famous hands in poker history and is featured in the movie
Rounders
. 81 year old Johnny Moss won his 9th and final bracelet.
1989 saw Phil Hellmuth winning has first of fifteen bracelets taking the 178 player entered Main Event at only 24 years old defeating two-time defending champion Johnny Chan heads up. Famed poker announcer Mike Sexton won his lone bracelet in the 1.5k Seven Card Split event. In 1990 Amarillo Slim won his fourth and final bracelet and Mansour Matloubi outlasted 193 other entrants to win the Main Event.
1991 – 1992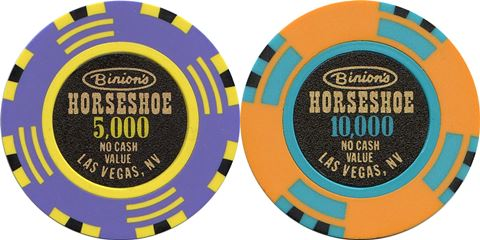 Chip History
The Paulson 25 through 500 8V chips and 1k quarterpies continued to be used. However, the 5k chip was replaced with the Bud Jones 5k purple with yellow and black chip and a 10k bright orange with aqua blue and black chip was added and used at the Main Event. It is unclear if the Bud Jones chips were used at events other than the Main Event.
WSOP History
The 1991 Main Event saw two firsts: The first Main Event field with over 200 entrants and the first one million dollar event champion with Brad Daugherty taking the bracelet. 1992 was the first WSOP to feature 20 events. Men The Master Nguyen won his first bracelet in the 1.5k Seven Card Stud and Eric Seidel finally won his first of eight bracelets in the 2.5k Limit Hold 'Em. For the first time in WSOP history, the 1992 Main Event had less entries than the year before only seeing 201 entrants down from 215 in 1991. Hamid Dastmalchi still took down one million dollars for winning the event.
1993 – 1996


Chip History
The Paulson 25 and 100 8V chips and Bud Jones 5k purple and 10k bright orange chips continued to be used. The Paulson 500 8V chips were replaced by the Bud Jones 500 yellow with black and polar white and the Paulson 1k quarterpie chips were replaced with the Bud Jones 1k sky blue with polar white and red chips at the Main Event.
WSOP History
1993 saw Phil Hellmuth and Ted Forrest both win three bracelets and Costa Rican Humberto Brenes won two, the only two of his long career. Jim Bechtel took down the cool million dollar prize winning the Main Event beating out 230 other competitors. In 1994 Russ Hamilton took down the Main Event featuring 268 players, not only winning a million dollars but also his excessive weight in silver. In 1995 Dan Harrington won his only two career bracelets that year; the 2.5k NLHE and the 273 player contested Main Event. In 1996 Barbara Enright became the first woman to win an open event taking down the 2.5k Pot Limit Hold 'Em. Huck Seed won the million dollars that year beating out 294 other players in the Main Event.
1997 – 1999


Chip History
The Paulson 25 and 100 8V chips and Bud Jones 500 yellow, 1k sky blue, 5k purple continued to be used. The Bud Jones 10k bright orange chips were replaced with the warm red with cantaloupe and black.
WSOP History
1997 saw Scotty Nguyen win his first bracelet and Linda Johnson becoming the second woman to win an open event. The power married couple, Max and Maria Stern, won three combines bracelets; Maria won the 1.5k Stud and Max won the 2.5k Seven Card Hi-Lo and 3k NLHE. Once a poker young gun, Stu Ungar made a surprise comeback to the scene and despite being visibly weakened from years of drug abuse he managed to outlast 311 other players to win the Main Event and the one million dollar prize. Despite his victory that he dedicated to his daughter, he would be found dead a year later from drug related causes.
1998 had Kid Poker Daniel Negreanu winning his first bracelet. The Main Event had 350 entrants and was won by the larger than life personality Scotty Nguyen. 1999 had some big name first time bracelet winners like Mike Matusow, Layne Flack, Josh Arieh, and David Grey. Eric Seidel and Huck Seed made the final table of the Main Event yet again, but were defeated by Irish pro Noel Furlong winning the million dollars in his second Main Event final table.
2000 – 2001


Chip History
The Paulson 25 and 100 8V chips and Bud Jones 1k sky blue continued to be used. The Bud Jones 500 yellows were replaced with the 500 ivory with red chips. The Bud Jones 5k purple chips were replaced with the bright orange and purple 5k chips. The Bud Jones 10k warm red chips were replaced with the hot pink with black 10k chips. A Bud Jones 25k lavender with aqua blue chip was added to the set in to be used at the Main Event in 2002 and 2003.
WSOP History
2000 had Phil Ivey, Howard Lederer, and Jennifer Harman win their first bracelets. Chris Ferguson first won the 2.5k Seven Card Stud and then outplayed 511 other players in win the Main Event. In 2001 Allen Cunningham won his first bracelet and the 613 person Main Event field was won by Carlos Mortensen.
2002 – 2003


Chip History
The Bud Jones Yellow 500s were removed from the series.
WSOP History
2002 saw a small increase in Main Event entrants to 631 and was won by total amateur Robert Varkonyi taking the first two million dollar prize at the WSOP. These chips were used at probably the most famous tournament of all time aka the 2003 Main Event. A large increase due to online satellites becoming popular saw a record 839 players, the largest live tournament ever at the time. Chris Moneymaker defeated Sam Farha heads up to win the massive $2,500,000 first place prize. The "poker boom" that saw the rise in popularity of poker around the USA and the world is often contributed to being directly related to this tournament.
2004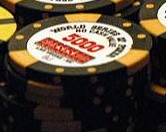 Chip History
For this first time in almost 20 years an entirely new set was introduced to the WSOP. The Horseshoe introduced the new Bud Jones S2 chips with denominations going up to 25k. They would most certainly regret this decision later as these chips were only used for one year before the WSOP was purchased by Harrah's entertainment and moved to the Rio All-Suite Hotel and Casino.
25 – Army Green with Canary Yellow
100 – Violet with Mint
500 – Hot Pink with Black
1k – Canary Yellow with Black
5k - Black with Gold
10k – Lavender with Aqua Blue
25k – Red with Black
WSOP History
In 2004 Antonio Esfandiari and Barry Greenstein won their first bracelets. The Main Event field nearly tripled to 2,576 participants and was won by amateur Greg Raymer. Dan Harrington made his second straight Main Event final table.
For more information on WSOP chip usage:
WSOP Chip Usage - 2007 Rio Primary Paulson Set
WSOP Chip Usage - 2007 Rio Secondary Paulson Set
WSOP Chip Usage - 2005 Rio Primary Bud Jones
WSOP Chip Usage - 2012 Rio Secondary Bud Jones
WSOP Chip Usage - Main Event
WSOP Card Usage - Rio Years
Thanks
Some of this information was pulled from jojong's WSOP chip history post from Chiptalk in 2009
Special thank you to PCF user nezara.
Unlike the other posts I made which resulted in mostly my research, a huge portion of this post is using information I received from nezara through screenshots and information I would not have found myself. They also allowed me to use several pictures they had taken.
Last edited: