Joined

Jul 15, 2019
Messages

4,013
Reaction score

5,881
Location
Not going to have a crazy number of pictures.
Saturday June 11th
Wife and I took/are taking our first vacation without kids! She has also never been to Vegas. I haven't been since 2007, back when I was still young and people were much worse at poker. We live in GA, but were going to drive down to Winter Haven, FL to drop off the kids with my mom and step dad before leaving out of Tampa on the 11th. But some unfortunate family stuff transpired and we couldn't drive down to FL on Friday as planned. But my step dad, being the way too generous person he is, said he and my mom would drive up to watch the kids at our place. So we got our flight changed to 6am on Saturday out of Atlanta.
We touch down in Vegas around 7:45am. Airbnb check in isn't until 3pm. So we find a luggage storage service so we can walk around and get the necessary players cards. We have an Uber take us to this really shady area next to Paris. Nothing but weed and tattoo shops. The luggage service we used had a drop off with Smokey's Bar and Grille. Total dive. But the staff were great about handling our luggage and making sure we all took steps to ensure the luggage was safe and that we have evidence of the drop off and contents. The surrounding restaurant names were pretty epic too:
Chicks and Butts
Eat my Taco
Stuff my Turkey
Good stuff.
Off to the Paris we go. Turns out, i'm still in the system from Horseshoe Tunica. But wife get a card and $10 slot play. Which she still hasn't used. We then check out the Paris convention center.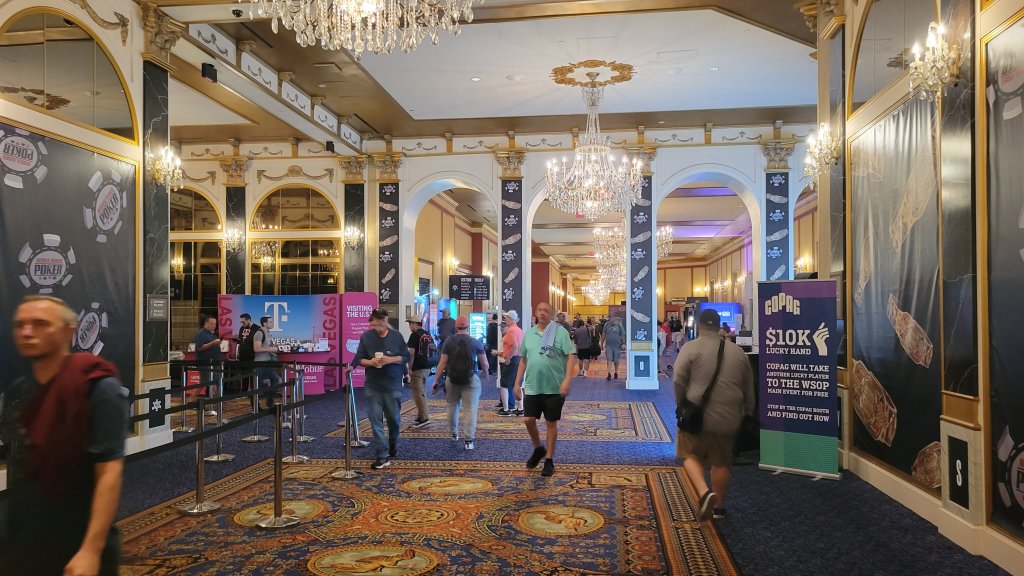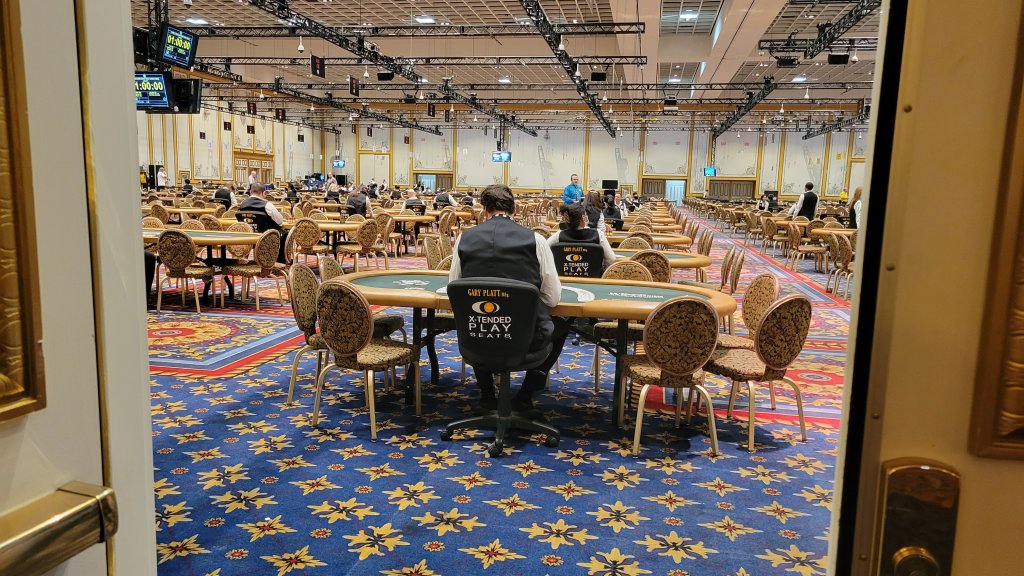 Went full creepy pic on The Chainsaw Allen Kessler. If you don't follow or read his stuff on Twitter, you are missing out. Dude is unintentional comedy gold as the poker curmudgeon.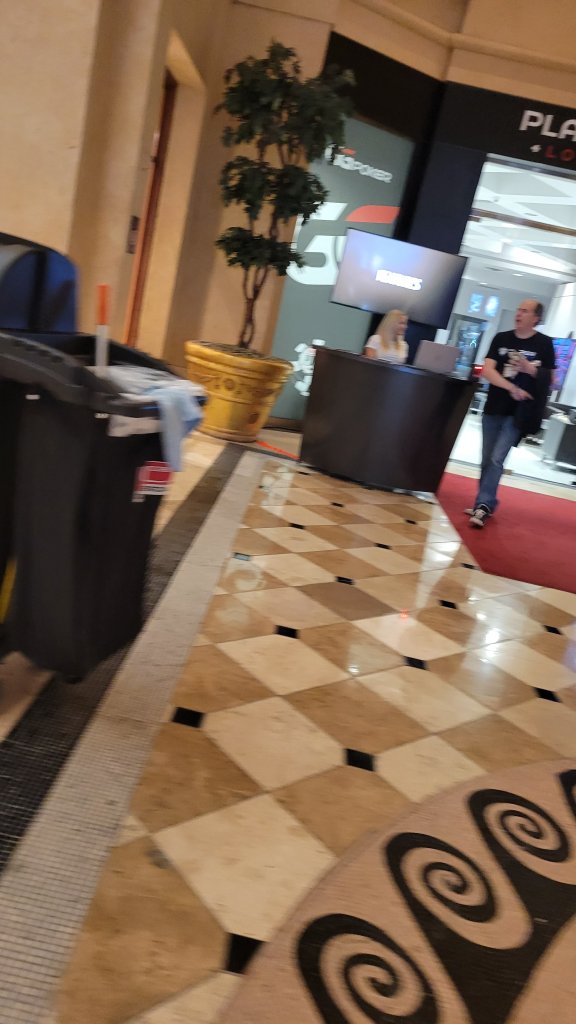 Then over to Bally's to check out the space and what was being played.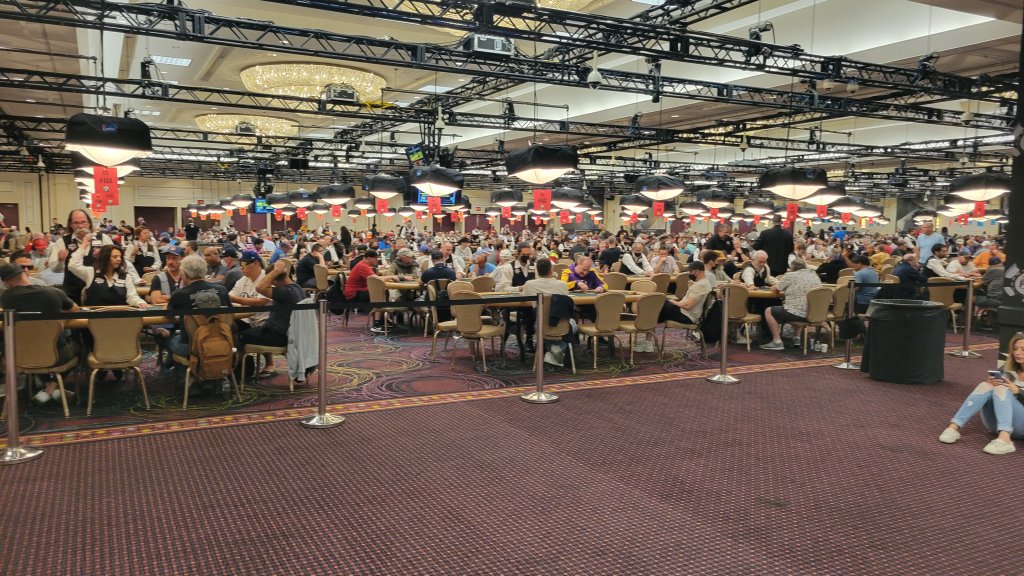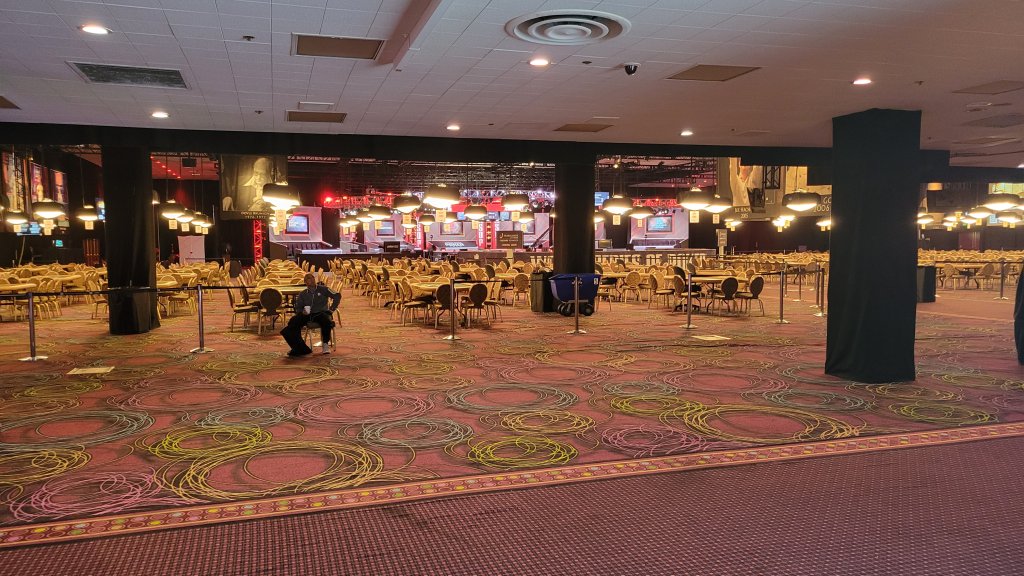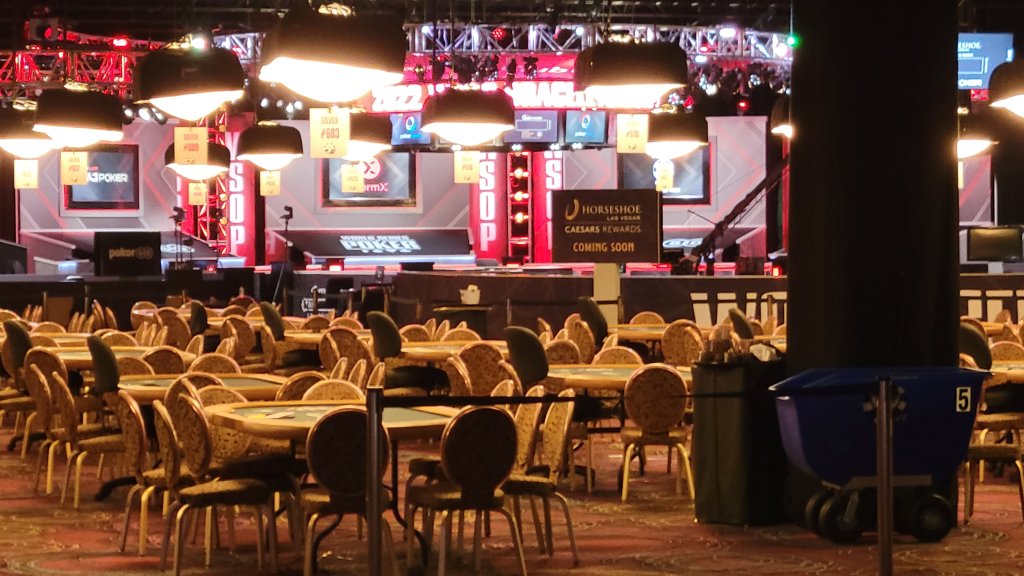 The Mothership room was toasty. Not super bad, but they have been having AC issues. And they have giant fans at the entrance to the Mothership room. But still too early, so nothing going on in the room yet.
So at this point we have walked through Paris and Bally's, and now we need to get to the Venetian as we were playing there on Sunday. And we walked to whole way, through Flamingo, Linq, Harrah's, Cromwell, and then along the strip to the people movers up past Madame Tussauds and into the Venetian Shops. At this point we have put in 9k steps in 105 degree weather. Sign up for cards, once again I'm in the system still from 2007. Turns out they won't let us sign up for the Sunday tourney ($1100 MSPT $1.5m GTD) this early in the day. So we just have to come back tomorrow.
So back the way we came. Stopping at a candy store and send pics to taunt my 6yo.
We stop at Bally's again. Wife gets a way too expensive whiskey at the bar. We lose some money at video poker. Then we head back to the Mothership. Didn't take any pics here but the $3k NLHE was at the FT. With Alex Foxen highlighting the table. On nearby tables the $25k PLO was getting back under way. Said hi to DNegs and Josh Arieh. Also saw Chance Kornuth, Ben Lamb, and a bunch of other high stakes crushers. Final 2 tables of the $1500 Triple Draw was also going, highlighted by Benny Glaser, a mixed game crusher especially at draw games.
Back to our luggage at 2:45pm. Uber to the Airbnb. Get confused by the electronic combo lock that involves a revolving exterior dead bolt thing. 19k steps down. We nearly pass out. But we still have to go to the grocery store. 5pm, we go to the store. Almost fall asleep in the Uber. Get our stuff. Go back. Heat up some frozen pizza. Try to stay awake as late as possible. Pass out around 8:30 local time. Which is 11:30 our time. And we normally go to bed at 9pm and wake up at 5am. Sooooooo.... yeah.
We wake up at 6:30am and are ready to start are Venetian tourney...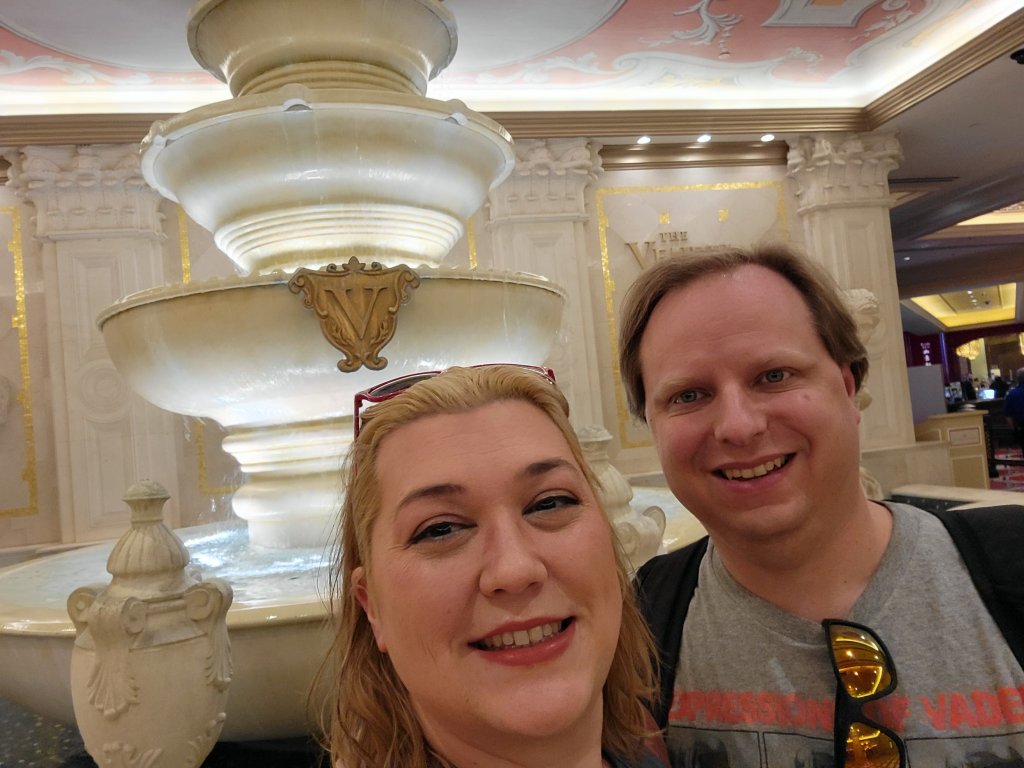 To be continued.