Full House
Supporting Member
Joined

Sep 26, 2021
Messages

3,594
Reaction score

6,311
Location
[EDIT: Would appreciate any instructions or hints on creating the edge stripes for my designs (figure the quarter pies would be easier) or in general if I use other edge spots in the future... Thanks!]
My primary home game is called Third Friday Poker for the obvious reason--we play on the 3rd Friday each month, at least that's the goal. We've been playing weekly on Zoom during the pandemic but finally starting to mix live games back in.
As I mentioned in another thread, I got the nickname "Kung Fu Panda" at some point, so I decided to use a panda in the art here, but not sure if that will be final. I tried thinking of other graphics that might go with the name of our home game, but just came up with boring calendar related images or TGI Friday's parodies which I wasn't happy with.
Since it's in Santa Monica, I was thinking of incorporating the beach or surfing or the Santa Monica Pier or something. I'm not an artist, so I have to depend on finding graphics that would work, and so far I haven't found ones I'm happy with. Any ideas or suggestions for inlay art related or unrelated to any of the above?
Been playing around with the quarter pie I saw on the New China Club and finally stumbled across a font that I liked. Decided to combine Cali and non-Cali colors on each chip. So without further ado, here's my initial version of the Third Friday Poker cash chipset...
The quarter and dollar chips have a regular inlay design. Colors on the quarter remind me of woods, where pandas roam free. Colors on the dollar, plus the font a little, made the chip come out more Dodgers-y than I intended but hey I'm in L.A., so that's not a bad thing!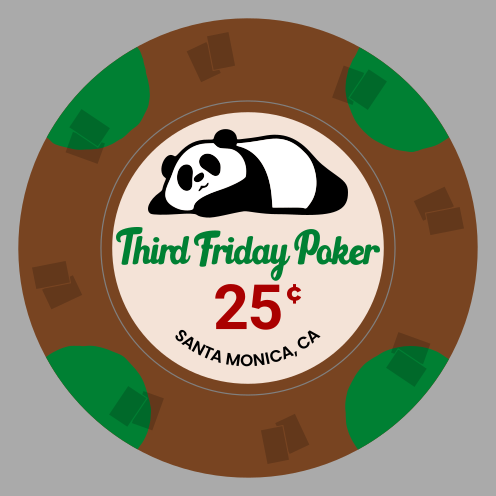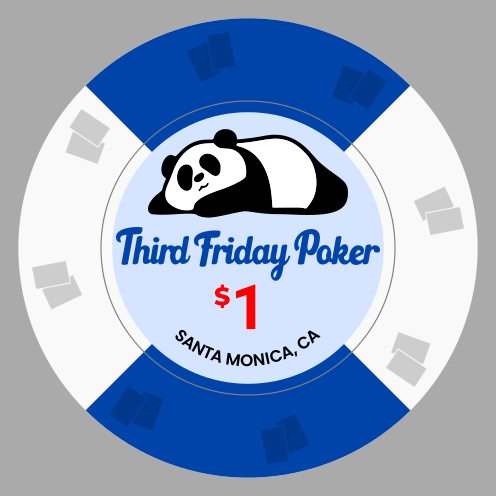 Shrunk down the center art to fit the shaped inlays starting with the $5 and $25. I'm nicknaming the nickel the "Gryffindor" and the $25 the "Joker".
Narrowed the "Third Friday Poker" to fit the narrower shaped inlays in the $100 and $500, and rotated the quarter pie. Not ecstatic about the colors on the $500 (purple and brown don't make great combinations) but had to distinguish from the purple on the $25 and made the brown more orange-y. Will need to tweak further (or most likely just leave it off, since we're not baller enough to need $500 chips in our game).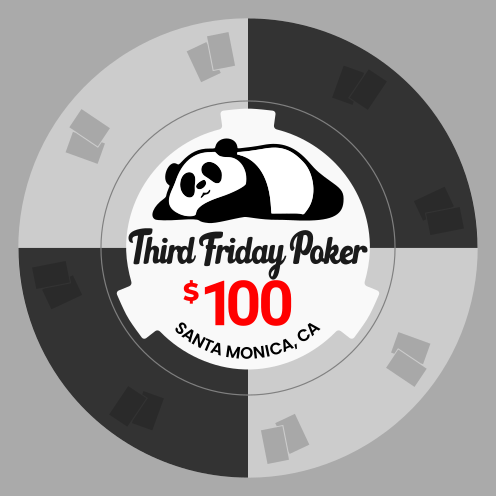 Anyway, constructive feedback wanted! Thanks!
Last edited: