High Hand
Supporting Member
Joined

Nov 7, 2022
Messages

53
Reaction score

57
Location
So I am trying to help a friend "Jimmy" make a custom set and could use help from those with those experienced. I have a bunch of very simple questions, a couple more complex ones. I have some pictures to help give context. Game?
He has run a $15/$30 limit HOE game for decades and has really ratty discussing chips. He does not view chips the way we do and has resisted my attempts to convince him to build a custom set from CPC or even retired casino chips as inexpensive as used Paulson's at ~$1/chip.
Basics Requirements (R):
R1: He wants only red $5 and green $25 chips. 300 red chips, 200 green.
R2: His budget is $200 all in (net 40¢/chip).
R3: "J" on each chip (possibly optional)
R4: denominations (possibly optional)
R5: He thinks (as been told) he wants 13.5g chips. Eeew. I have tried to convince him that real (Paulson) casino chips that he plays with in Vegas and Foxwoods are most likely 9-11 grams. He said 11 grams is ok. I hope I can talk him down to 10 unless there are better options than "Tina's Cards Mold" (TCM).
He has said he like the colors on my green Aztar MI secondaries
as well as the colors of these which I assume are Matsui. I do t know where he got this picture or chips but I think he will hate using Matsui because of slippery plastic feel and poor stacking. I am in contact with the Matsui USA sales rep just to see what they would cost.
Many of my questions will assume a new custom set but I welcome references to existing chips if they meet the color/denomination/price criteria.
I have come up with a couple preliminary designs based on his stated preferences using the fantasy Paulson chip design tool.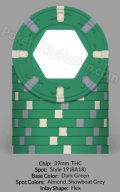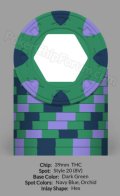 Questions:
Q1: Are there other relevant options besides Tina/Alibaba?
Q2: is there a different feel to the plain/no mold chip and the cards mold chips?
Q3: Is there any weighting option for the Tina/Alibaba chips?
Q4: Can Tina make the necessary adaptation from these Paulson mockups to something that Alibaba can produce?
Q5: what kind of file does she need for a printed inlay design?
Q6: Can I use PowerPoint to create my artwork which will likely be merely the letter J in red and a denomination of 5 or 25 in black (or vice versa) and export that image to a file format the manufacturer can use?