Joined

Mar 27, 2013
Messages

969
Reaction score

15,802
Location
ATTENTION: We will combine shipping on multiple orders and refund the difference, no need to ask. Please make sure the address in your PayPal account is correct. It is very difficult to change this after the sale.
Black Friday Sale
Friday, Nov. 25th, 2022
2:00 pm EST
For those of you who have never experienced a Chip Room sale, there are a few rules. We try to do things so people can acquire a complete set at good prices. The limits are to prevent people from purchasing large quantities of single denominations that prevent others from completing their sets. You cannot use multiple purchases to hit your percentages. Any order violating the rules will be refunded, no exceptions. Percentages and maximum quantities will be lifted after the 1st hour.

At the sale start time, the links below the images will go live, after you refresh your screen. Click on the links to add items to your PayPal shopping cart. Each chip/set will be listed individually and you have to load each denomination/set and quantity into your cart before you check out. Sometimes chips can sell out very quickly, so don't delay.
Jumer's Casino
There are limits on the Jumer's chips. 2000 chips per household in the 1st hour. The percentages listed below are for Jumer's chips only. Multiple orders cannot be used to hit percentages. Any order that does not comply with percentages will be cancelled and refunded...no exceptions.
$1 Chips
**Must not exceed 40% of total Jumer's order**
$1 new primary - $1.99/chip, $1 primary - $.99/chip, $1 Secondary - $1.99/chip

$1 New Primary
$1 Primary
$1 Secondary
$2.50 Chips
**Must not exceed 10% of total Jumer's order**
$2.50 new primary - $2.99/chip, $2.50 primary - $1.99, $2.50 Secondary - $2.99/chip

$2.50 New Primary
$2.50 Primary
$2.50 Secondary
$5 Chips
**Must not exceed 30% of total Jumer's order**
$5 primary - $.99/chip, $5 Secondary - $1.99/chip

$5 Primary
$5 Secondary
$25 Chips
**Must not exceed 30% of total Jumer's order**
$25 new primary - $2.49/chip, $25 primary - $1.49/chip, $25 Secondary - $2.49/chip

$25 New Primary
$25 Primary
$25 Secondary
$100 Chips
**Must not exceed 20% of total Jumer's order**
$100 new primary - $3.99/chip, $100 primary - $2.99/chip, $100 Secondary - $3.99/chip

$100 New Primary
$100 Primary
$100 Secondary
$500 Chips
**Must not exceed 10% of total Jumer's order**
$500 new primary - $4.99/chip, $500 primary - $3.99/chip, $500 Secondary - $4.99/chip

$500 New Primary
$500 Primary
$500 Secondary
$1000 Chips
**Must not exceed 2% of total Jumer's order**
$1000 primary - $19.99/chip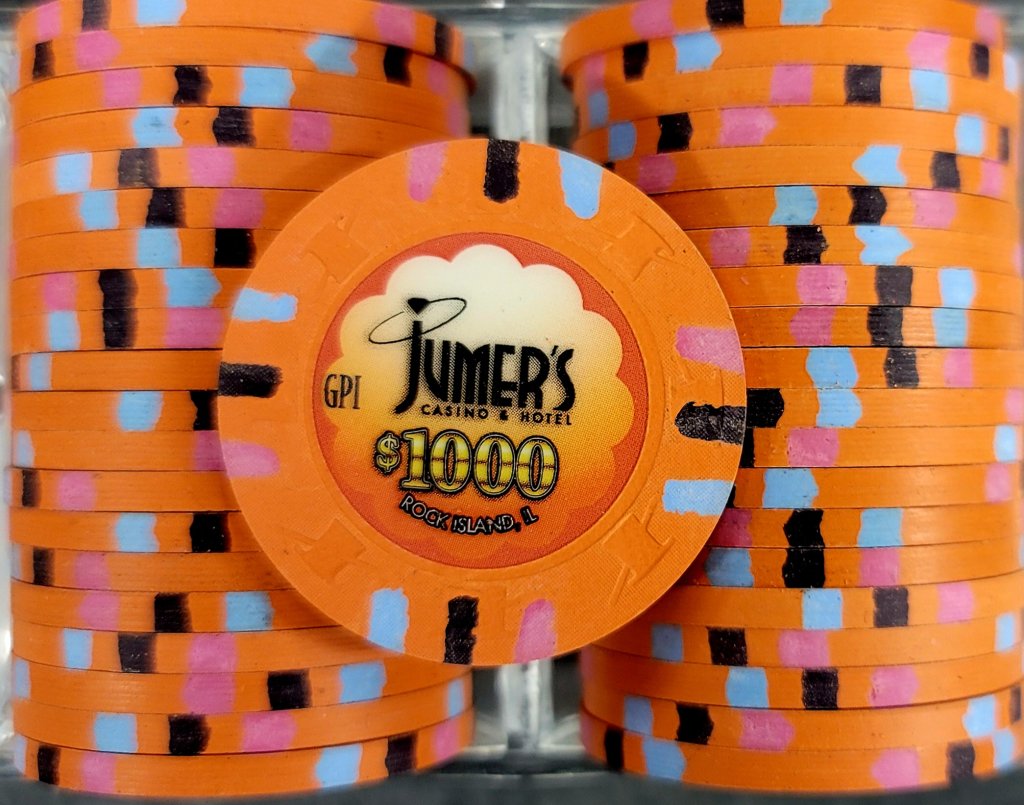 $1000 primary chip
Tropicana Evansville
These are Gemaco chips. Please see review by Tommy https://www.pokerchipforum.com/thre...hips-evansville-indiana-made-by-gemaco.93572/ These will have maximum purchase numbers per denomination.

Primary Chips (used)
$1 - $.29/chip (maximum 1000 chips per household)
$2.50 - $.39/chip (maximum 200 chips per household)
$5 - $.29/chip (maximum 2000 chips per household)
$25 - $.39/chip (maximum 1000 chips per household)
$100 - $.49/chip (maximum 400 chips per household)
$500 - $.69/chip (maximum 200 chips per household)
$1000 - $1.99/chip (maximum 100 chips per household)

$1 Tropicana Primary
$2.50 Tropicana Primary
$5 Tropicana Primary
$25 Tropicana Primary
$100 Tropicana Primary
$500 Tropicana Primary
$1000 Tropicana Primary
Secondary Chips (new)
$1 - $.39/chip (maximum 1000 chips per household)
$2.50 - $.49/chip (maximum 200 chips per household)
$5 - $.39/chip (maximum 2000 chips per household)
$25 - $.49/chip (maximum 1000 chips per household)
$100 - $.69/chip (maximum 400 chips per household)
$500 - $.89/chip (maximum 200 chips per household)

$1 Tropicana Secondary
$2.50 Tropicana Secondary
$5 Tropicana Secondary
$25 Tropicana Secondary
$100 Tropicana Secondary
$500 Tropicana Secondary
Cadillac Ranch
These are Chipco chips. These will have maximum purchase numbers per denomination.

$1 - $.29/chip (maximum 1000 chips per household)
$5 - $.29/chip (maximum 1000 chips per household)
$25 - $.49/chip (maximum 500 chips per household)
$100 - $.69/chip (maximum 200 chips per household)
$500 - $.89/chip (maximum 100 chips per household)
$1 Cadillac Ranch
$5 Cadillac Ranch
$25 Cadillac Ranch
$100 Cadillac Ranch
$500 Cadillac Ranch
Sample Sets

Jumer's Casino
$69.99/set
Limit 1 set per household

Jumer's Sample Set
Tropicana Evansville
$9.99/set
Limit 5 per household

Tropicana Sample Set
Lake Elsinore Chips
$1 RHC - $.39/chip, $2 chips - $.49/chip, $2 LN round - $.99/chip, $2 Hex VGC - $1.49/chip, $4 - $3.99/chip

$1 RHC Lake Elsinore
$2 Lake Elsinore
$2 Round Lake Elsinore
$2 Hex Lake Elsinore
$4 Lake Elsinore
Majestic Star 36mm Paulson Tournament Chips

T10K Tournament Set
Limit 2 per household
$199.99/set

Majestic Star T10K Set
Ultimate Cash Set
Limit 1 per household
$399.99/set

Majestic Star Ultimate Cash Set
Majestic Star Loose chips
$.49/chip

T5 Majestic Star
T25 Majestic Star
T100 Majestic Star
T500 Majestic Star
T5000 Majestic Star
Misc Chips
IOC Red NCV RHC chips - $.49/chip

IOC Red NCV Chips
Jack 48mm 25 chips - $1/each

Jack T25 48mm
Golden Gates Paulson Dice New
$5/stick
Tangerine

Golden Gate Tangerine Dice Stick
Dark Blue

Golden Gates Dark Blue Dice Stick
​

​
Last edited: