We all want to play along as you scoop the pot with 5 high. We're addicted to the rush and want to imagine you flipping over that bluff and taking home six figures. Here's how you can be the strategy thread god:
Card emojis.
This is really the key. One or two clicks can turn AT82dhsd into



. Look at that sexiness, those cards just sing now. Readers want to experience the heart palpitations and the heat of an overcrowded basement with poor ventilation, even if you're in a cool casino, so give it to them.
Look for the
icon at the top of the text box. On a phone, it might be hidden below a layer like this: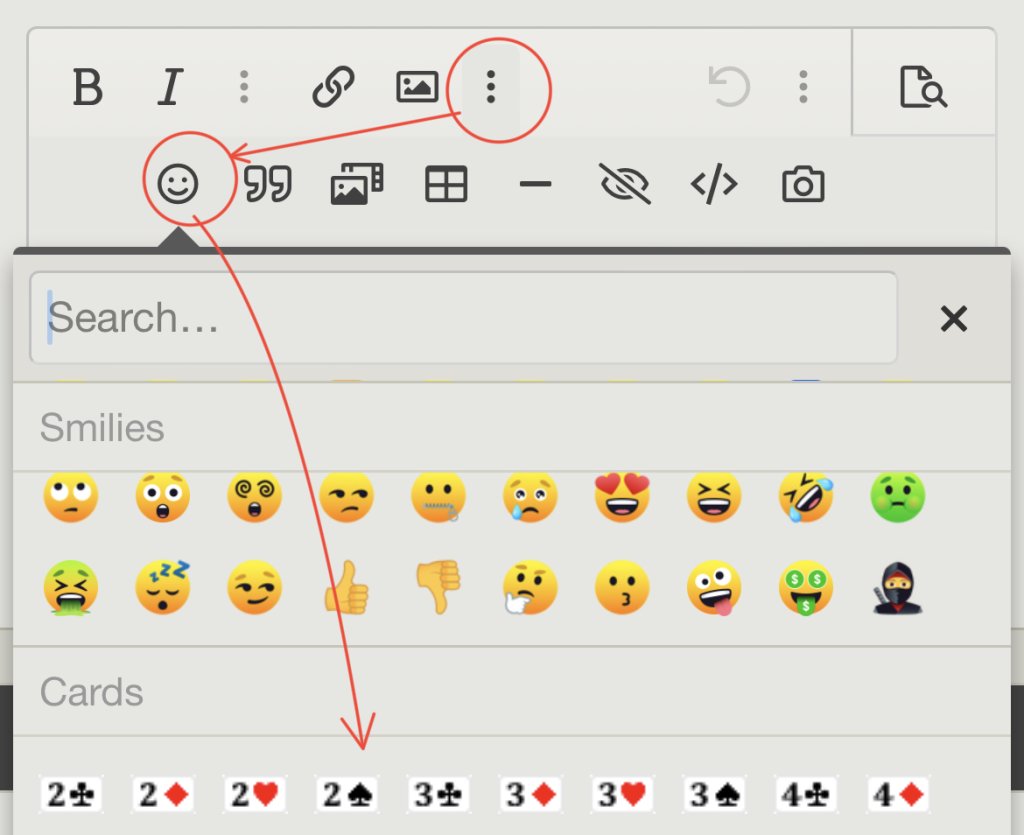 One hand per thread.
Help keep conversations flowing and reduce confusion by discussing one hand per thread. Plus it helps with your post count.
Start Pre-Flop.
Sometimes it may seem like it's an easy call, but not always. Plus it helps get people warmed up and committed to your hand.
Recaps
.
Lost took "previously on" to a new level. Now you can elevate it further and keep your readers addicted. Copying down the earlier decisions helps the reader stay connected to your game on a multi-game, multi-day, muti-page collection of threads.
Just look at this beauty taking us to the turn.
This hand is a NLHE hand later in the night where we were already pretty deep. 8 handed at this point.

SB: solid player with shades of a calling station - $200

BB: LAG - $500

UTG: Member here, so I'm not disclosing my thoughts

- $100

MP: Maniac from some of my other threads, but more of a reasonable LAG tonight thus far - $250

HJ: Member here, so I'm not disclosing my thoughts

- $250

CO: Hero -$450

BTN: TAG, winningest player at the game over time - $250

UTG Folds

MP Raises to $2

HJ Folds

Hero looks down at

and RAISES to $7

Folds back to MP who CALLS

Pot is $15

Flop comes:

Villian leads for $8

Hero RAISES to $20

Villain pauses for a few seconds and calls.

Turn is

Villain checks.

Action on hero.
And look how those card emoji really help the reader skim the post and quickly reconnect their memories and find what they're looking for.
Time between posts.
Be kind to those with jobs and chose to use their extra cash on poker chips instead of an iPad with mobile hotspot dedicated to PCF. Give several hours, maybe a day, between decisions, allowing folks to relax, settle into their comfy spot at the end of the day, and catch up with a robust decision on 3-betting


pre-flop. And now that you're using card emoji and recaps, readers will follow along nicely.
Complete the action.
Please don't forget and accidentally walk away after the river. While the strategy of that last bet, not the outcome, is the important piece, your new fan base wants to know. Because some of us, somehow, always find ourselves on the wrong end of the odds and find the villain really did make



on the river to beat your





despite his earlier bluffy behavior, odd betting on every street, and all signals indicating GO, which resulted in us losing our entire chip stack and putting us on tilt for the rest of the evening, completely crushing our dreams of PokerGo sponsorship and a shot at High Stakes Poker, and which still cause us to twitch at the sight of a
on the board. Anyway, we're rooting for you, let us pat you on the back for a hand well played or give you a virtual hug for that suck-out.
Now go share some hands!