Straight Flush
Supporting Member
Joined

Apr 29, 2020
Messages

7,543
Reaction score

11,615
Location
Sorry y'all - Ben book coming! LOL
@Ben8257
My first year on PCF, I mostly avoided Paulson chips due to cost. I acquired some china clays and designed and ordered a set of custom cards mold ceramics. I then had a large cash set, a huge tournament set, and quite a few samples. I could have just left PCF and focused on PLAYING poker, right?
But of course, I continued to oogle real compressed clay chips from all the various manufacturers, and wondered if I would ever lay out more serious money to have a full set of Paulsons. I considered trying to buy some BCC C&S mold chips, but struck out on finding much within my meager budget. I had samples of both RHC and THC Paulsons, and I much preferred the THCs. The Jack Cincinnati sale took place and I seriously considered those, but ultimately passed due to most of the chips being RHC. Then in May 2021, a reasonably priced rack of used (smooth as butta!) Town Tavern $5s (already milled) hit the classifieds - and plans began to formulate. I decided to buy them! Then I started to think of what I could put with them. I bought a couple of barrels of the Jack Cinci $1s and I liked them too. Then some neat 36mm (not THC, but okay since they were smaller) solid Indian Blue chips that had been relabeled as Jack Detroit nickels popped up, and I bought them. Now I have a nickel, a $1 (Jim still had plenty more available) and chip I can label as a $5. For a micro stakes set, I'm almost home!!! And I have spent very little money!!!
In June I bought some perfect chips to be quarters. And in July Jim had a big sale, and I bought a bunch more Cinci $1s. After this is where the second guessing starts. My quarter and $5 chips were both 312s. The quarter chips were hot stamped $1.00, so I bought a drill press and set up a milling rig. Got to talking with a friend and offered to mill some chips for him in exchange for some of them. You guessed it. They were 312s - Hi Desert orange with black. I thought about just getting a few of them and making them a $20 chip. But I decided I liked them better as nickels so I talked him into trading me for a few more of them. Now I'm pretty much stuck. I've got to keep going with the 312 theme.
My games are nickel/dime blinds with $20-30 buy-ins. I don't really need bigger than a $5. But I'm all about having those capstone higher dollar chips, so I at least need a few $20s. Plus my games might grow. and I only have the one rack of $5s. So the long search began for the perfect $20, all the while ignoring the real problem with the set. Those darned Jack Cinci $1s. Four tiny edge spots sticking out in a set of everything else being 312s. I continued to ignore them while I searched for a $20. I really wanted yellow, or second choice black. But yellow chips command a premium, and I'm still trying to stay within a budget as best I can. My average cost per chip so far is still only about $1.50. Pretty dang good for THC even if they are all casino used.
Next I bought a sample chip from the dog series - the black labrador on metallic gold with blue 312 spots. It wasn't yellow, but gold is pretty close, and these chips are around with various other fantasy themes. Soon I found a barrel of CDM 200s on the same chip. OK, I can start out with just 20 $20s. But I'd really like at least one more barrel.
Then about a week ago, I spotted some cool 312s in a sale ad. Dark blue base with purple spots. 2 barrels of them. Wasn't sure what I would do with them so I waited. Then the seller dropped the price a bit and it was too good to pass up. they came in yesterday, and I love them! Decided to rethink the top of the lineup and put these new chips in as my $20s and bump the gold ones up to $100s. Perfect!
TL;DR I've assembled a large number of THC chips, mostly 312s. But I don't how to finish the set.


Here is what I started with:
After some more additions, I had these chips to choose from.
I only have 40 of the solid green $25 chips. They don't really fit. I'll probably sell them.
I have 280 of the green/black El Dorados. They are much more worn that any of the other chips in the set. And I don't really want two chips with black edge spots.
At first I had 60 of the orange/black Hi Desert chips. But I was able to add about 45 more so I have enough to make them my nickels now.
I have one rack of the solid Indian blue 36mm relabels. They are really nice. Very sharp and minty. But now that I'm trying to go all 312, they need to go.
The sky blue/mint chips are my absolute favorites of the set. I have two full racks. I spent a little more on them and it was worth it. I have them currently slotted as quarters, but they could also move to dollars if I were to add another chip as quarter. In my nickel/dime cash games, the quarter is the workhorse chip, so I'm happy to have it be the best looking chip in the lineup.
I have about 400 of the Jack $1s. I originally planned to build the whole set around these, before all these 312s started rolling in. Should have no problem selling them once I find a good replacement.
I have one rack of the milled Town Tavern $5.
I have 40 of the blue/purple chips. That's enough $20 to start with, but I would buy 1-2 barrels more if I ever found them.
If I make the CDM 200s my $100 chip, the one barrel I have will probably be enough even if my games grow a little.
Based on the above, this is the way I'm going for now. But the Jack $1 doesn't go with the rest of the set...
The minimum numbers that I need for each denomination are as follows:
5 cent x 100
25 cent x 160-200
$1 x 200-300
$5 x 100
$20 x 40-60
$100 x 20
There is really nothing I have that would allow me to move anything around other than making the El Dorados my quarter or dollar chip. I'm not going to do that. They are too worn and I don't really like them that well anyway. The only slot I would even consider putting them in is the nickel, and that wouldn't solve my my issue as I don't have enough Hi Desert chips to make quarters.
I think the biggest issue I am going to have is finding an appropriate white based 312 to replace the Jacks. White 312 $1s are RARE and EXPENSIVE. Think Silver Stars. I did see a Lakeside NCV chip sell recently that was reasonable, but only 60 of them. If anyone knows where I can find 200 for a decent price, hit me up!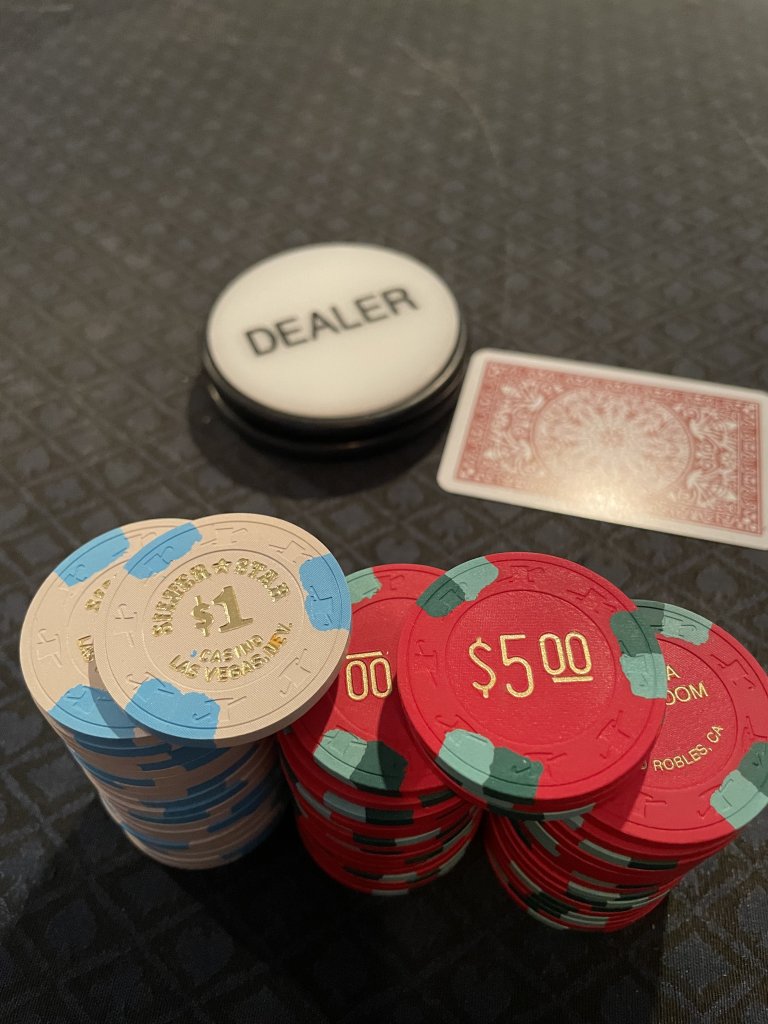 Another option could be the Silver Seven $1 chip. It's a live chip, so possible to obtain from harvesting. But from what I hear, it's not an easy harvest. So it's not going to be cheap. And it has 3 color edge spots instead of one color, so maybe not a great choice anyway. And cost is still a major consideration for finishing this set.
So finding a white $1 312 chip is not going to be easy. I'm seemingly left with two other options. Find an appropriate 312 chip of another color for either the $1 or the quarter. (at least 160 of them) Or go in a slightly different direction.
I did have an idea based on a couple of other chips that are currently for sale. There are some white 212s available.
Can't decide how weird it would be to have a 212 $1 chip in the middle of a lineup of 312s. Just as bad as using the Jacks??? Not sure on that one.
What I could do is put a 212 in as the quarter, then move the blue/mint chips to dollars. But then the orange Hi Deserts won't work as a nickel. I'd either have to put the 36mm Indian Blues back in, or find a 112 (is there such a thing?) or a solid THC (easy) to make the nickel chip. Of course, both these 212 sales are for only 100 chips, so I would still need to locate another 60-100 of them.
Well, that's about it boys and girls. I'm out of ideas. I'm about to start talking to a designer to come up with a label for this set. Not looking forward to murdering and relabeling the Jack $1s, so I will leave them alone until I have a replacement chip. And I don't really want to label all the blue/mint chips as quarters, then have to relabel again when another chip comes along. Are relabel sets ALL THIS HARD??? Not sure if y'all have any ideas I haven't thought of, but if you do, bring 'em on! Photoshop skills greatly appreciated! LOL.
Last edited: