High Hand
Supporting Member
Joined

Oct 2, 2022
Messages

96
Reaction score

78
Location
I've hosted No Limit Texas Hold'em tournaments on and off for over a decade now, but have never hosted (or
even played in
) a cash game. For the past year I've been hosting a pretty successful monthly tourney, and I'm planning on starting a monthly cash game night on a separate night of the month.
Right now, I'm planning on doing micro stakes (5¢/10¢) with a $10 min / $20 max buy in. I'm also wanting to introduce mixed games for something different, especially as I plan on this being the more social "let people talk" game as the tourney night gets bigger.
I've read a good bit of other posts here for advice, but I had some further questions after that. If my questions are answered somewhere else feel free to point me there.
My questions are:
1. With not having a cash game and tourney going on at the same time (because they're on different nights), is it more acceptable to use a single chip set for both the cash game and the tourney?​
I
mostly
understand the "don't use the same set for tourneys and cash games" recommendation, but I'm not entirely sure I understand all the caveats. The main thing I get as the concern is that chips can migrate from the tourney to the cash game. If I'm hosting cash games and tourneys on different nights, can I just confirm at the end of the night each time that I have all chips accounted for (which I'm already doing)? If any chips aren't accounted for, I know I can't use that set for the cash game going forward.
Once I figure out what works for my group (denoms/quantities/etc.), I plan on buying a nice dedicated set for my cash game based on that. Maybe that will enable me to get a custom CPC set sooner if I can get the chip quantities down lower than what I would need for tourneys…
I just purchased my first non-dice chips (Majestics) for my tourney setup, and would much prefer to use those for the cash game over the dice chips in the meantime. I think I can make either work for my expected stakes and group size. My poker table seats a max of 10, and it seems like most people only do 1 table for cash games anyway?
Here are the chip set breakdowns I have now*, and what quantities and values I was thinking of running for the cash game: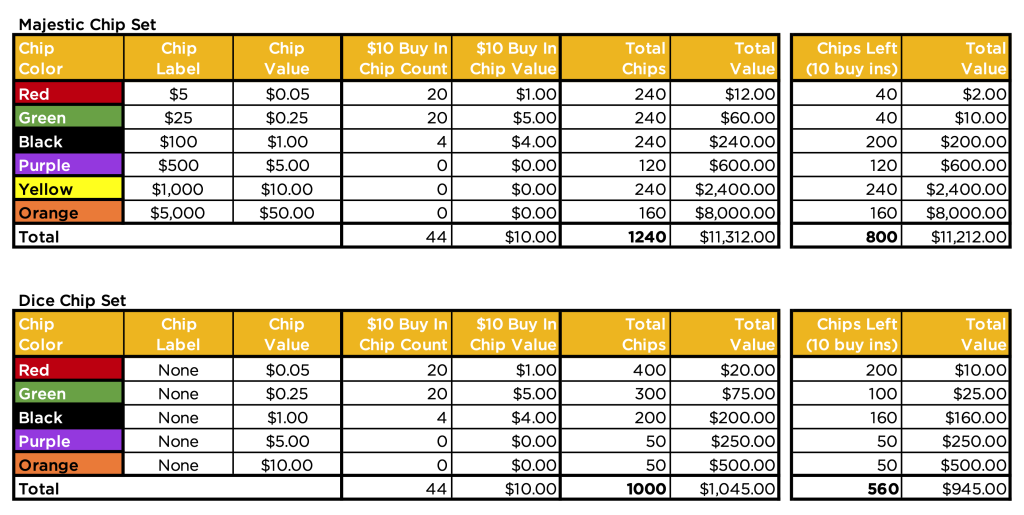 *The only chips I don't currently own are the red Majestics, but would purchase those for the cash game if I am given the blessing to move forward with that setup lol…
2. What mixed games would you recommend starting out with, and how would you recommend introducing them?​
I was thinking of doing one type of game for an entire orbit before switching to a different game. Mostly I'm wanting recommendations on which mixed games to introduce in what order over time (for people used to No Limit Texas Hold'em).
Would it be best if I was a dedicated dealer (still playing) as we learn to play the new games?
I'm sure I've left out information that would be helpful to answer my questions, so ask away if there's anything I left out!