High Hand
Supporting Member
Joined

Nov 7, 2022
Messages

53
Reaction score

48
Location
Paulson THC Pyramid Casino
$5, $25,
$100 with shaped inlays!
[ lowered price]
There are:
80
red $5 chips
,
sold
80
green
$25 chips
, sold
5 6! black 100 chips $40


Condition
See pictures above. I am not a professional grader but they have never been used and imho excellent, mint or near mint condition.¹ If you want more photos just ask.
Match With Paulson Fantasy Sets
As you may know these match the Paulson
Casino De Isthmus City,
aka
CDI '98
,
JB '98, James Bond '98
from similar chips being used their use in the James Bond film
License to Kill so
can be used to fill out or add on those sets. The colors are imitated and spot pattern identical in the BCC CDI chips. See extensive footenote with more pictures.²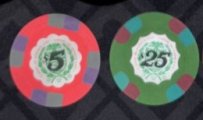 History
In the last footnote at the bottom I included a write up from The Casino Collectibles Association/CCGTCC on the Pyramid Casino chips which apparently had use in a cruise ship casino.³
Pricing¹
This was hard for me and I struggled but after a little looking it seems they have been been actually selling $10-$15 on eBay lately, and Spinettis is
out of stock.
I attached screenshots of what I could find last night from recent sales.
While not exactly the same I see a year ago on this site there was a large lot of CDI '98 sold for $5.20/chip
here
(click).
I will note that these CDI '98 match in color and edge spot patterns as stated above but do not have shaped inlays like these Pyramid Casino chips. That may explain in part why Pyramids seem to cost a bit more on average. Supply may play a role as well as demand too obviously
I was going to put my chips up for sale at $5 each ($10 for the 5 black chips).
However
it's worth something to me to have quick hassle free sales and I want to give a reasonable deal to the PCF community which I have enjoyed joining. To sell them in batches here is what I will offer for PCF members:
$45 for 6 black $100 chips ($7.50/chip) still available!

$360 for 80

red $5

chips ($4.50/chip)
$360 for 80

green $25

chips ($4.50/chip)
$720 for the whole set ($4.36/chip)
Shipping is $10 for any or all lots via USPS Priority Mail. I will ship and provide a tracking number within 24 hours.You can pay for USPS insurance at my cost if you want to add that.
I can take PayPal F&F, Venmo, Google Pay or probably even Amazon gift card. PayPal Goods and Services is acceptable but will have a 3% fee added to your total.
I am usually a chip buyer not seller so I know the value of good communication and will be super responsive. Let me know if you want more pictures or have any questions. I have sold some chips already to another member here and can furnish a recommendation on my packaging and prompt shipping.
To purchase, PM me with what you want and I will provide payment details. If there are multiple requests I will take the first response. I will consider best offers for less on a case by case basis. I think they will go pretty fast at this price however.
If you got this far, thanks for your consideration!
David
Footnotes, because I am a chip geek. Sue me.
¹
If you feel I have made a mistake or question my assumptions I will be grateful if you CONTACT ME BY PRIVATE MESSAGE/CONVERSATION (PM).
² Believe it in not this is merely a brief summery of a longer saga around at least *5* different "CDI" chip sets. I am only going into it here because my chips match so well with numbers 2 and 3 below and may be used together harmoniously.
I have seen even fairly knowledgeable people here get parts of the list below wrong. I am not complete expert but I know of the following:
This page gets it basically right: 1http://www.ccgtcc.com/xfantasy/casinodeisthmus.htmI. Here is a screenshot thumbnail (you can expand below):
³ Interesting history note on Paulson Pyramid Casino chips use from the Casino Collectibles Association/CCGTCC. Although intriguing, this write up doesn't seem entirely internally consistent. Nonetheless is a fun bit of trivia that gives these chips little character imho.You can find it at:
http://www.ccgtcc.com/xfantasy/pyramid.htm
. Here is a screenshot that should be legible if you click on it.
Last edited: