Joined

Apr 3, 2023
Messages

19
Reaction score

39
Location
Hello fellow poker chips addicts! After months of reading the forum as a guest, I finally created an account and am ready to post my very first message.
I am starting a project for a custom
CPC
micro-stakes cash set to play with my friends (usually around 5-7 players, 5c/10c or 10c/20c blinds and 10/20€ buy-in, rarely over 200€ in chips in front of anyone). We only play cash games.
I used to have a Paulson Le Noir 500 chips set bought in 2009 but I have left them at a friend's place many years ago and I have never managed to get them back (don't mention it, I'm still super mad 8 years later...). I also have a 500-set of Aria high denominations from Tina, so now I'm looking for lower stakes denoms and I have started playing with
CPC
's custom tool.
Below is what I have so far, with white and black inlays (I don't know which one I prefer yet):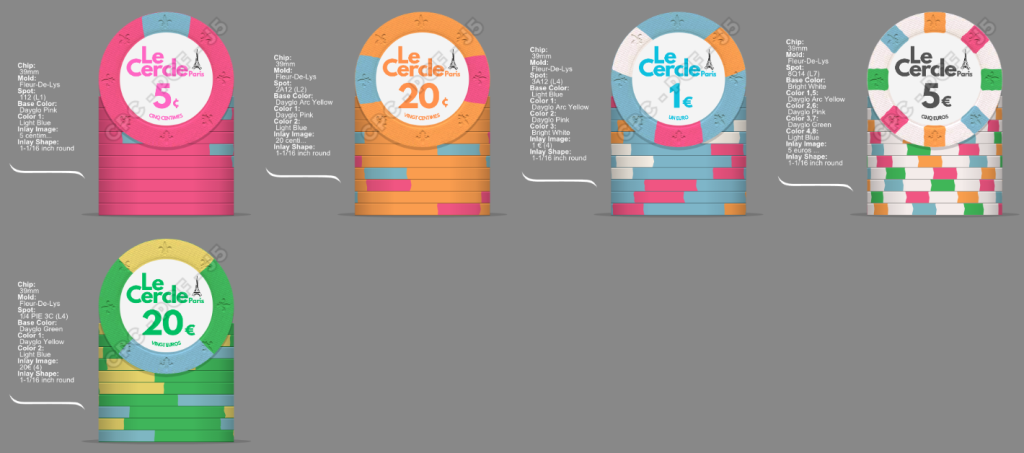 The inlays are not definitive, I have just made them quickly today on Canva and the colors are not exactly the ones I'd like to have, and everything might not be aligned properly yet.
As a proud French, I have to use the fleur de lys mold, no question about it!
My idea for the spots is to use the base colors from the other denominations. The star of the show will be the 5€ chip which will feature all the base colors from the other 4 chips.
I am feeling pretty happy about the 5c, 20c, 1€ and 5€ chips, but for the 20€ I keep changing the spot colors and can't figure out which ones are best looking. See below a few iterations:
In these iterations, only the #1 and #4 are in line with my concept of only having spot colors that are also the base color of other denominations, but I must confess that #2 is probably my favourite.
I know that 20c denoms might seem very weird for most of you, but quarters do not exist in France and in the Eurozone, we have 20c coins instead.
I have chosen Le Cercle Paris as the name of my set as it is how we are calling card clubs in Paris. And of course I had to add the Eiffel Tower in the logo
Pricing should be as follow if I understood
CPC
's website correctly. I know I don't need that many fracs, but I like having lots of chips in front of me and I sometimes play 20c/40c Limit HE and 2-7 so fracs are useful for these games.
Looking forward to read your feedbacks and suggestions!