Joined

Mar 25, 2013
Messages

4,893
Reaction score

18,170
Location
Hi all,
Most of you know I'm a
TRK
nerd. I have been working on a Nevada Club/Lodge set for a while and it keeps growing. I will post the whole set in a week or two when some new orders come in but I wanted to share these special chips separate with their unique story.
LaVere Redfield was born in 1897 and grew up poor in a family with six siblings. His father passed shortly after his birth and he was raised by his mother and brothers. He worked briefly for his brothers before setting out on his own and taking a job as a potato digger.
Redfield saved his money and then worked his way up as a store clerk and eventually saving enough money to marry his sweetheart and honeymooning in California. While in California Redfield walked by a brokerage office and got caught up in the frenzy of the oil stock exchange that was taking place.
The following day Redfield went back and purchased some stock in the oil well syndicates. This set in motion a path that Redfield would take to making himself a millionaire by his 30's. Redfield survived and even thrived during the stock market crash of the 30's.
Distrustful of banks Redfield would get bags of Morgan and Peace Silver Dollars from the bank and hide them in false walls in his basement. This behavior led to him getting robbed several times in his life. Redfield hated paying taxes on his large house and eventually went to jail for income tax evasion.
Despite his penny pinching ways Redfield was an avid gambler. Redfield would walk the mile and a half to the Nevada Club from his house so he wouldn't spend money on gas.
Redfield loved roulette and worked on building his system. He was friends with Lincoln Fitzgerald who owned the Nevada Club (another interesting character). Fitzgerald would let Redfield bet higher limits and had special chips made only for Redfield to use. TR King records show that 1000 of each color were ordered in 1954. Redfield was even allowed to spin the ball himself on occasion. They were non denom so Fitzgerald could set the limits to whatever Redfield wanted to gamble for the day.
In one sory I read Redfield came in before Christmas and won so much the employees didn't get a Christmas bonus. He came back after Christmas and lost it all back and the employees got the bonus.
I have been collecting these chips for a while buying one or two at a time off
eBay
. Anyone who has tried this knows it's a long and expensive process. I recently was able to acquire enough to fill out a rack of each color and without further babbling from me here they are.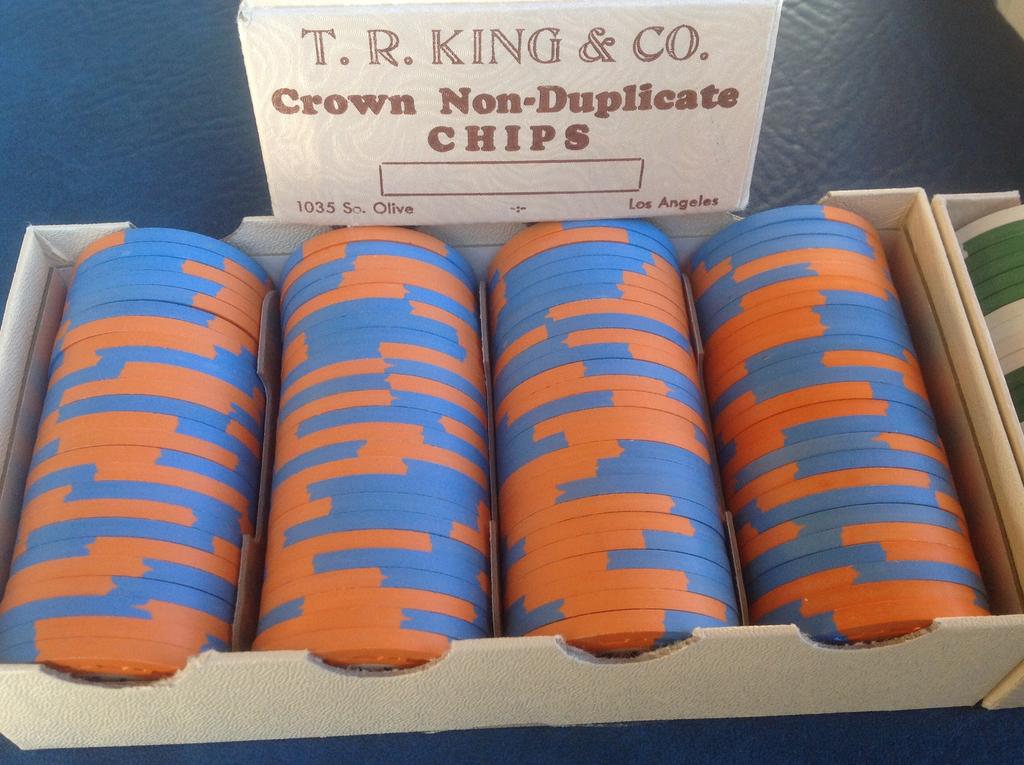 There is much more to his story and I'm currently reading his Biography. Thanks for looking.
Last edited: