Joined

Dec 21, 2015
Messages

9,323
Reaction score

23,388
Location
Lakeshore Inn Resort & Country Club
5 day auction ends on Wed, Oct 9th, 7:00pm Pacific Time.
I've realized that I have more Lakeshore Inn chips than I need for my game, so I've decided to split off a nice playable set and allow someone else to enjoy them rather than have them sitting in boxes, taking up space in my vault where no one else gets to enjoy them. These chips deserve to be on someone's table. And no, I'm not raising funds for some group buy or anything like that. 100% of the proceeds will be going straight into a 529 plan for my daughter's college tuition fund. She says 'thank you'.
Up for auction is a set of the old school, leaded, shaped inlay, Paulson Cali card room Lakeshore Inn Resort & Country Club chips (800 Lakeshores plus one barrel of gear Inlay replacement hundos). These are my favorite chips ever made, full stop. While almost all of my Lakeshores are minty, you are not getting the worst of my Lakeshore chips, you are getting the best of them. I have "cherry picked" these racks from my set of 2800+ chips. I removed any flea bitten chips I could find (there were only a few) and put those in my keeper set. I'd call these "mint" condition, but see photos for yourself as condition terms are subjective, but they all have sharp edges, no flea bites, and fit tight in Paulson racks, with the exception of the barrel of $100s. Those are gear inlay replacements of the Harrah's Joliet $1s, which were lightly used before being cleaned and undergoing surgery. If you like how these fit with the Lakeshores as hundos, it should be pretty easy to find more of them to add onto your set. Also, finding more fracs shouldn't be difficult either. Finding more $1s, $5s, or $20s however will not be easy.
Since no one really knows what these chips are worth (they've never been sold at auction before), and seemingly half of the community has asked me for these at some point, I figured an auction was appropriate. I apologize to anyone who ever sent me a message asking to let you know if I plan to sell these. There are simply way too many of you for me to do that. This way, everyone gets a fair chance at them.
Breakdown is as follows:
100 50¢
300 $1s
300 $5s
100 $20s
20 $100s (gear Inlay replacements)
820 chips total
Optional add-ons for the winning bidder:
1 additional rack of $1s can be added on by the winning bidder if desired at an agreed upon price after the auction ends. No additional chips of the other denoms will be made available.
Lakeshore Inn $100 & $500 custom plaques (82mm x 57mm made by MSK Gaming) can be purchased by the winning bidder for $8 ea in increments of 20 if you want those as well. I have about 80 of the $100s and 20 of the $500s available.
STARTING BID: $5500
Bids must be placed using numbers (no images), in whole dollars, and in minimum increments of $5.
NO RESERVE. The Starting Bid of this auction will be treated as the Reserve Price.
All bids are to be placed openly in this thread. No bids via PM/Conversation.
No bid edits or bid retractions permitted. (note: ALL edits are logged instantly)
Auction will use the '5 minutes after last closing bid rule'. The highest bid at 7:00 pm Pacific Time, Wednesday October 9th will win unless there is a bid within 5 minutes of closing time - then the closing time will be within 5 minutes after the latest bid was posted. A bid at the closing time is NOT a valid bid. Since seconds are not displayed on post timestamps, these examples will be used as a reference.

Any bid placed at 6:56pm up to and including 6:59pm is valid and extends the auction for another 5 minutes.
A bid placed at 6:55pm does not extend the auction.
If a bid is placed at 6:57pm, the auction would then close at 7:02pm, at which point a bid placed at 7:02pm would not be a valid bid, but bids placed at 7:00pm or 7:01pm would be valid and would further extend the auction.

I reserve the right to: 1) cancel the auction if no bids have been made; 2) edit the listing to correct errors or clarify rules as needed.
PCF (its Owner, Admins, and Moderators) are in no way responsible for any actions in this auction.
Shipping Terms: Shipping costs are not included and will be calculated based on country of destination and insurance costs. Non US chippers are welcome to bid, but the buyer assumes all risks involved in international shipping.
Payment Terms: Payment to be made via Google Pay, Bitcoin, or PayPal Friends & Family. I will give the winning bidder a reasonable amount of time to pay in case they need to move funds around in order to complete the transaction. I would consider a "reasonable amount of time" to be at least a week, but definitely not a month.
Winning bidder must have been a member for at least one month prior to the start of this auction and have had 2 or more transactions with other members, or have a longstanding member in good status who is willing to vouge for them. If you are unsure whether or not you are eligible to bid, please send me a PM first.
And now, the pr0n!...
Yes, those are blaze orange spots on the $1s.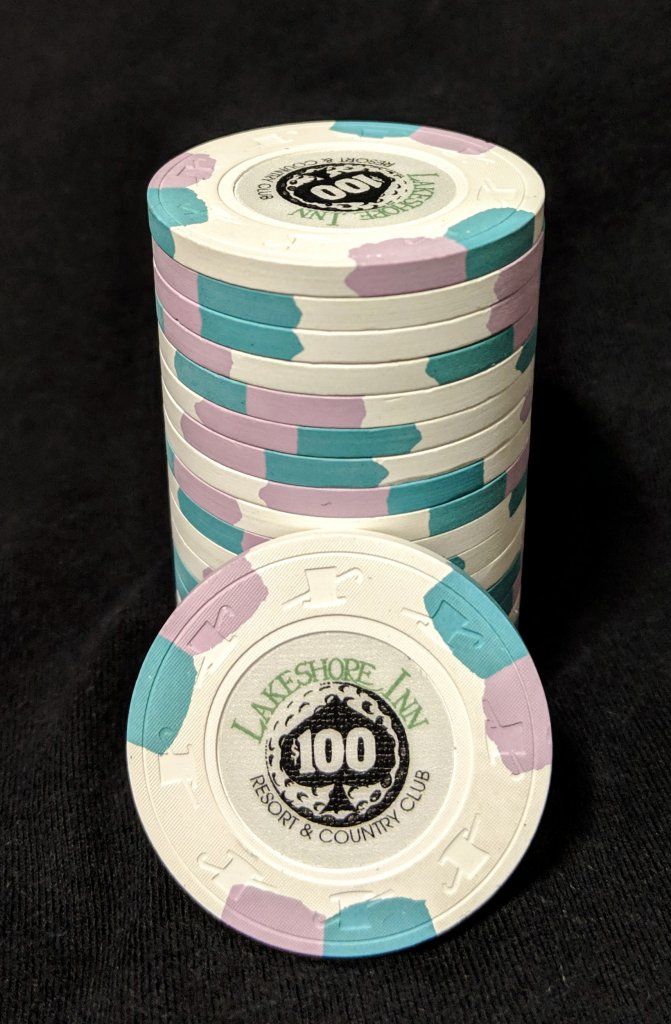 Optional Add-on Plaques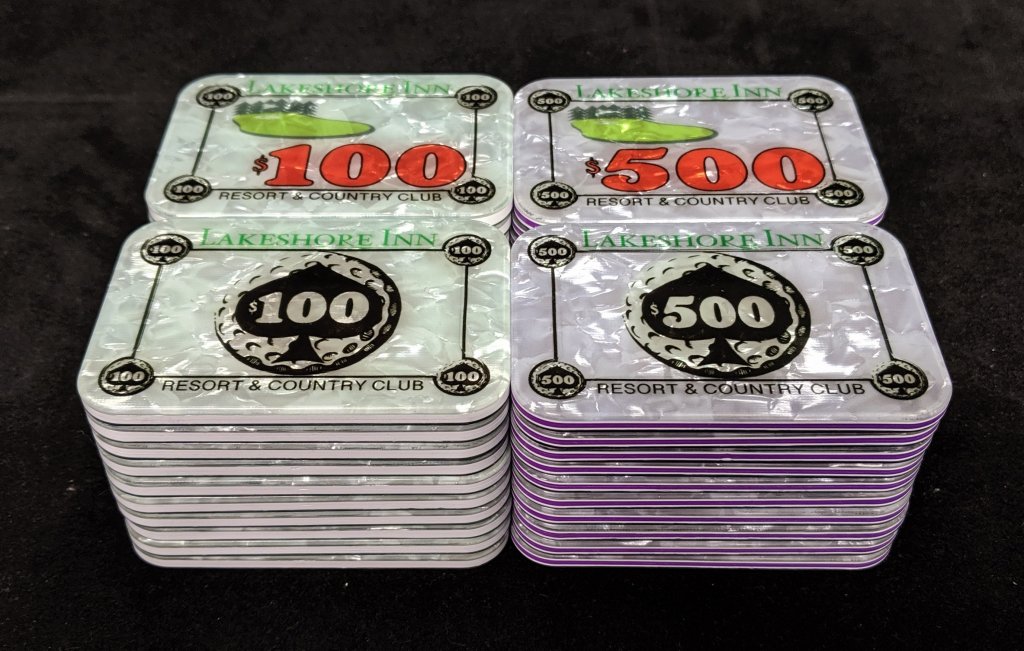 I also have artwork for a dealer button that I created which anyone is free to use if they'd like to have dealer buttons made. But I haven't made any yet (I will be getting some made soon though).
My daughter Arya
For those of you looking for some much cheaper options for old school leaded, shaped inlay Cali chips, feel free to check out my vendor page at the link below for sets and racks of the Outpost Casino chips.
https://www.pokerchipforum.com/threads/outpost-casino-sale-2.47112/post-878295