Joined

Aug 2, 2021
Messages

7,848
Reaction score

18,153
Location
I Have a 1,100 Lake Elsinore Cali Shaped Inlay Cash Set Up For Trade!



Looking for an impressive

ESST

Tourney Set!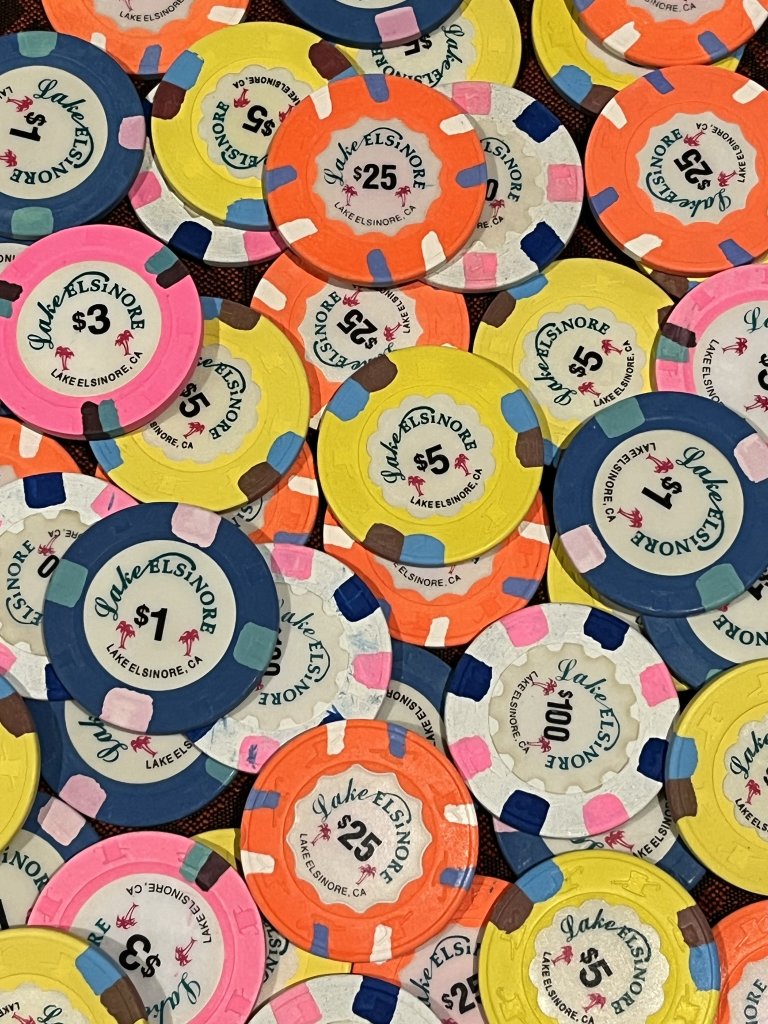 If you are not familiar with the Lake Elsinore chips, I'd recommend reviewing this
showcase pr0n thread
...it gives good unbias details in great length such as leaded vs not leaded, the different yellow $5, and also how most of the collectors of this set used Danny's Chip Spa's edging/recondition services. NONE of these chips have been oiled yet and they still POP!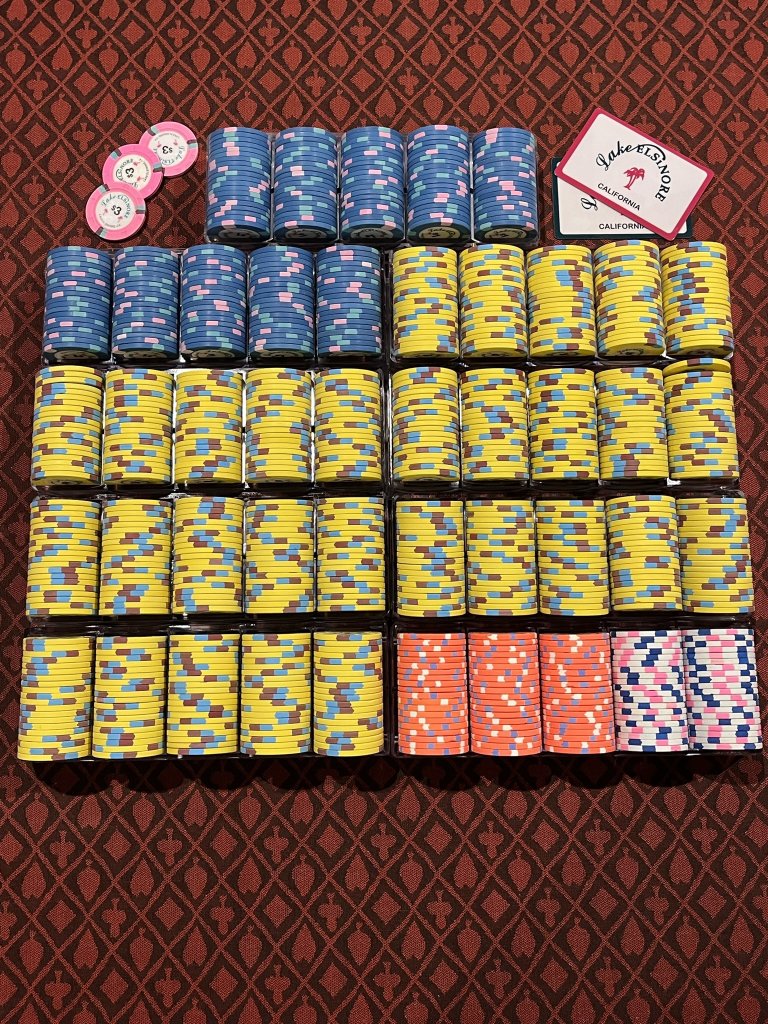 1,100 CHIP SET BREAKDOWN

200 X $1
RHC
with all consistent bright white inlays, cleaned and edge restored . I don't believe they are leaded, but they are heavy at 183g/20 chips! I thought they were better than the $1
THC
bc the $1
THC
had awful inlays.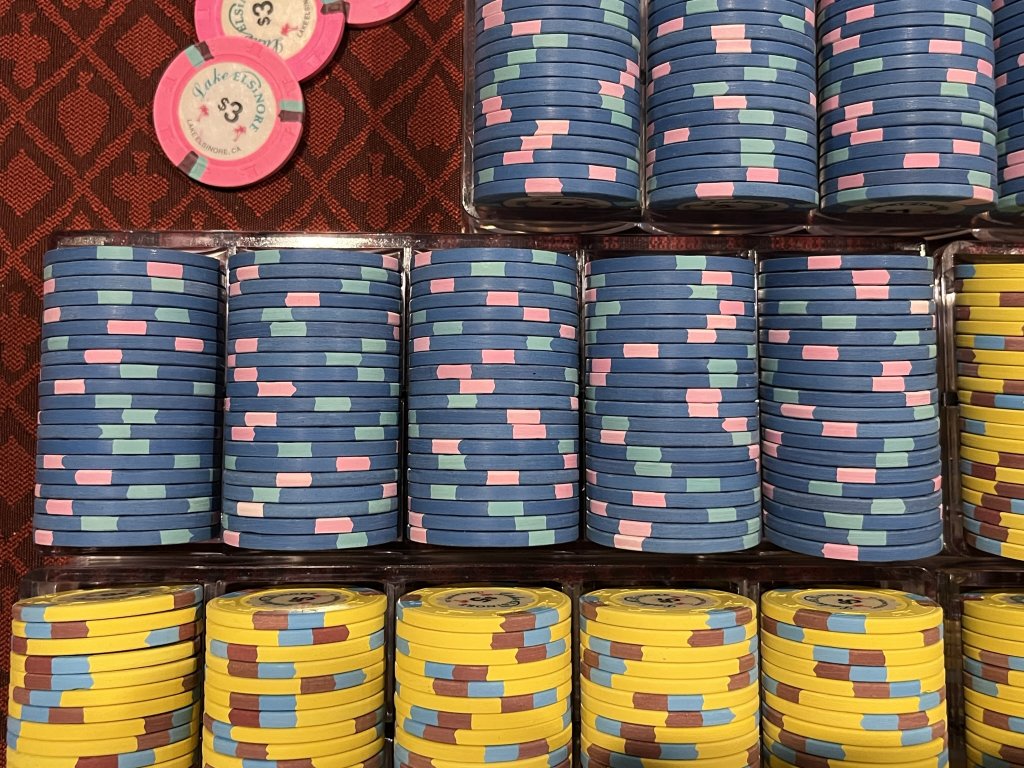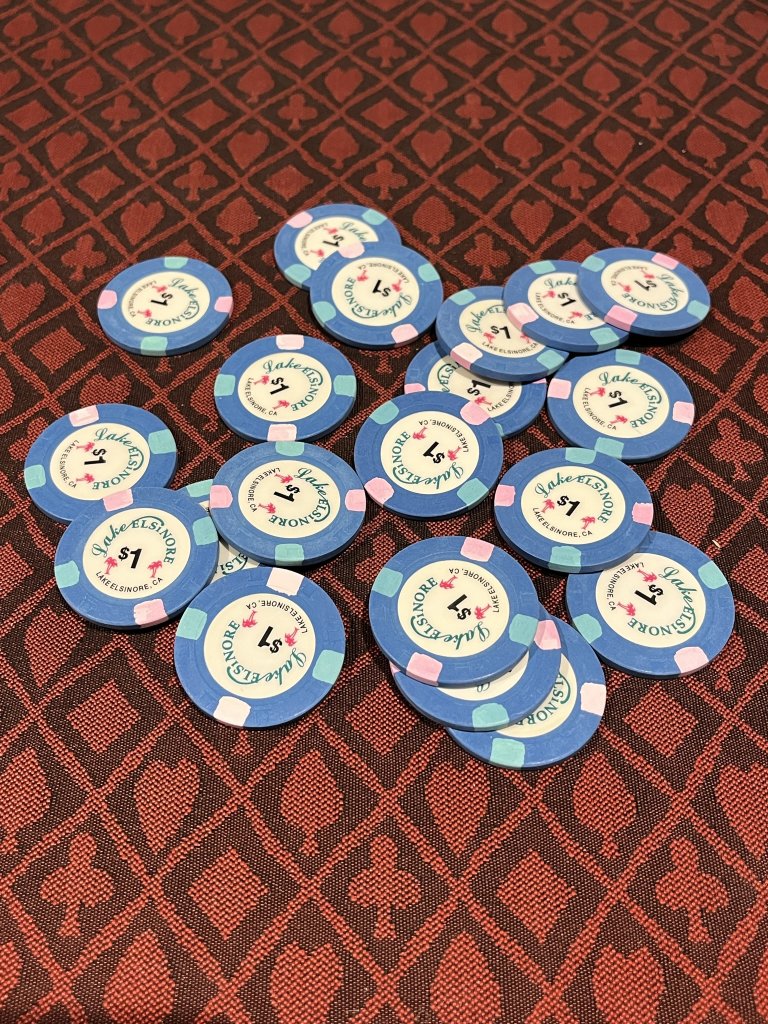 600 X $5
Shaped Inlay
THC
, cleaned and edged restored. I don't believe they are leaded, but they are heavy and check in at 187g/20 chips! And these are the brighter more daisy version of the LE $5! Also the better condition especially after edging. 6 BOOYAH racks!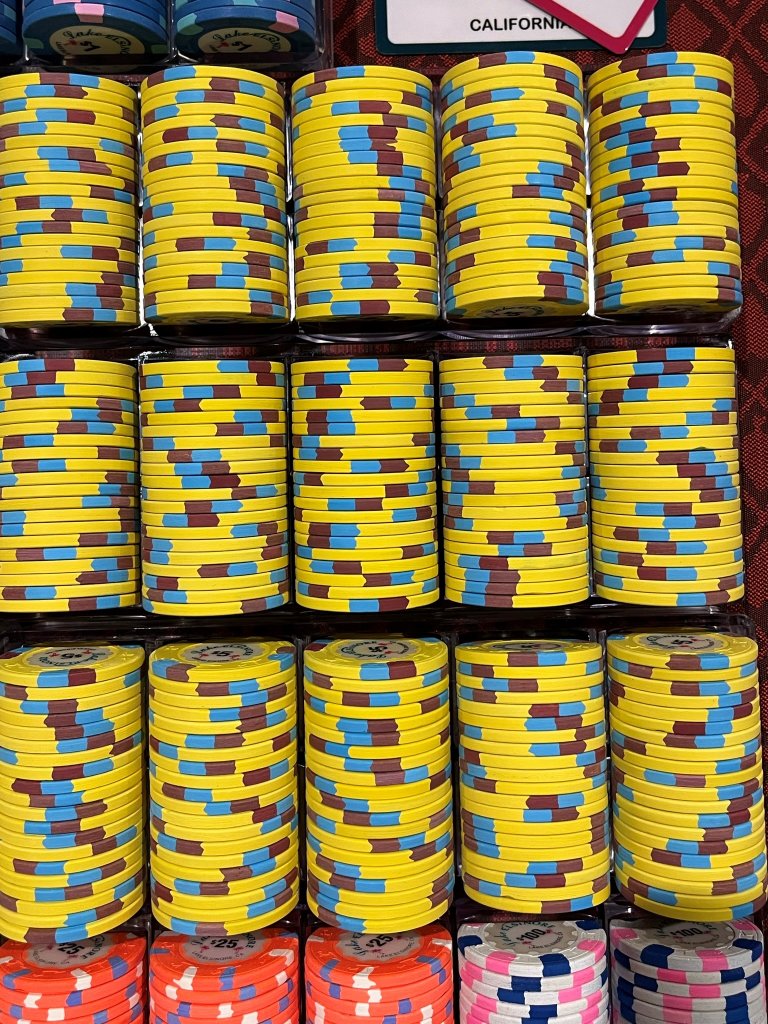 60 X $25
Shaped Inlay Blaze
THC
, cleaned and edge restored mostly leaded and a VERY rare chip in the hands of only a few collectors. They could use some oil but I'll let the new buyer do that. 185g/20 chips.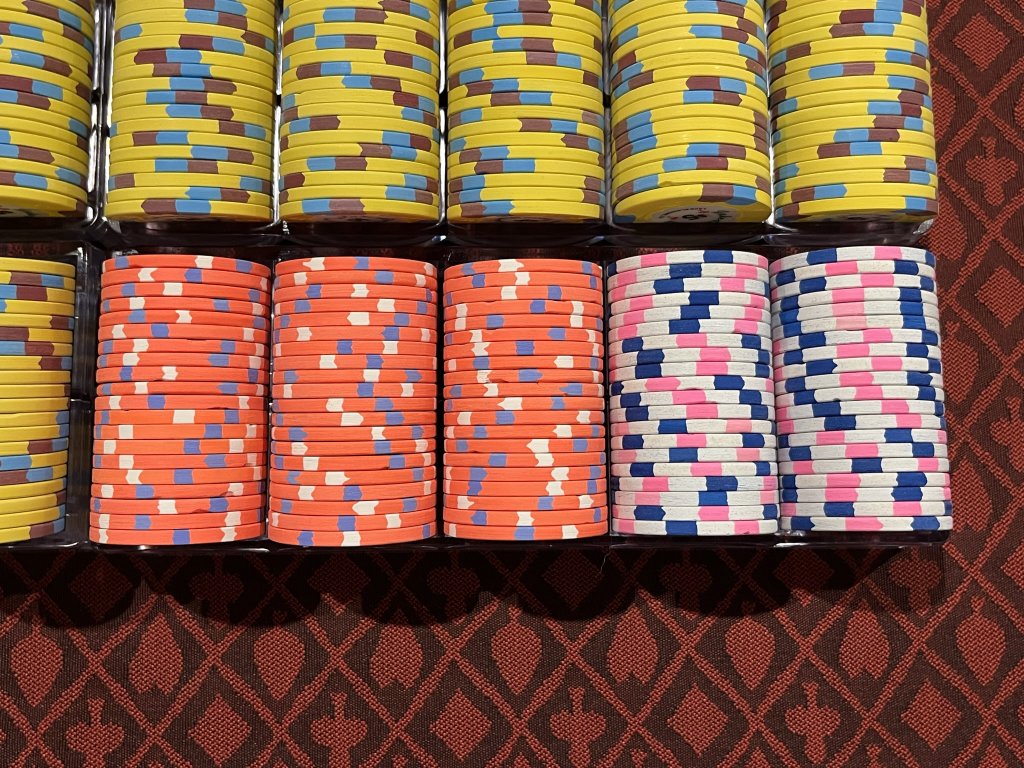 40 X $100
Shaped Inlay
THC
, cleaned and edge restored. Leaded with the black speckles and
HEAVY OVER 10G a chip!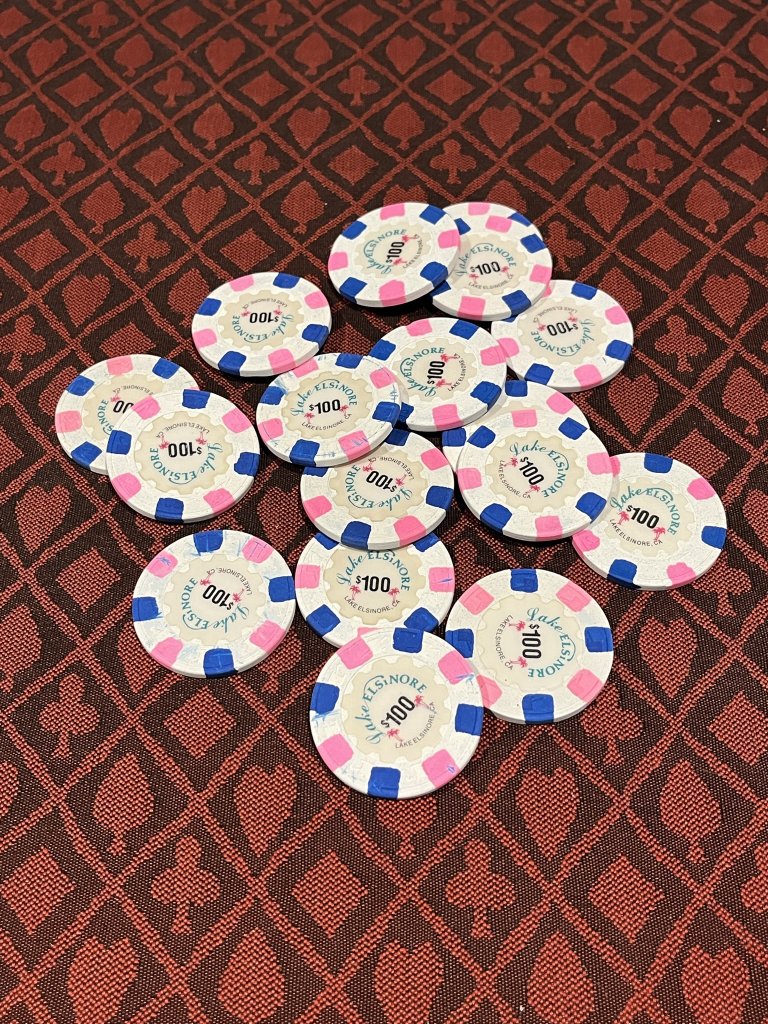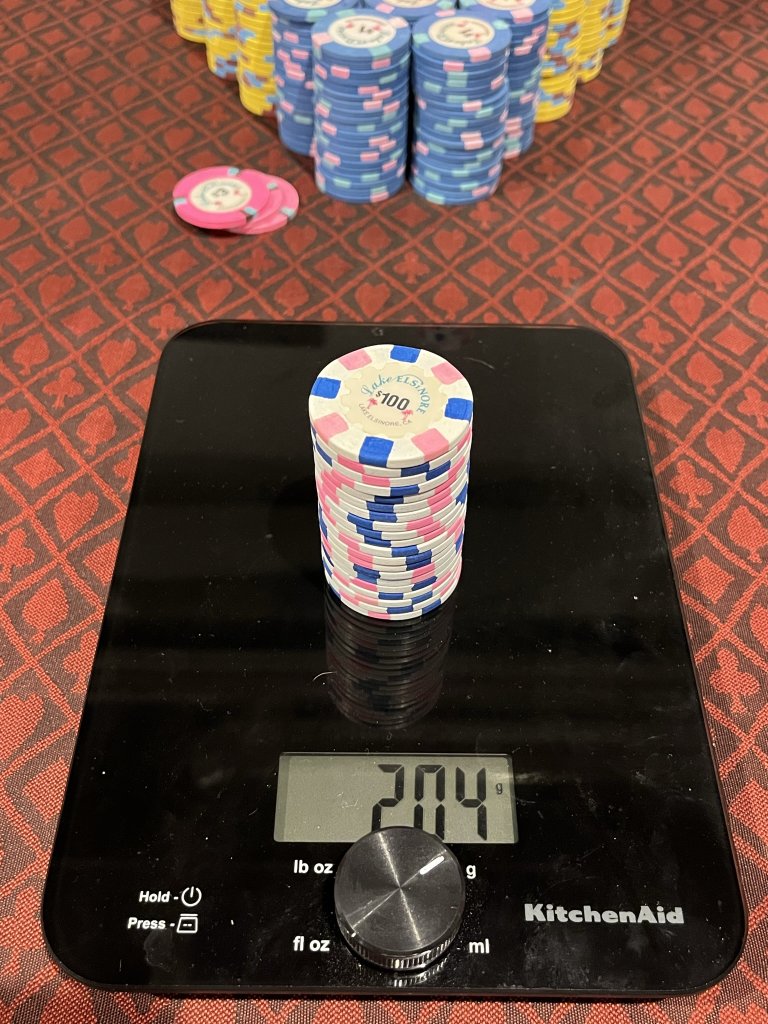 200 X fracs
*NOT SHOWN.
These are currently being murdered/inlay label removed by
@Nanook
. In addition,
@Gear
is printing Lake Elsinore matching labels this month. I'm in the que right now finalizing the estimate/order. Since I have 200 I most likely will go with a .25 frac. The chip is the pink LE $3 as shown in the photo below and splash pots. The pinks are bright and consistent. However, they are casino used and not edged. You may want to have Danny The Chip Spa edge him. His services are available and I have his contact info if needed. He did a killer job, and I'm keeping roughly 1,500 Elsinore chips myself.
This chip set took a lot of time and money. I acquired them over 6 months via several kick-ass members, shipped across the country to get edged, shipped off to get cleaned, then sorted and organized. Shipping and insurance alone has been a pretty penny lol.
These are casino used, somewhat leaded, shaped inlay, California cardroom Paulson chips
for fantasy
NAGB
chips that I plan on turning into a custom tourney set. Win-Win for everyone! I value the set at $6,000.
Chip
Per Chip $
Count
Total $
fracs
3
200
600

rhc

1
2.5
200
500

thc

5
5.5
600
3300

thc

25
20
60
1200

thc

100
10
40
400
1100
6000
I've only been on PCF for 2 years, and I can't think of any shaped inlay Cali chips that came available publicly! I would consider a cash offer as well. Cut cards included. Chips will be shipped in warneke boxes. THIS IS NOT A DIBS SALE/TRADE. I will work with potential suitors via PM to finalize a deal then post here. Please PM with offers.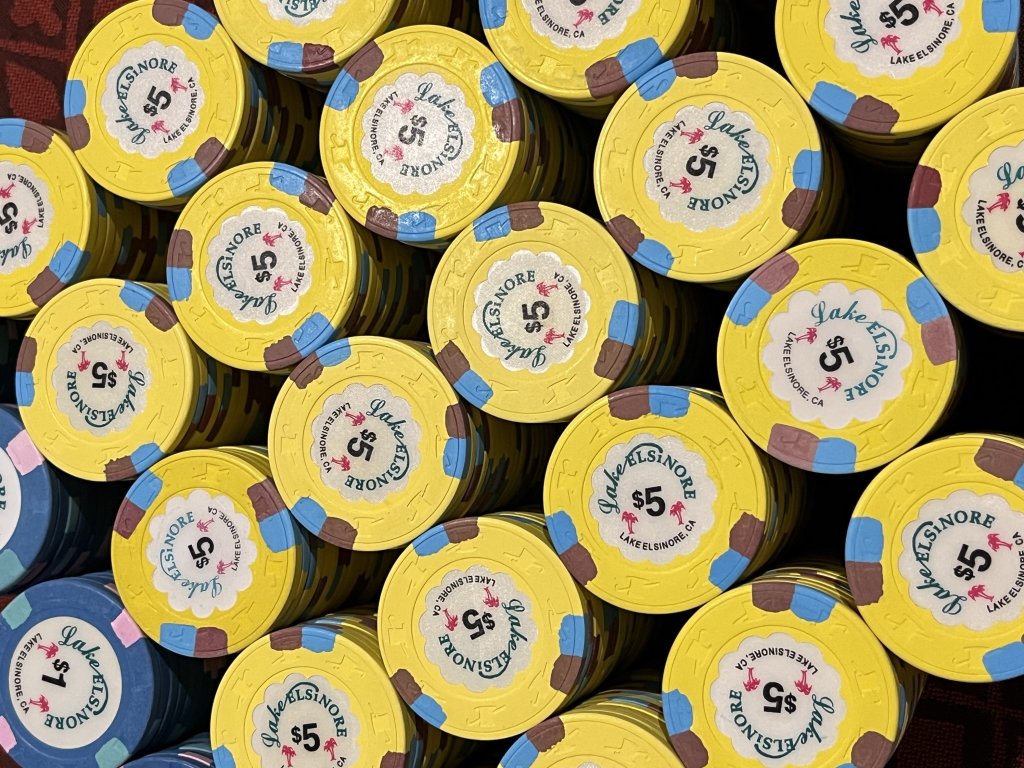 Last edited: