Hello, in my welcome thread I explained my around 10 year absence from poker and chipping
My introduction
Instead of posting pictures in my welcome thread I thought I would just post here my entire chip evolution and story. I thought some might find it interesting as I had some of the earliest custom ceramics made by Sunfly.
Back in 2005 I decided to start a poker league with some friends from work. I ought a folding poker table and a set of super diamond chips and we started playing regularly and all was well.
However I started to feel a pull to wanting something more customized, so I started googling. That led me to Chiptalk.net and a whole new world.
Immediately I ordered labels to put on the super diamonds. I thought they looked good, but quickly found that labels on super diamonds just don't work. They don;t stack correctly and the labels start to catch and fray due to lack of a recess,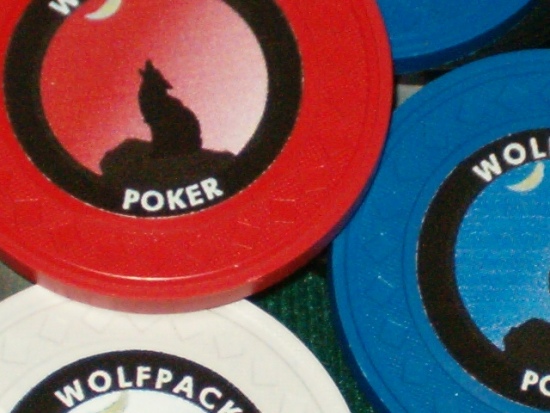 Not being good enough I decided to do something else so I sold them cheap ordered nexgens and new labels, these were a popular item at the time outside of clays and ceramics for custom chips. I went this route because of a desire to try and keep the cost down.
I got them and labeled them and loved the way they looked. However they were very hard and the tink sound they made made my teeth clench. Super diamonds were plasticy as well, but were lighter and sounded better when shuffled.
Unhappy with these I started looking for an affordable alternative something in between ASM customs and nexgens. I was informed ceramic chips were a nice alternative so I got a small set of nevada jacks to try out ceramics
I really liked the feel and sound of the ceramics. Not as good as compression but better than any of the plastic chips (faux clay were very close but you couldn't label them I tried. I did buy a 500 of them anyway)
So my next mission was to get some custom ceramics. At that time your options were pretty much Chipco and I think BR Pro (PI and ABC had not arrived on chiptalk yet at that time) but both were more expensive than I wanted to spend.
I started scouring the internet for an alternative when I came across a company claiming to make fully printed ceramic chips in china, Sunfly. Asking on chiptalk no one really knew anything about them at that time, they had not really hit the home market.
One person responded they had some of their chips (sample set I believe) and that they were inferior to the ever popular chipco closer to NJ's. Well that was good enough for me so off I went reaching out to contact Sunfly.
I had someone on chiptalk (wish I remember who it was) create my artwork and with back and forth with Sunfly I was able to work out a price I liked that was much lower than the other options. So I had a custom set made by Sunfly and shipped to me. As far as I know I had the first straight from Sunfly set of home chips on Chiptalk, I don't even know how many home sets they may have even made for the US market, this was back in 2006.
Soon after Joe from palm imports joined chiptalk and he used Sunfly blanks for his custom ceramics.
For the set I have some regrets, I wanted it to do to much. I wanted the set to work as a cash set as well as a tourney set so I had a 50 made for a .25/.50 no limit game. I also had a NCV made and actually had NCV put on the chip
my thought was I can designate those as any denom in a tournament or cash game. It wasn't log before that wasn't good enough ad I put together a separate cash set of closed casino chips, so if I had to do it over those 2 chips wouldn't have been made.
Anyway enough history without further adieu here is a early set of ceramics direct from Sunfly circa 2006
TL;DR
Sunfly customs from 2006