Joined

Jan 23, 2020
Messages

418
Reaction score

491
Location
EDIT: added most current image drafts.
EDIT 17 Mar: going to send art to Round 7 cutcard buy here:
https://www.pokerchipforum.com/threads/round-7-cut-card-interest.54089/#post-1033064
----
So I have something in mind but I'm not artistic enough to make it happen. I'd like to generate / produce some new artwork to complement the DDLM theme for cut cards and a bounty token.
For the cut cards im thinking of a skull guy bending over a table dragging in a bunch of chips after winning a hand of poker. The second would be simply a original artwork variation on the 5k plaque showing a group around a table playing cards like attached from pinterest. The bounty / All-in would be of a skull guy sitting behind a table, similar, holding a money bag in each hand, and all would need a border around them to complement the theme. Bounty back of the token would have a... Dead skeleton, with a chalk outline and maybe some yellow evidence markers by the money bags he dropped.
I put some feelers on fiverr to a couple artists that work in a similar style for quotes. My trash sketch below is a rough concept.
If there's enough interest I would get the illustrations along with commercial rights then make them available to the community here and Gene & Potsie for production and try recoup maybe a buck per item on an order to cover the $20~ish artists fee or whatever it comes to based on totals.
Rate my artistic skills. Guess which one I did?!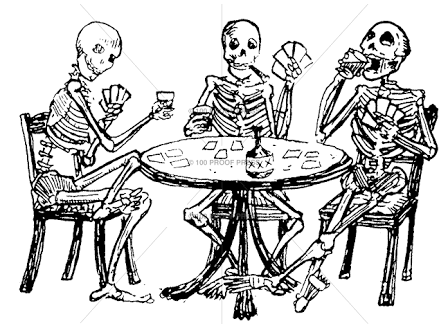 Last edited: