Somehow, my CDI 05 set has come up 1 chip short in a rack of $5's. I'm looking to track down that 1 chips to complete my set. I know this community well enough that by simply asking, someone would say "I got one for ya, I'll drop it in the mail". And while I would truely appreciate that gesture, I'm willing to trade 1 newish Paris $1 in exchange for the CDI. Please PM me and let's work something out.
So in other words, I am looking for this: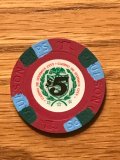 And I have this to trade:
Also, If you have any extra CDI 05 $1K's (2 barrels or so), I would love to take them off your hands. I have a full rack of Paris $1's available for trade for $1K CDI's, or some other things that we could talk about as trade bait (fracs, $2 and $3 chips). Again, PM me and let's see if we can work a deal.
Thanks,
Jon
Last edited: