Warning this is currently a work in progress, I'll add more photos as I finish my smoke.
I get a lot of questions about my brisket, and I happen to be smoking one for my game tomorrow. I thought I would put together a walkthrough of my process.
If you are wanting quality video on all topics for brisket, I would suggest you find Aaron Franklin, and consume all of his stuff, especially his PBS show on BBQ. You can also find where he guest lectures at A&M on butchering and meat cuts. If you are lucky enough to live in Austin TX quit reading and go get in line.
Warning:
We say BBQ, but what does that really mean, technically it means to cook meat with an open flame. It is closely tied in most cultures with a sauce. It is considered rude to put BBQ sauce on meat prior to having sampled the meat first. If you are purchasing BBQ from a food truck or restaur
ant whatever but if you are with the artisan, try the meat first without adding anything.
The Rub:
For brisket I believe you can't do better than a 'dalmatian' rub, it's just salt and pepper. Brisket is easy to smoke, and once you have the technical cooking down it comes down to just one thing. I have been doing briskets for about 8 years now, all of the best briskets mine or otherwise comes down to salt and pepper ratio. Most briskets in the wild seem over salted, you shouldn't taste salt, it
should
have a balance that
enhances
the meat. If you taste salt, it's
too much
. I also prefer kosher or sea salt, and fresh ground crack pepper in small to medium size grinds. The ratio should be 1 salt to 2 pepper, I use table spoons and usually use 2 to 3 salts and 4 to 6 peppers.
Equipment:
The smoker, listen I'm an elitist snob about certain things, and while I'm very opinionate about chips, I don't feel I'm an elitist. The best smokers on the planet are Yoders, if you disagree its fine you're just wrong, will a
shitbox
Traeger get it done, sure. There are really nice custom smokers out there, are they better maybe, maybe not
.
Yoder YS640
​
Valid types of smokers, pellet, offset (aka stick burning), charcoal - that's it only 3 kinds of smokers (I did say elitist snob, I can explain why if you really want me to). There are some amazing Kamado's out there, can you use them to do brisket? yes, they are typically charcoal based, but I don't and wouldn't, it will get the job done, and they have the capacity to be the best looking of all smokers. Charcoal and Offset smokers require a higher skill set, and more effort.
Offset / Stick Burner (wood) Komodo
Butcher paper, there are a few different types of butcher paper and some people like to use aluminum foil.
Knife, sharp, thermometer, and a bowl, a metal bowl.
Thats it, smoker, butcher paper, knife, metal bowl, and thermometer is all you need for equipment.
The Process:
I start by opening the brisket and rinsing it with cold water, then pat dry with paper towels; Toss out some foil, slap that meat on the clean surface and get started trimming.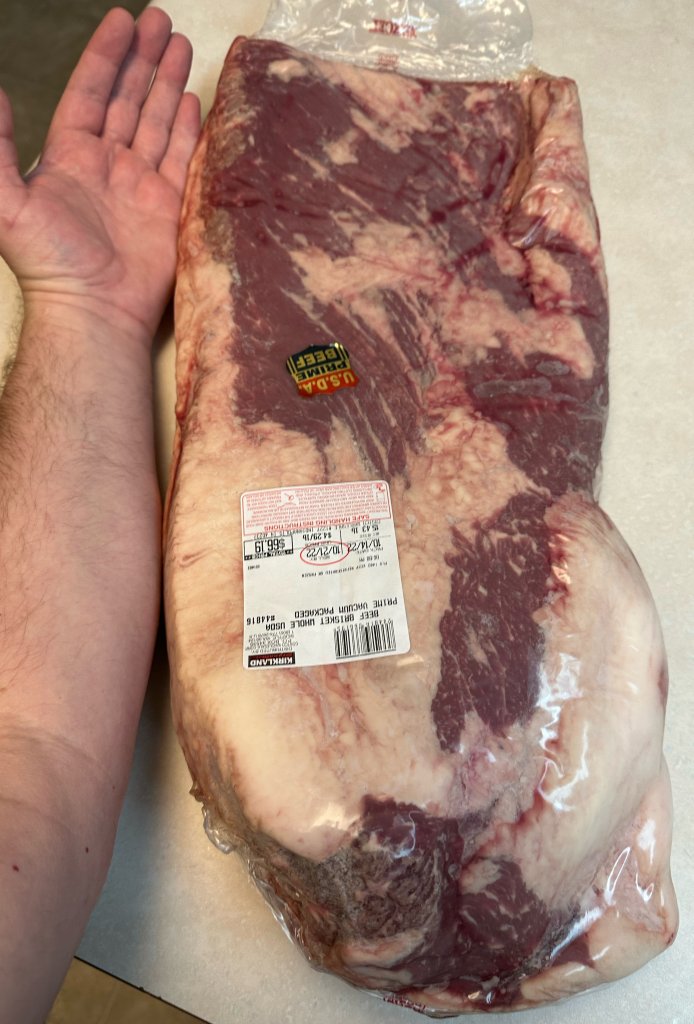 Wait, lets talk about types of brisket, nomenclature what?! So packer brisket, full deckle? You want to pick up a packer brisket, this just means it has a 'small' layer of fat (fat cap), the flat, and the point. If someone says something about a full deckle, they are talking about a crap ton of fat that the butcher hasn't trimmer off, its too much. There is an argument that with more fat you can cook for longer, but its not worth it and the extended smoke doesn't taste better. You can also get a 'flat' or a 'point' in rare cases but that would maybe be something a local butcher would offer. I've used local butchers, but for most things my local stores are sloppy and careless when it comes to cuts (drives me nuts with ribs) so I've stick to the large stores, and I'm close to a Costo so that works for me.
Trimming, is an art and not really easy. If you are doing burnt ends, there's a trick here, you want to cut off and save some of the fat. There are different types of fat, the fat cap typically has this bubbly type of gelatinous grossness, I think due to being exposed to the air, I like to take a few layers of that off. The fat cap should be about 1/8- 1/4 thick, and I try to get it to 1/8 as best I can without exposing the meat. Brisket is basically 1/2 of the chest and it has two parts the point (fattier) and the flat (leaner). The two pieces of meat are separated by fat, the fat creates this V like shape where the tip of the V is where the meat meets
, you need to clean out most of the fat from this section but leave a layer of fat in there.
​
Once trimmed, I score the fat cap, so that the fat on top and the rub can make it into the meat a bit easier.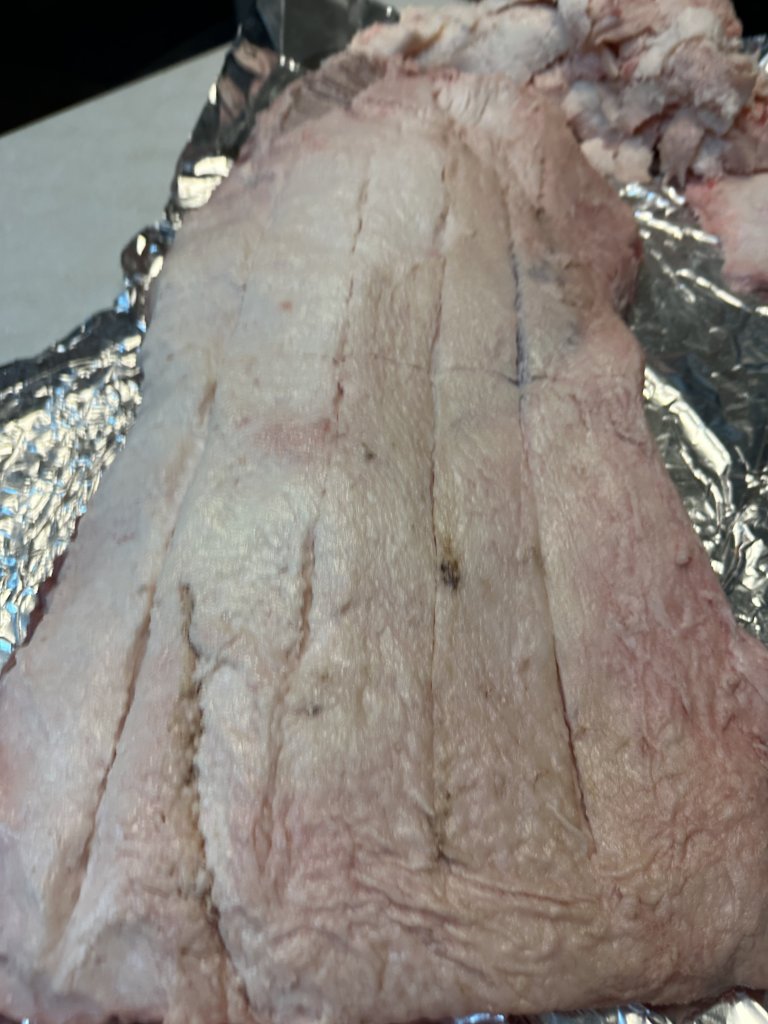 Optional step that I don't do all that often with brisket anymore, though I should, you can salt the meat side and let it sit for about 15-20 mins, this lets the salt melt and allows for more absorption for the meat.
Next, we can slather Yellow (French's in my case) mustard on the meat and apply the rub. Where we cut out all of the fat, we don't want to put any binder (yellow mustard) or rub.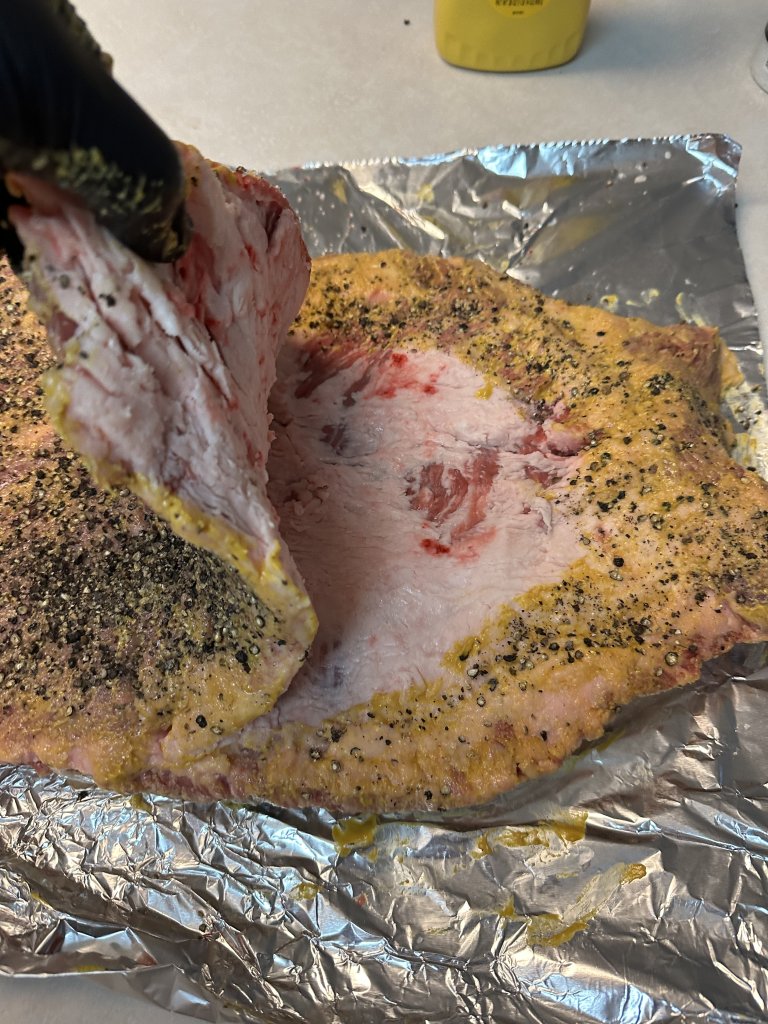 You can mix them (salt and pepper) and apply them, however the salt is 'heavier' and likes to sink to the bottom of the applicator, so I just measure, put the salt on first and then apply the pepper. I typically use a ramekin and using long strokes apply evenly over the brisket. Its called 'Rub' but they say 'Don't Rub the Rub', but brisket is more forgiving than pork, and I prefer to pat or press the salt and pepper into the meat for a few reasons, mostly it sticks better.​
On to the smoker! you'll want to put the point close to the stack, typically as far away from the heat source as you can.
You can see the start of the stack on the right side of the photo, the heat source is lower left of the brisket
​
Heat! Slow and low, that is the tempo, 225 is the temperature at which fat renders. Slide a bowl of water up under it, I like to put foil around the bowl, the smoke and fats are going to drip into it, so it makes it easier to clean up later.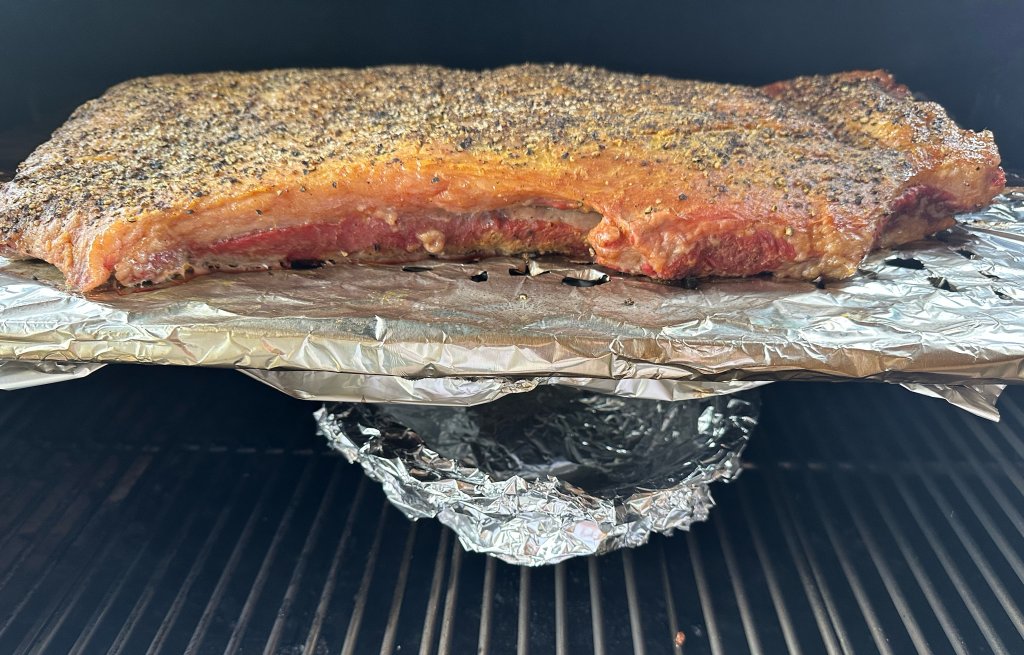 We are going to smoke the brisket to 165 degrees and then we are going to wrap it!
I've tried pink (brown) and white butcher paper as well as foil, I like the pink and I think Aaron Franklin has some content on this as well. I would not use foil, my smokes are 225 for as long as it takes. If you want to smoke faster foil will be the fastest.
Why do you wrap it at all? You can find good content about the 'crutch' or 'Texas crutch', it has to do with the water content, evaporation, and cook time.
165, we wrap and it goes back in, looking for 203 to pull it,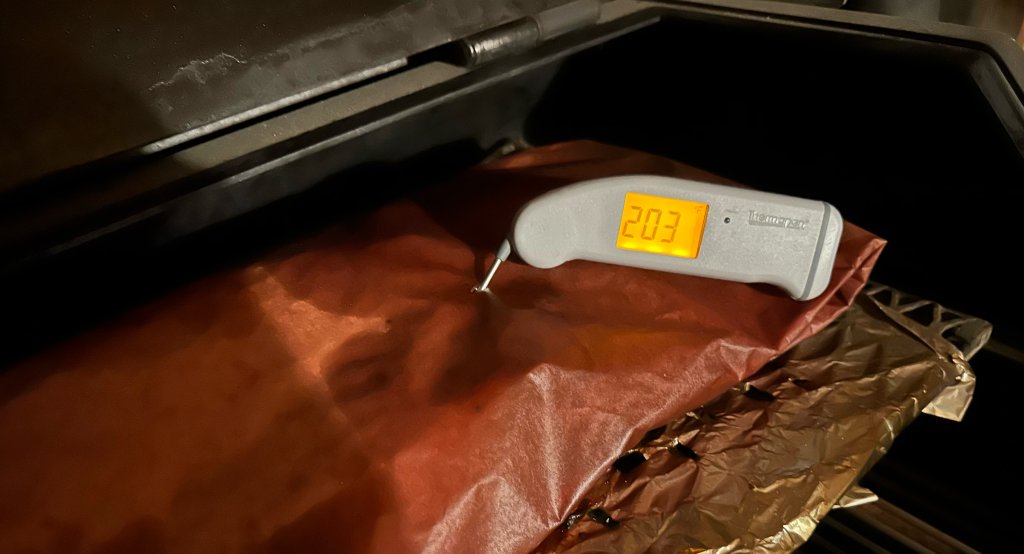 then we wrap it in aluminum foil, then Seran wrap and then towels, and shove it into a Faux Cambro (that's a cooler for us simple type) for 3 hours.
I lay it out in a cross section and just fold the foil in, plastic wrap and then into the cooler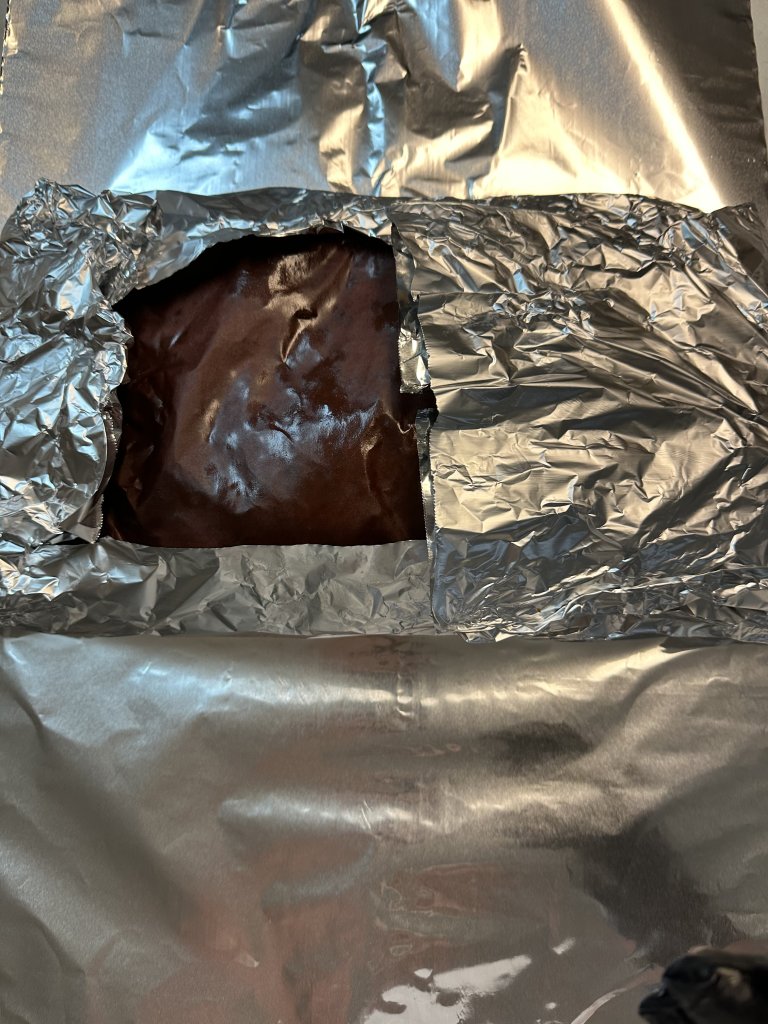 ​
Brisket should be cut from the flat end and sliced about pencil thin (mustache, can't say that without saying mustache) until you get to the point then all bets are off, you quarter it and quarter that and then its a free for all.
Burnt ends:
Technically this is a cheat, burnt ends comes from when butchers would have meat that was about to expire, so they would BBQ it, as they serve it up, cut off the actual burn ends and toss them in a bowl as samples. Well today we don't really smoke quantities that would allow for enough to feed a poker game. So we cheat! at meat, not poker.
Lets backup to the 165 mark, we pulled the brisket and we are about to wrap it, well instead of wrapping it, we are going to cut through that V of fat and sperate the point and the flat and use the point to make burnt ends. So we wrap the flat and back on the smoker, I'll check on the bowl of water that I put in the smoker when I started the brisket, make sure it isn't running low. I like to pull the flat around 190 to make sure it doesn't dry out.
When you are trimming the brisket you'll want to trim off some of the fat from the V and save it, I cut it into thin strips and wrap it in foil and toss it back in the fridge. You can get by without doing this but it ensures 1) more flavor, 2) the ends don't actually burn.
​
I got this hunk of meat aka the point, I cut it up into 1-inch pieces, this will typically go into a disposable foil tin / bowl with some of my fav BBQ sauce. (It's my fav for beef) While I don't advocate for sauce on my brisket, it is required for burnt ends as you need the sugars to burn, no one really wants charred meat. So we've cut up the point and we have two options, into the bowl and then onto the smoker, OR we can take a cast iron skillet and render the fat to get some liquid gold, aka brisket fat, then we flash fry the 1-inch pieces in the skillet to soak in as much fat as we can. So render the fat and take the hard grisly pieces out so you're left with only grease. We are tossing the brisket in not to cook, to soak up the fat, so toss it around and then straight into the bowl with BBQ sauce.
​
Once the flat gets to temp you are looking for all the sauce to be very thick on the burnt ends, then you pull, cover and rest. Ta-da! They taste like meat truffles, and you'll never see brisket disappear as fast as this.
I'll try to circle back once I've done burnt ends again with additional photos of that process.
Last edited: