Joined

Sep 26, 2015
Messages

11,282
Reaction score

19,898
Location
In June I'm offering up to half my action on a 12-game tournament package. I will not be charging markup, and am budgeting up to two buyins per event.
The total bankroll for this event would be $7,640. Half of that is available to backers at the following rates:
2.5% = $191
5% = $382
TGT MIXED GAMES TOURNAMENT SERIES
Tues June 1st 6pm – PLO/PLO8 Tourney
$160
(3k grt with 25K chips)
Wed June 2nd 6pm – PLO/5-Card PLO High Only
$160
(2.5k grt / 25K chips)
Thurs June 3rd 6pm – Mixed Triple Draw
$200
(3k grt / 12k chips)
Sat June 5th 12pm – 8 Game Championship
$500
(15K grt / 35K chips)
Sat June 5th 6pm – PLO
$200
(5K grt / 25K chips)
HARD ROCK TAMPA TOURNAMENT SERIES
Thurs June 10th 11am – Omaha hi/lo
$400
(re-entry)
Sat June 12th 10am – NLHE
$500
(single re-entry) $1 Million Gtd (Day 1F)
Sun June 13th 2pm –
NLHE $1 Million Gtd Day 2
Sun June 13th 10am – NLHE
$400
Freezeout (if not making Day 2)
Mon June 14th 12pm – PLO
$600
(re-entry)
Tues June 15th 11am – Omaha hi/lo & Stud hi/lo
$400
(re-entry)
Mon June 21st 11am – 50K Gtd Deepstack
$300
NLHE
TOTAL BUYINS: $3,820 ($7,640 factoring two buyins per event)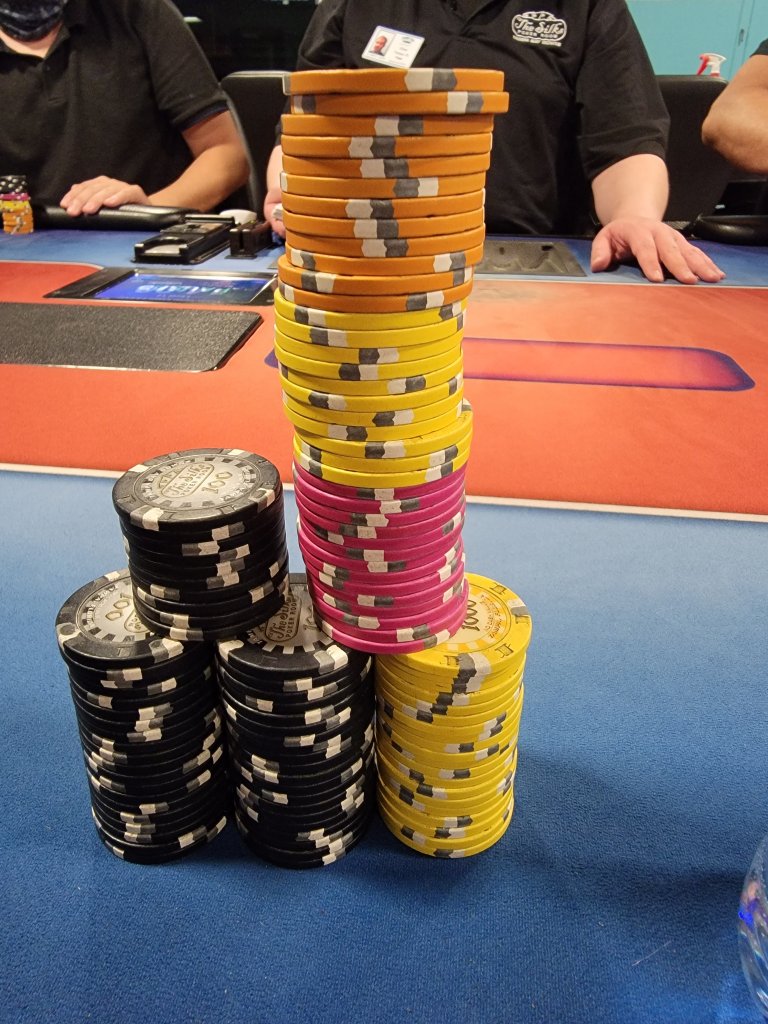 I will budget two buyins per event. I reserve the right to allocate more or less buyins to different events (i.e. the smaller guarantee events I may only buyin once and allocate a 3rd buyin to an event with a greater guarantee like the $500 NLHE with a million dollars gtd in the prize pool)
I will not exceed the total budget of $7,640 across all twelve events, nor will I play in any events not listed using this bankroll.
I will also not buyin to any of these events with money outside this bankroll (i.e. denying backers a share of profits by buying in on my own or via any other staking arrangements)
At my discretion I may elect to not play some of the events listed. Should that occur, the buyins for that event may be allocated to a different event listed, not to exceed the overall bankroll of $7,640. If an event has multiple Day 1's available I may play multiple Day 1's, so the date listed above is just a reference point and could change.
MOST RECENT TOURNAMENTS


My main focus has been on cash games (I have a
thread
approaching 100 pages detailing my journey as a professional poker player since I started in Sep 2019), so I haven't played a large volume of tournaments, but have cashed and final tabled the majority of events I did elect to play (all chip stack pictures are mine from events I cashed in)
Oct 27th - $150 NLHE at Silks – 3rd of 86 entries for $1,548
Dec 30th - $200 PLO at Silks – Chopped 5 ways for $900 (42 entries)
Jan 9th - $250 Saturday Dble 30's Tampa Hard Rock – 6th of 138 entries for $1,415
Jan 18th - $200 Little Slick NLHE Tampa Hard Rock – 68th of 833 entries for $399
Feb 9th - $200 PLO at Silks – Chopped 5 ways $1,134 (41 entries)
Apr 24th - $400 Freezeout Tampa Hardrock 100k gtd (finished 21st of 145 entries on my Day 1 flight, top 15 advanced to Day 2)
Apr 27th - $200 PLO at Silks – 12th of 41 entries (top 5 paid)
TAXES & BACKER PAYOUTS
Tax Form W9 will be required by any U.S. backers and form W-8BEN for those outside the U.S. for any tournaments where the net profit is $5,000 or more
Backers will be paid within five (5) days of the end of the series of events (or 5 days after receipt of a tax form from backer if required)
Any money left in the bankroll that wasn't used to buyin to events will be refunded (i.e. $1,000 left in the bankroll means $500 back to me and $500 to backers)
BACKERS LIST
87.5% of package spoken for
12.5% of package remaining
@Anthony Martino
50%
@raynmanas
2.5% PAID
@Highli99
2.5% PAID
@Josh Kifer
2.5% PAID
@grantc54
2.5% PAID
@Poker Zombie
5% PAID
@arch3r
2.5% PAID
@TheBigTater
5% PAID
@MrCatPants
2.5% PAID
@Payback
2.5% PAID
@Jonesey07
2.5%
@natumes
2.5% PAID
@moose
2.5%
@SixSpeedFury
2.5% PAID
Last edited: