4 of a Kind
Supporting Member
Joined

Apr 10, 2017
Messages

5,058
Reaction score

12,970
Location
Welp, we are pulling out all the stops to make an offer on some property. Depending on how things go, I may be looking to sell my chips off. I would have time to sell them for what they are worth, i.e., this is not a fire sale.
Am hoping for some input from the community. I have not been super active lately but have the general sense that prices are high. Assume maximum flexibility in terms of shipping, splitting, etc. Some splits are obvious (BTP is likely split into 2-3 smaller sets, Palms are not splitting no matter what, etc.).
Please note this is not a dibs thread and I am not taking dibs/offers/etc via PM. If we make this purchase, I will be selling chips over time to backfill our savings and will be hanging onto the Lakeshores, Palms, and Binion's if at all possible.
All opinions are welcome, either in the thread or via PM. Feel free to weigh in on the entire lot or each set or a particular set, whatevs. Thanks! Now, on to the chips.
Note: condition is kinda off the top of my head, hopefully the pictures are good enough. I don't have the bandwidth right now to take any more.
Lakeshore Inn Cash
Condition: EX+ to Mint
100 x 10c
200 x 50c
400 x $1
500 x $5
100 x $20
Binion's Tourney
Condition: 1Ks are mint, rest are VG+
200 x T5
200 x T25
400 x T100
100 x T1K
Empress Star Primary Tourney
Condition: Mint
240 x T25
240 x T100
120 x T500
240 x T1K
120 x T5K
40 x T25K
20 x bounty (T5 inlay replaced)
Big Top Poker Tourney
Condition: Mint
320 x T25
320 x T100
200 x T500
300 x T1K
200 x T5K
1000 x T25K
Palms Tourney
Condition: Mint
100 x T5
100 x T25
100 x T100
100 x T500
100 x T1K
100 x T5K
100 x T10K
Mixed Limit Cash
Condition: Paris are EX+ to Mint, Outpost are EX
1500 x $1 - Paris
200 x $20 - Outpost (petunia)
Mixed Vegas Hotstamp Cash
(Note the $5s were cherry-picked from my Tropicana score, they are very sharp unlike the rest that I sold)
Condition: EX+
200 x 25c - Virgin River
400 x $1 - Claim Stake
400 x $5 - Tropicana
200 x $25 - Sundance West
100 x $100 - Shy Clown
King's Castle Cash
Condition: Varies from VG (solids) to VG+ ($5/$25) to EX+ ($100)
100 x 50c
300 x $1
300 x $5
200 x $25
100 x $100
4 x $500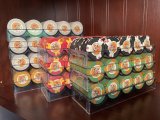 Last edited: