Joined

Sep 30, 2016
Messages

3,573
Reaction score

7,564
Location
AUCTION ENDS ON

Sep 12, 2023
AUCTION ENDS AT

8:00 PM Eastern Time
STARTING BID

$500
MINIMUM BID INCREMENT

$5
PAYMENTS ACCEPTED

PayPal F&F
SHIPPING TERMS

Winner Pays
SHIPS VIA

FedEx
AUCTION GUIDELINES

The highest bid at the closing time listed above will win. If there is a bid within 5 minutes of the closing time (original or extended closing time), 5 minutes shall be added to the time of the last bid, until there are no bids within the final 5 minutes. Because seconds are not displayed on post timestamps, these examples will be used as a reference.
No Reserve. The Starting Bid of this auction will be treated as the Reserve Price.
Bids must be placed in whole US dollars, using numbers in minimum increments as stated above. (bids using images or spelled out numbers are not valid)
All bids are to be placed openly in this thread. No bids via Private Message/Convo. Sellers are not permitted to bid on their own auctions.
The seller reserves the right to edit the listing to clarify statements or correct any errors.
Once a valid bid is made, the auction can not be canceled. Bid edits and/or retractions are not permitted. Violations of this rule will result in discipline at the discretion of PCF Admins and/or Moderators.
PCF (its Owner, Admins, and Moderators) are not responsible for any actions or outcomes that take place in this auction.
Up for auction
A really cool old set of paranoids. These have some connection to the Wort Hotel in Jackson Wyoming. The hotel ran an illegal gamboling eatablishment there for years. I cannot say for sure they were ever in the hotel in play, but they come with a black jack felt from there and a photo album about the hotel. I bought these at an auction in that area from the estate of someone who frequented the hotel for years and this is how it came.
The chips in the Paulson wooden tray are some extras that were bought separately from the big set. There are around 260 chips in that tray mixed between clovers and fdls.
The chips in the big set are a mixture of chips but over 1000 of them are 4 leaf clovers. Each of the smaller tray slots hold 35 chips and big tray spots hold about 50. The bottom tray holds about 1050 chips and the top tray 850ish with the cash markers and roulette ball thing.
There are somewhere around 1600-1700 chips in the big case. It's a really cool old case. Both trays are removable and the chips are overall in really great shape. They clean up well with soap and water and they could make a really cool western theme set.
The extras are what came with it when I bought the set. The felt and photo album. In my opinion there is no concrete evidence there were in play at the hotel but I think they may have been at some point on a roulette table or craps table or something. But I don't really know.
Either way really cool old set.
The opening bid is 500 dollars and the buyer will pay for shipping. The wooden paulson tray is not included. Shipping will be pricey but I'll do it as cheaply as I can. The case is really big and it's almost 2k chips.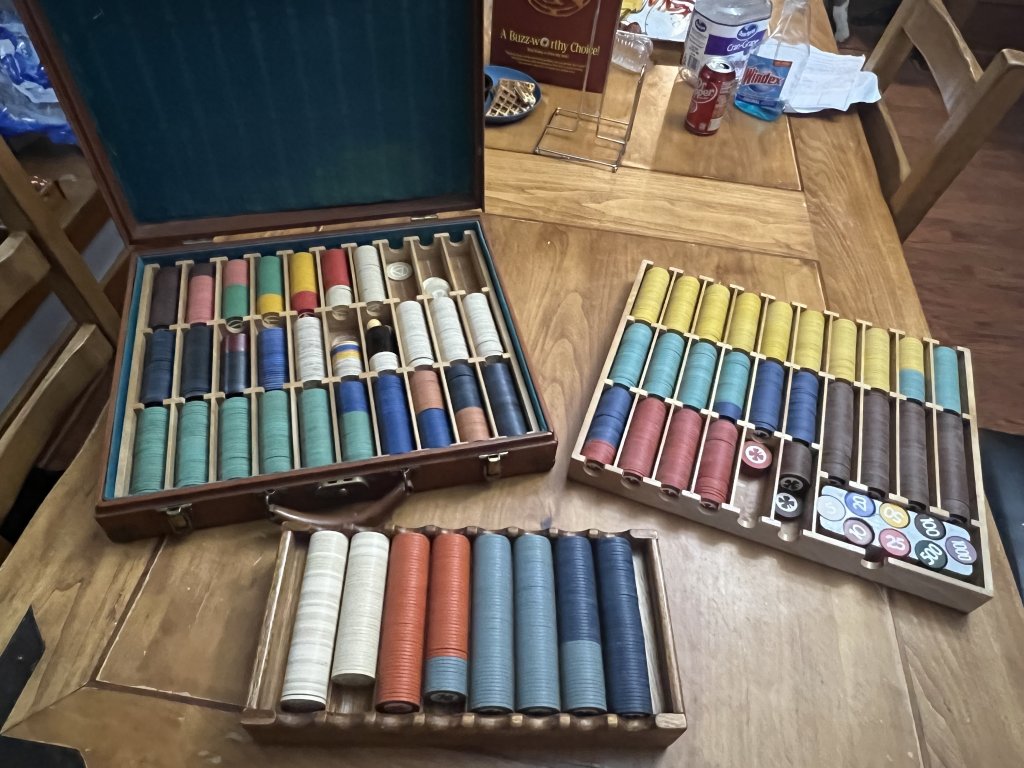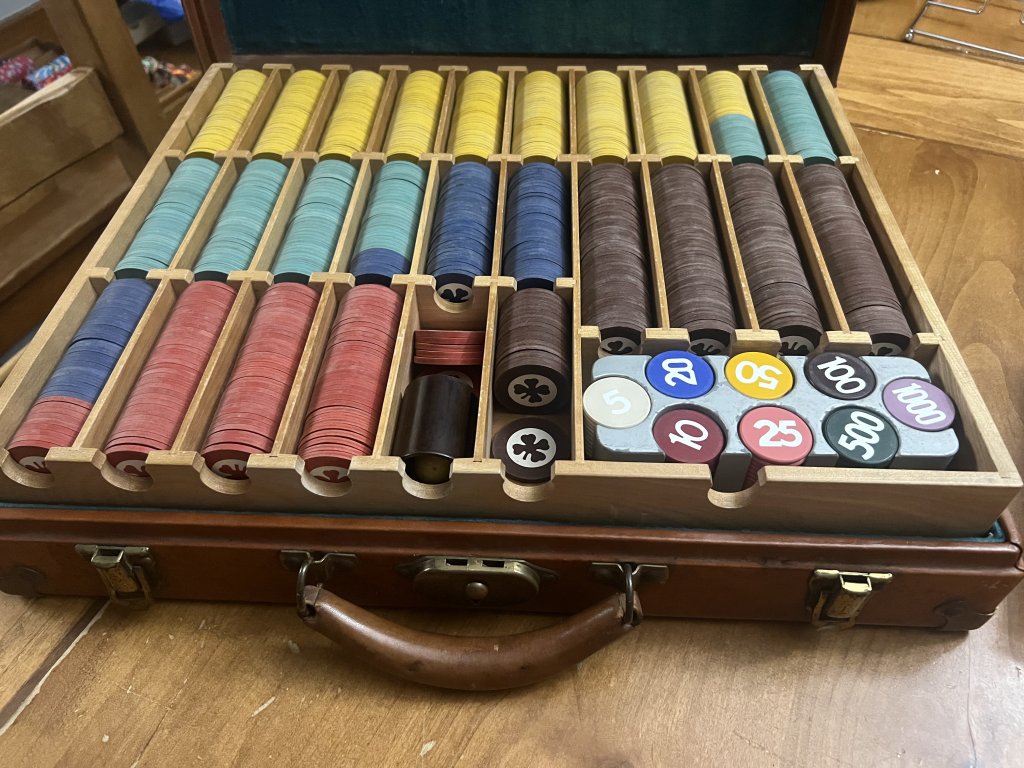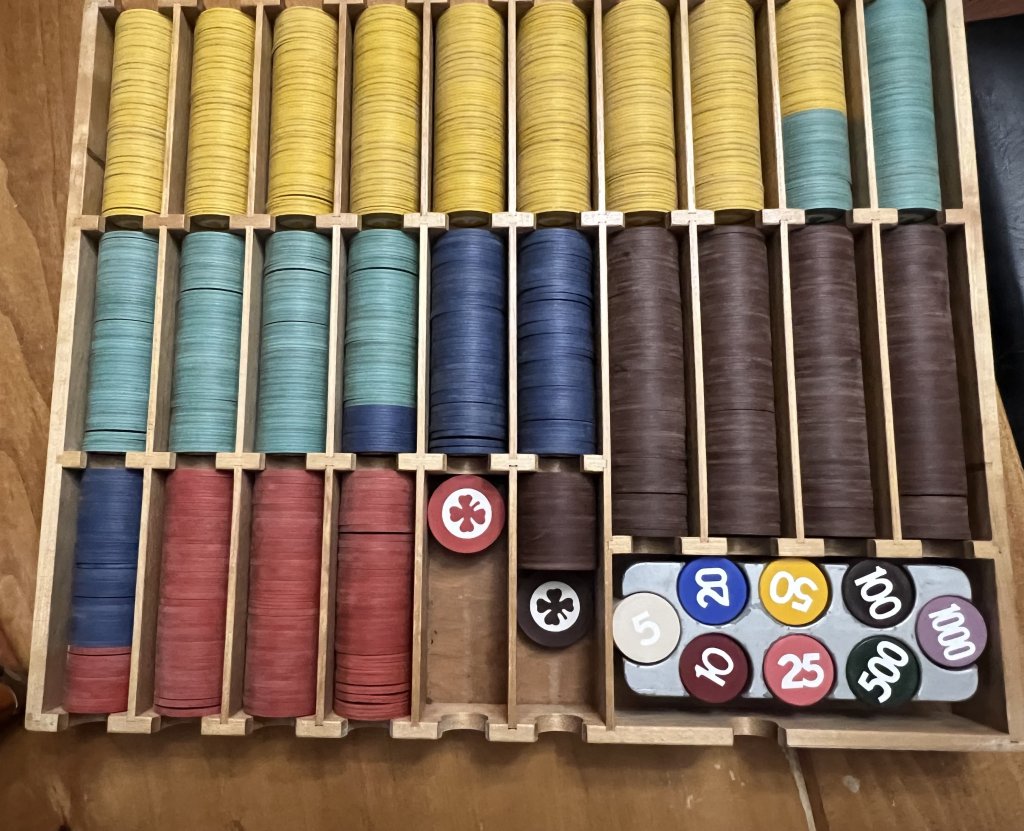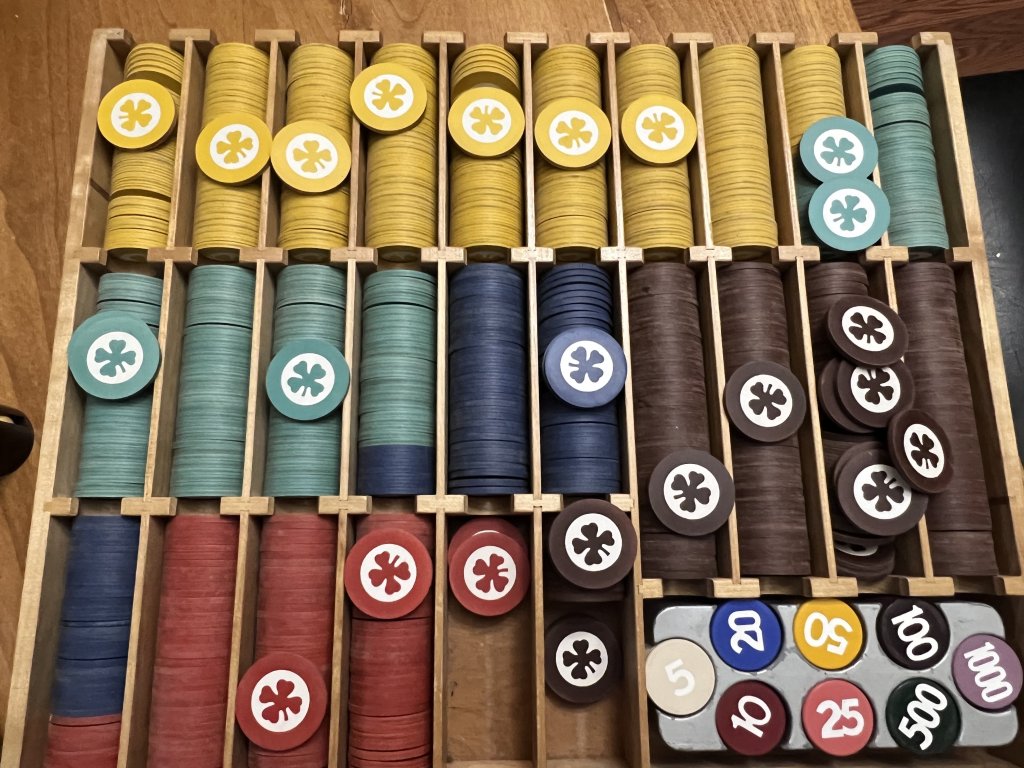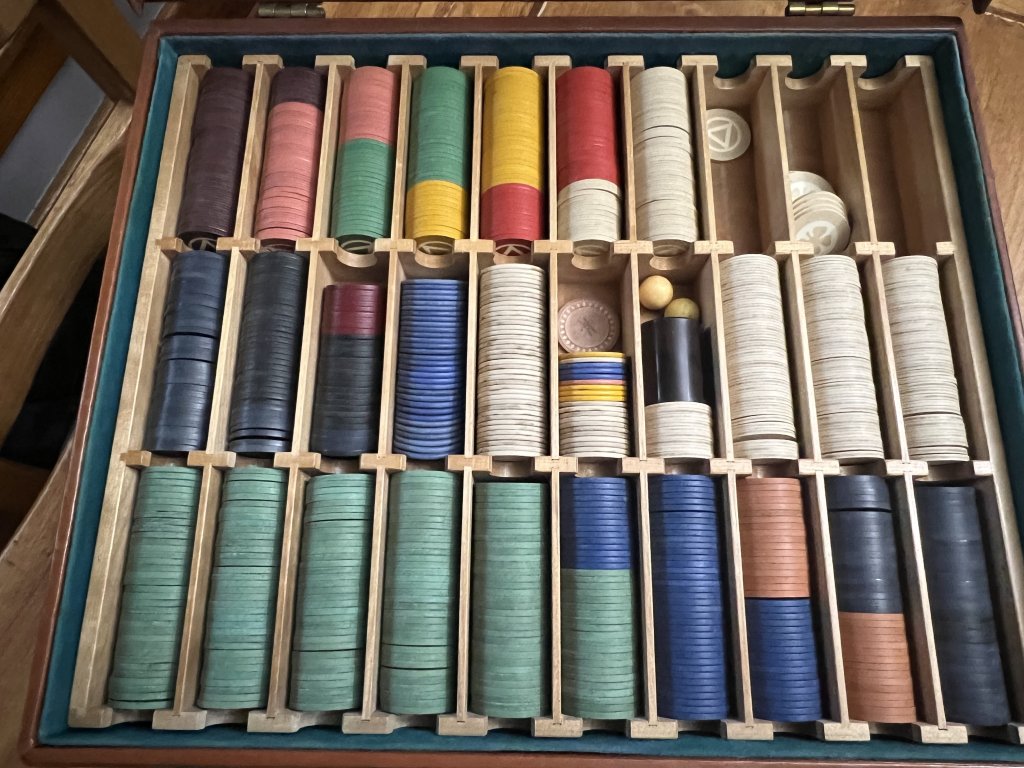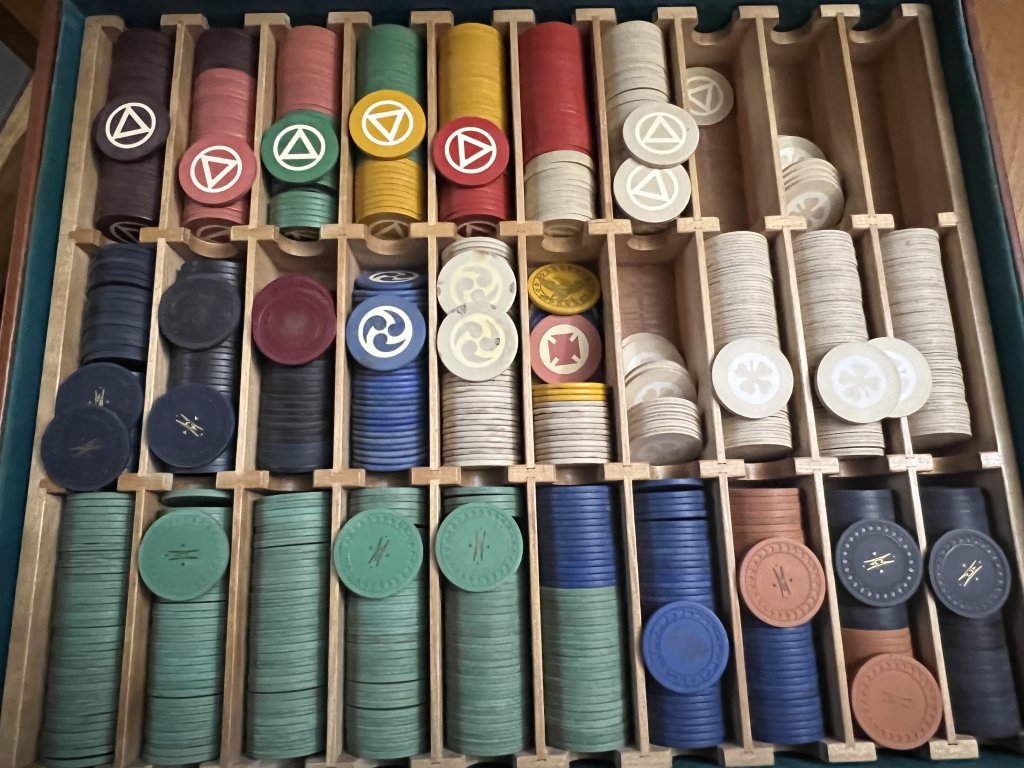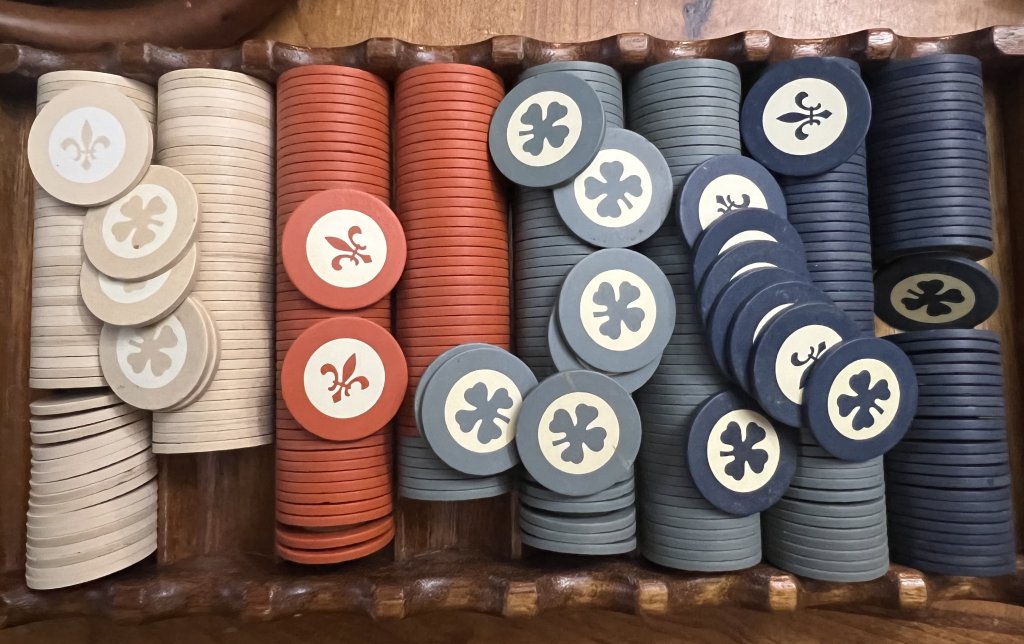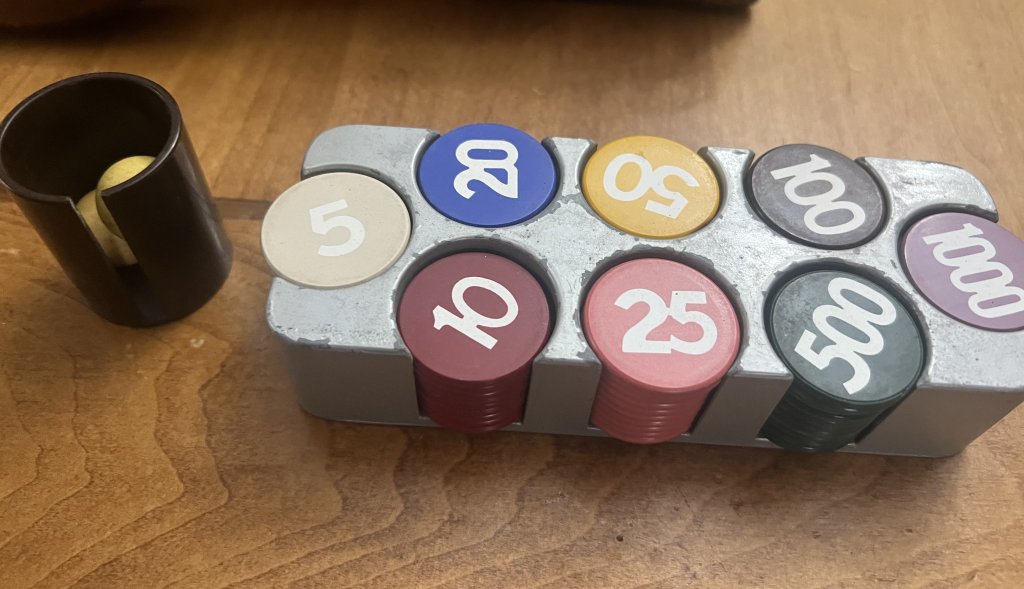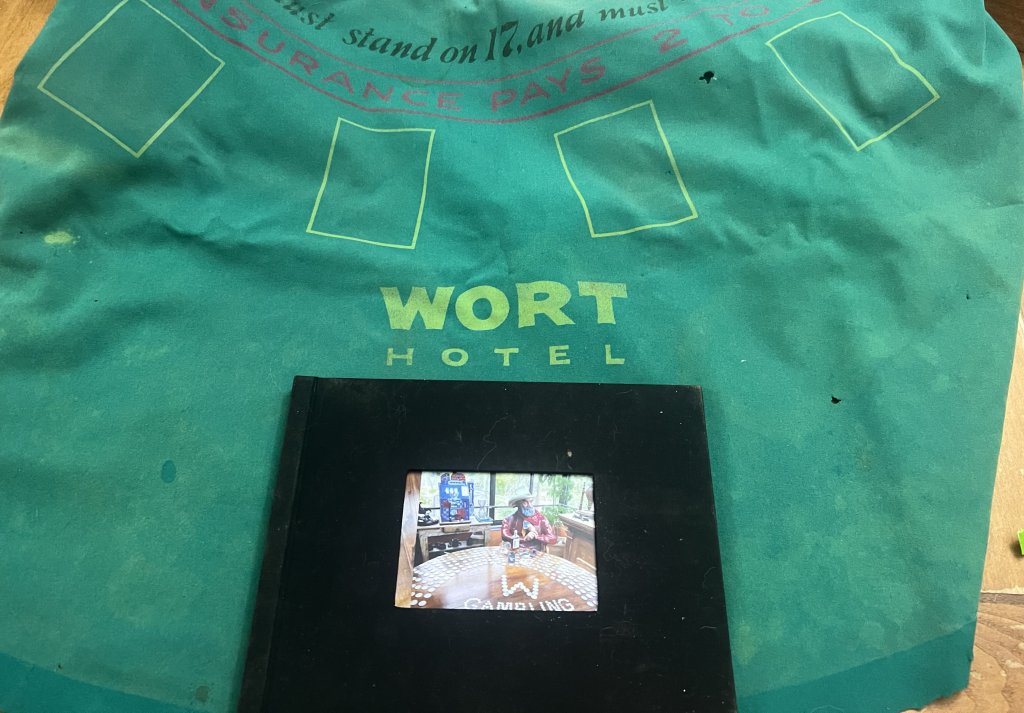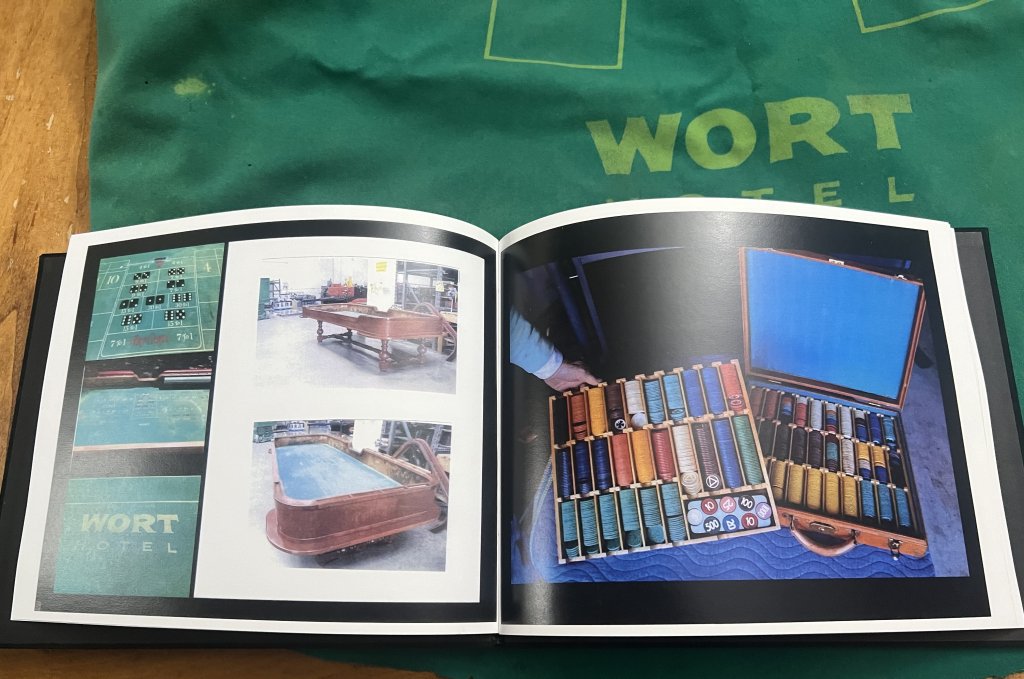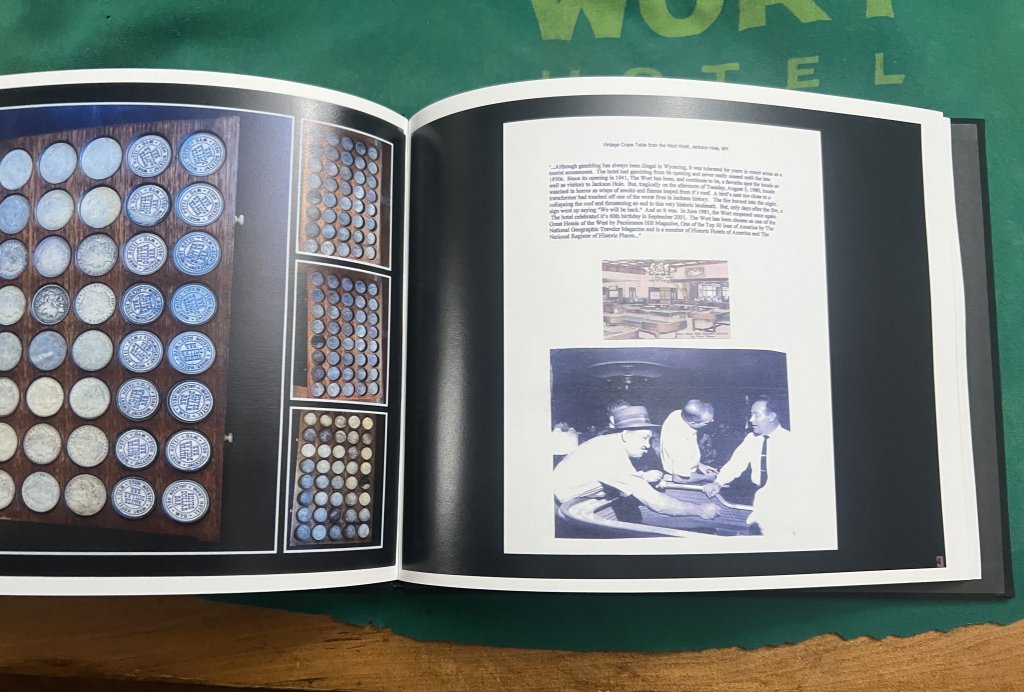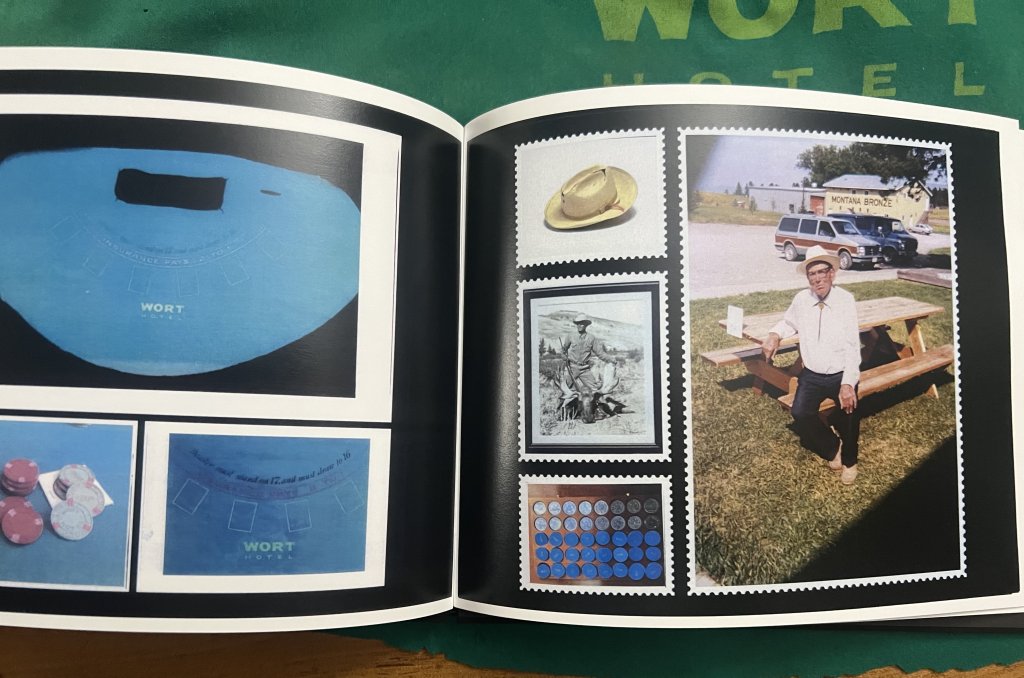 Thanks for looking
Please ask for more pics if you need them
Colter