Well, there is a set that I really would like to pick up, so I am doing the unthinkable, posting up some chips for sale.
ALSO please note that I am currently in Canada. The border has been shut down , so if you would like these shipped from the US, I will have to wait until things clear up. If you can't wait, I will look into shipping rates from Canada for you.
For those wondering, I am not looking to maximize return on any of these chips, but I am looking for fair value. I really don't want to see them shipped out and then resold for a lot more, and will try to take that into account when choosing who to sell to.
I also would like chips to go out to people that have a specific need for them, although that's pretty subjective.
Again, this is not a first come, first served sale. I will be waiting until Sunday March 29 , or possibly Monday March 30 to make a final decision. Also, if any chips don't sell, I'm fine with that, They can sit amongst their friends in my shelves again, waiting for me to build the set around them.
Ok, sorry for all the text to start things off, hopefully you've actually read it, but I doubt it, lol!
This is probably the thread that I am going to regret the most. As such, I may not sell any of these, if my other sales finish up and allow me to make my purchase or not.......
Paulson THC Fitzgeralds fracs.
First up is three racks of the blue 50¢ fracs. They are all in excellent condition, but they are a bit dirty.
Price per rack on these are $235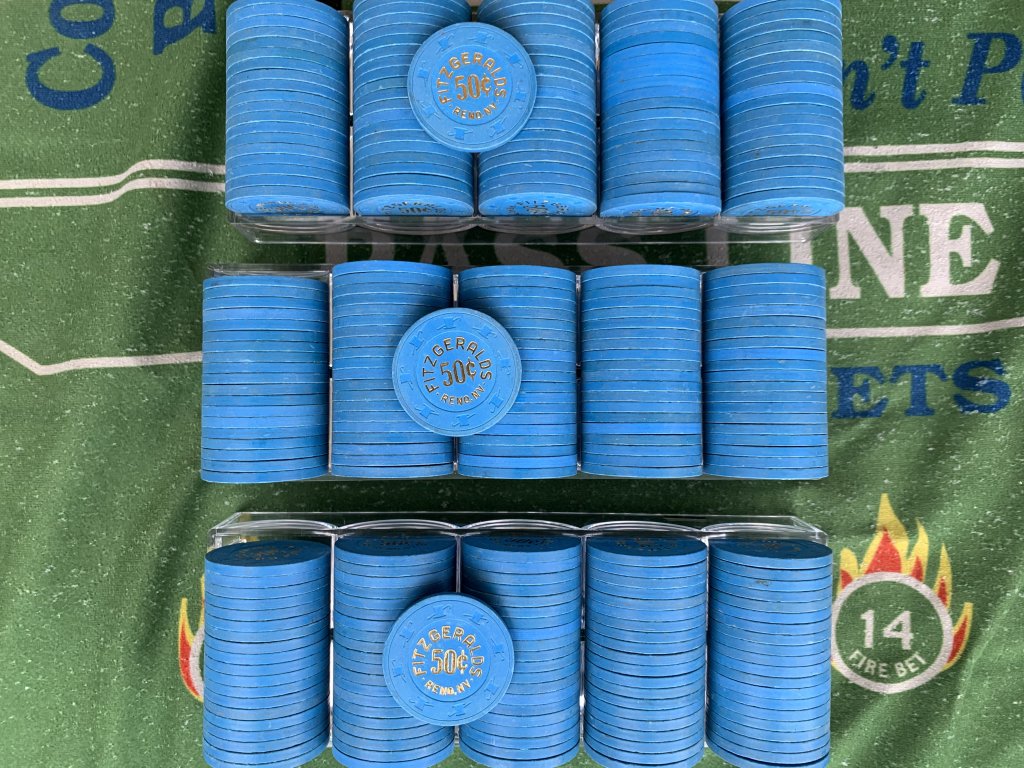 Next is two racks of metallic gold 25¢ fracs. These are in very good condition, but a bit dirty. My feeling in metallic gold chips is that they are a bit, softer? than regular chips. Not sure why, but that is the sensation I get from them.
Price per rack is $295
And last is an incomplete rack. 95 of the hot pink 25¢ chips, with 5 of the blue 50¢ chips to fill in the rack. I know, it drives me crazy too, and must have been the reason why I stored them facing away so that I could think it was a full rack.
In very good condition, but there is colour variance.
This "rack" is $315
Thanks for looking