Joined

Apr 19, 2020
Messages

1,322
Reaction score

2,401
Location
Big picture, I am in pursuit of
three
two sets. They are each, painting broad strokes and depending who you ask, grail sets. I have, in my possession (or soon to be in my possession), the beginnings of each set.
The little picture is more agonizing: finishing them will be tough. As such, I am only looking to finish
one (1)
of the sets at this time. It will be the set going with me to law school in the fall, and will have a sentimental and/or personally relatable reason for coming with me. It'll be my first time living outside of Manhattan (I went to college in the city), so each set either has to do with the city I was born and raised in and will return to, or the people that raised me. Which set I finish depends on what you guys can offer/trade me. I'm going to lay out what I have available for trade, as well as what I'm looking for and why. Willing to play ball and possibly throw in some cash as well, depending on the chips in question.
TL;DR I ONLY NEED TWO RACKS OF PNY $1s
OFFERING FOR TRADE
1) 2 racks of TRK scrown Nevada Club Reno roulettes (Salmon table J, Purple table K) in original TR King boxes
2) 1 rack Paris $1s, great/excellent condition with "many originally mint from the cage and others cherry picked" according to the ad I purchased them through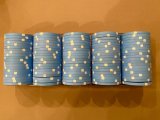 LOOKING FOR
1)

PNY $1s (200)

, PNY $5s (200), and PNY $100s (40)
2)

Taj AC

$5s, Mohegan Sun $5s, Resorts AC $25s, Taj $25s (ANY QUANTITY)
3) Mayfair Club OWPS cash set
(low priority, would have to be sweet deal)
no longer care to trade for it, but PM if you're willing to sell.

1) I'm looking for PNYs for obvious reasons. I was born and raised in New York, spent much of my childhood mere miles from where the PNYs would've docked, and when I see the Pell St. $20s, I literally can smell the block the photo was taken on (shoutout Joe's Shanghai, excellent Chinese food). I don't think a set would better represent who I am in law school much more than PNYs. I ONLY NEED THE TWO RACKS OF $1s NOW...

2)

I'm looking for as many Taj and Mohegan Sun $5s and $25s because I'm building a Resorts/Taj/Mohegan mixed set in honor of my dad. I am not overstating it when I say my dad is the reason I am the way I am in every facet of life (he taught me blackjack when I was 4 or 5 so I'd give a sh!t about learning the most basic addition and he's basically had me in law school since I learned how to speak). Both Resorts and the Taj were clients of my dad's spanning the 70s, 80s, and 90s, and given that the two were(are?) connected via passageway, my dad spent a helluva lot of time in those two spots before I was born. Resorts and Mohegan Sun were my home casinos when I was 21 and 22 and I still go to Mohegan with my dad semi-religiously. I can't think of a better way to honor my dad's influence in life than bringing a set in his honor to law school.



3) I'm looking for a Mayfair set because my dad, uh, owns what used to be the Mayfair Club and it's where I currently play poker and will play poker after law school. I doubt I can make a playable set of the actual original chips, so I'll settle for fugazi sentimentality. Relatively comfortable saying the TRKs would be off limits for this trade though. Like I said, low priority. (EDIT: no longer looking to trade for it but if you're selling a set, PM please)

Thanks for your time everybody!
Last edited: