Joined

Apr 13, 2015
Messages

3,163
Reaction score

8,397
Location
My attempt to build a rack of all large inlay Mandalay Bay chips has hit an impasse, so I'm passing this project on to the next generation. I have been looking to get to Vegas and finish it, but don't have plans to go back for a couple years.
The auction is for all n=128 chips, 39 of which are large inlay. I like giving out 12 quarters +12 ones to each player for a buy-in ($15) with the remainder in $5s, so having an extra barrel is nice. These are casino used, but were culled from multiple racks to get to a very pretty rack.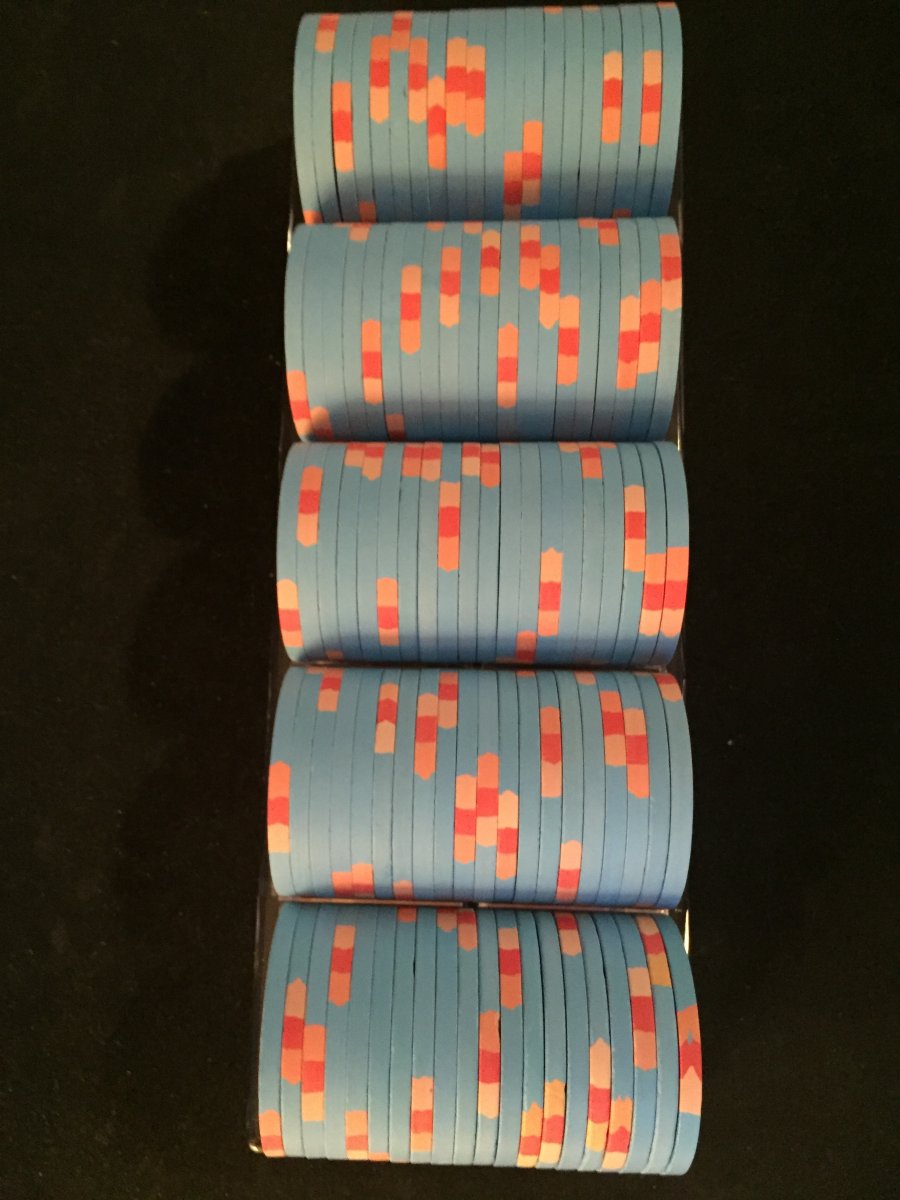 1. STARTING BID: $1
2. BIN = $260. The auction will end if the BIN price is offered via post. NO RESERVE.
3. Bids must be placed in minimum increments of $1
4. All bids are to be placed openly in this thread. Please no bids via PM/Conversation.
5. Auction will use my interpretation of the '5 minutes after last closing bid rule'. Highest bid at
3pm Central on Saturday 12Jan2019
will win unless there is a bid within 5 minutes of closing time - then the closing time will be 5 min. after the latest bid was posted.
6. Edited posts will be voided (except mine).
7. I reserve the right to: i) cancel the auction if no bids have been made; ii) edit the listing to correct errors or clarify rules as needed.
8. PCF (it's Owner, Admins, and Moderators) are in no way responsible for any actions in this auction.
9. Shipping Terms: FOB my post office, actual shipping costs to be added to the final price (i.e., based on buyer's geography). Likely a MFRB for $14 CONUS. International buyers are welcome, and insurance may be available for purchase per standard USPS terms and rates. As others can confirm, I package extremely well.
10. Payment Terms: Check, Paypal F+F (or non-FF Paypal with buyer covering fees)
Have fun everyone! And for those who have expressed concerns for my well being, nothing's going on beyond tidying up the storage area a little....