4 of a Kind
Supporting Member
Joined

Oct 7, 2018
Messages

6,082
Reaction score

10,501
Location
https://www.pokerchipforum.com/threads/celebration-heads-up-set.46021/
I have a set of Celebration chips, but they only go from $5, $25, to $100. I have the numbers to run them as a a series of heads up matches, or a single table tournament - freezeout.
I am considering adding a small amount of chips to make it playable as a 2-3 person craps set.
I am extremely undecided on which way to go for a 50c/$1, and love to hear opinions from the community.
Chip Qualifications
At this moment, I don't want to relabel chips into a Celebration 50c/$1.
Since the Celebrations are from 5-100, I'd only want 1 other casino as the 50c/$1.
Both chips would need to be leaded, THC and able to be found in VG+ condition to match the Celebrations.
I'd probably need 60-100 $1s and potentially 2-5 50c (eventually).
Ideas:
Initially I was thinking that a Cruise/Boat/destination island (Bahamas) might keep with the idea that Celebration was probably a Cruise set.
But I've also been thinking maybe if I matched it with a fantasy/home series set, that might also work well, since Celebration might be a fantasy series.
But I'm open to any suggestion/discussion, but it has to be a light/white inlay or possibly hotstamps.
A few suggestions were:
Riverboat
: Casino Aztar MO is really interesting, though both shape inlays are repeated on the $5 and $25. And the $1 might be a little too matchy matchy to the $5 for me.
Home series
: leaded and actually a pretty fun inlay. The 50c having such a complex edge spot always threw me off.
Hotstamp
: WW is interesting, I love hotstamps, but I'd prefer for the $1 to have edge spots.
I know I said 1 casino, but I really like the look of the Norwegian Cruise Line 50c. Not a fan of any of their $1s.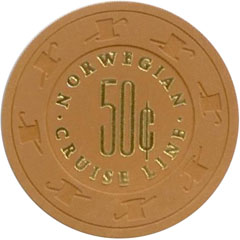 Images from The ChipGuide or PCF.
Last edited: