It's with regret that I am selling my ES cash set.
Although this is listed as a vendor sale, I am selling these chips on behalf of myself, Tony, not as a business sale. These are my personal chips which I acquired in a trade which I have decided to sell in order to fund an MRI for my dog, as well as the likely follow up bills.
Breakdown in USD:
$0.25 (x200) $1560 or $780 per rack + Shipping
$1 (x400) $1680 or $420 per rack + Shipping
$5 (x400) $1200 or $300 per rack + Shipping
$25 (x200) $1600 or $160 per barrel + Shipping
$100 (x100) $1000 or $200 per barrel + Shipping
$500 (x40) $440 or $220 per barrel + Shipping
--------------------
Total: 1140 $7100 USD + shipping for the whole set which is roughly 5% discount.
I also have (210x) AS snappers available which I was going to relabel as nickels but never got around to it. These have never seen play and are brand new. $260/rack.
The chips are near mint, some actually mint. The $500's were used in a small single table cash game once, the $100's once as well, possibly a few saw action twice. We play 25c/50c so I don't think they ever saw the felt more than one time we played Omaha with a 10x multiplier to get the bigger denoms in play. $25's are mostly mint, again saw action once or twice. The $5's, $1's and 25c's were used less than 15 times total, and that's probably high. I play 14 tournaments a year and rotate the cash sets each game. The chips were acquired early 2018 so in 2 years time, they were rotated between 4 different cash sets and we didn't always play cash after our tournaments. In that time I also hosted probably 3-5 cash games where these may have been used. When I got them, they were unused, brand new.
This is my best understanding of current market prices.
My prices are firm.
I would prefer to sell this as an entire set, but I realize that may be difficult due to the size of the collection. First priority goes to a single buyer, if there's nobody within a time I deem reasonable, then I will sell them by the rack and by the barrel where appropriate.
I will ship anywhere, let me know if you want to add insurance. Payment to be sent to me at my personal paypal account via F&F.
Reserved for a local member if split: (100x) 25c, (100x) $25, (100x) $100, (40x) $500.
I will post more photos when I get a chance later this week. They've been stored in large casino racks their entire lives so they are not stored stacked on top of each other, and behind a curtain in a windowless room.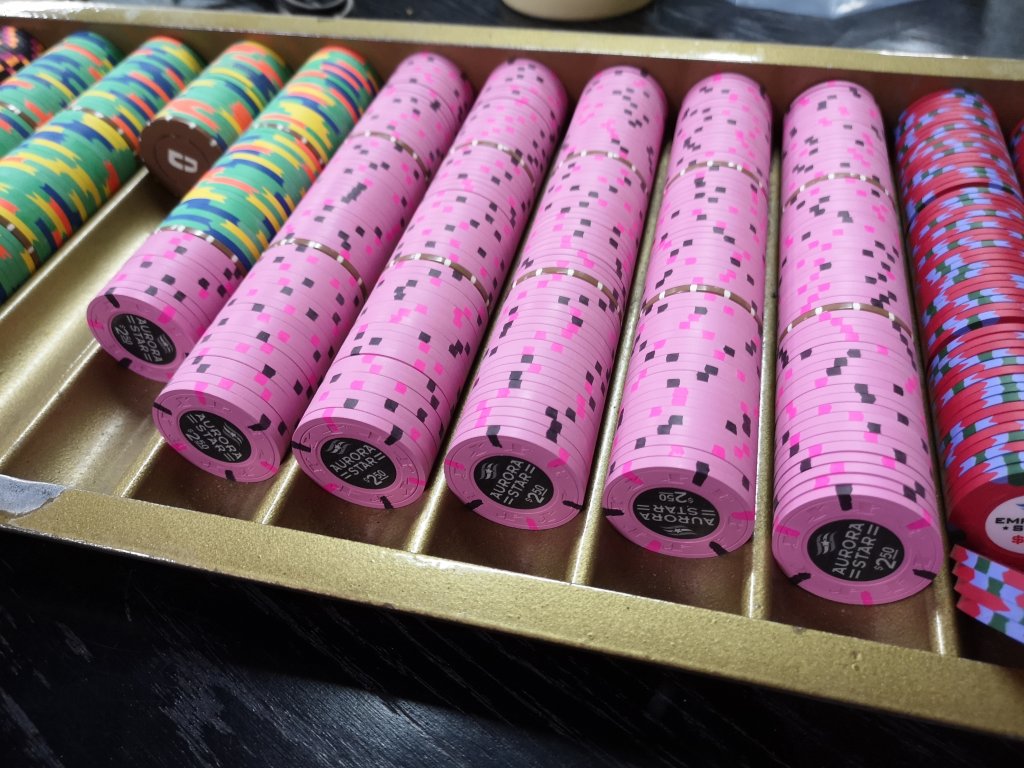 Last edited: