Royal Flush
Supporting Member
Joined

Dec 29, 2017
Messages

18,881
Reaction score

23,751
Location
AUCTION ENDS ON

Feb 19, 2023
AUCTION ENDS AT

12:00 PM Eastern Time
STARTING BID

$800
MINIMUM BID INCREMENT

$50
PAYMENTS ACCEPTED

PayPal F&F
PayPal G&S
SHIPPING TERMS

Winner Pays
SHIPS VIA

Other (see below)
AUCTION GUIDELINES

The highest bid at the closing time listed above will win. If there is a bid within 5 minutes of the closing time (original or extended closing time), 5 minutes shall be added to the time of the last bid, until there are no bids within the final 5 minutes. Because seconds are not displayed on post timestamps, these examples will be used as a reference.
No Reserve. The Starting Bid of this auction will be treated as the Reserve Price.
Bids must be placed in whole US dollars, using numbers in minimum increments as stated above. (bids using images or spelled out numbers are not valid)
All bids are to be placed openly in this thread. No bids via Private Message/Convo. Sellers are not permitted to bid on their own auctions.
The seller reserves the right to edit the listing to clarify statements or correct any errors.
Once a valid bid is made, the auction can not be canceled. Bid edits and/or retractions are not permitted. Violations of this rule will result in discipline at the discretion of PCF Admins and/or Moderators.
PCF (its Owner, Admins, and Moderators) are not responsible for any actions or outcomes that take place in this auction.
Happy Lunar New Year for all! To celebrate, we've got an item that probably hasn't been listed for a very long time - a premium quality Chanman Table Topper! Please see pics below: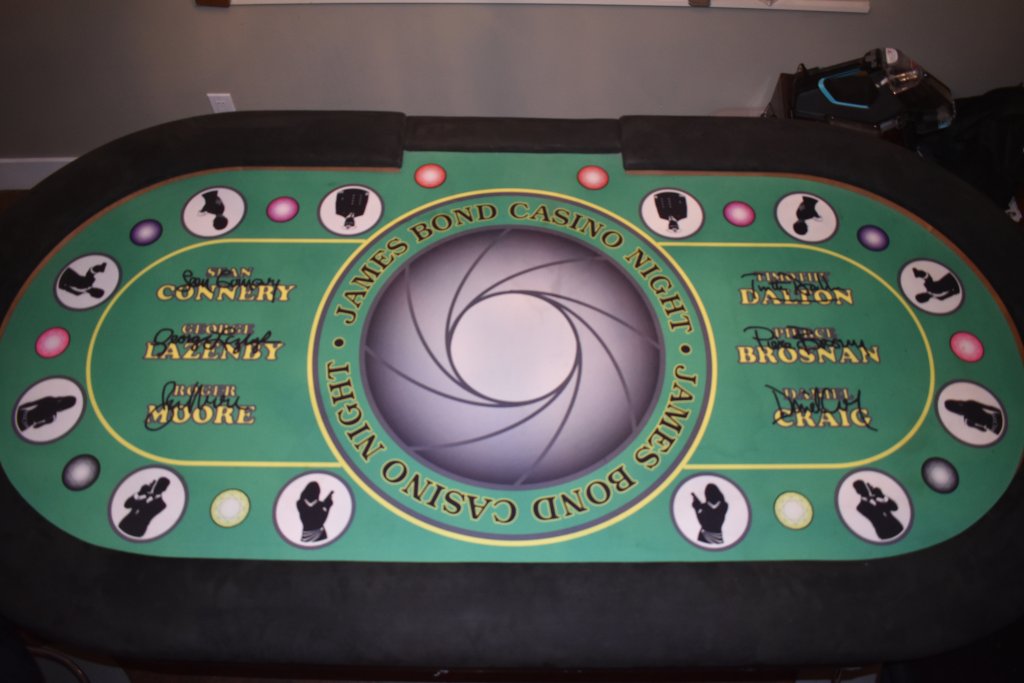 This is not your typical, mass-produced table. It is not even a basic Chanman table. It has been customized in many ways and can be further customized to the auction winner's specifications, up to a point. It is in excellent condition from a smoke-free and pet-free home. There is no damage to the rail, felt, or the wood components, and has never been stored off the horizontal surface underneath (merely moved from room to room). The specs:
Dimensions: 84" x 42" oval/capsule, rail to rail, comfortable for 8-9 players
Rail width: 6", upgraded to black Texuede!
Rail customization: 3/4" raised with dealer cutout
Playing surface: custom printed gaming suede
Non-slip surface on underside for protection and stability
Vertical exposed plywood surfaces finished with wood-tone laminate strip
***Please note: this is a topper only. It does not come with legs or table base. The picture above has the topper sitting on top of another folding table.
Do you want to customize further? Purchase as it and do the work yourself, or contract
@T_Chan
to make the modifications for you! Further modifications can include:
- refelting with cloth surface of your choice, from stock speed cloth all the way to your own custom-printed gaming suede
- add cutout for a chip tray, locking cash box, mounted shuffler, etc.
- add folding legs or a permanent base
- add a dining top
***Note: any planned modifications are subject to discussion and contract between the auction winner and Chanman Poker Tables, and outside of the purview of this auction. There are likely certain modifications that cannot be done to this table.
Auction reserve price: $800. Buy-It-Now Price: $1600.
PPFF or PPGS with 4% extra to cover fees. The auction will immediately end if the BIN price is bid.
Currently, Chanman Poker Tables is not taking custom table orders from private individuals until the current queue is markedly reduced. I cannot speak to specifics, but the current queue for comfirmed orders is probably several months to a year long, and there is already a growing wait list to get onto the queue after that. This is an opportunity to get near to the front of the line, or use your own skills and materials to build upon what the Chanman started.
Shipping is extra, paid by the winner, and will be taken care of/quoted by Chanman Poker Tables. Destination can be anywhere in the world where the freight carrier will go, as long as the auction winner bears the cost (typically a few hundred dollars for North America). Locals (or anyone else, really) are free to pick up directly from me in Burnaby BC Canada, but the topper itself will not be available for pickup or shipping until 19Feb2023 as it will be used for one final charity event.
This is a very rare opporunity to own one of the highest quality tables at the equivalent market price of 1-3 racks of reasonably sought-after chips, and already much lower than the cost of entry of a new custom Chanman table and without the long wait. No snap decisions here, do your research, auction duration is 4 weeks or until Buy-It-Now is reached. Feel free to ask questions in the sale thread. Peruse my Feedback and bid with confidence!