The OG T-Mold is a vintage mold that was used across the US. From what I've seen Taylor & Co. primarily did business with illegal casinos around the Chicago area as that is where the headquarters/warehouse/manufacturing happened. They were located at 4848 W. 25th St. Chicago 50, Illinois. On top of that, Taylor & Co. was owned by the Chicago Mafia. They did business from the 1930's up until 1951. Illegal gaming was happening across the US in many states primarily in Illinois, Ohio, Arkansas, New York and others, but those few were at the top. You had to think of those that were in the game during that time. People such as Al Capone, Frank Costello, Lucky Luciano, Meyer Lansky, Bugsy Siegel, Tony Accardo and Owen "Owney" Madden. Capone and Luciano were in multiple states, primarily being around the Chicago area, but they were huge in Hot Springs too. They truly weren't people to be messed around with. Most of the gaming either happened in the backroom of a restaurant, up stairs or late after hours. You'd need an inside source to get in or something along those lines. Many times when the chips and tables were in use, they were put into storage inside of the building. I've read and heard stories that chips were stored in the walls of these places. There may have only been one or two people that knew where the chips would go after they were done being used and this made it harder for police to find them when raids did happen.
The T-Mold screams illegal to me although they were used across multiple casinos in Nevada. Looking at what casinos actually used them in Nevada though makes me think that a majority of them were being ran by the mob at the time. People like Meyer Lansky were heavily involved with casinos like the Stardust, Cal-Neva, El Rancho Vegas and more during the time that these chips would've been in use. The famous "Sinatra" T-Mold Cal-Neva chips make so much sense looking now. Mapes had so many different T-Mold chips it's almost like they had a primary, secondary and tertiary set of chips... So interesting to look at all of the different casinos that used the T-Mold and how many different designs there were.
One thing you'll probably notice is that Taylor & Co. primarily did hot stamped chips, but they did inlays as well. Not as much, but they did do them.
Let's get into the chips!
I'll start off with a set that I built two years ago now. 400 of these chips were bought on
eBay
in one lot, luckily all from the 4807 Club in Cicero, Illinois. The $10 Horseshoe chips were bought on
eBay
as well about a month or two prior on my way to Finland actually. I was sitting in the airport just browsing
eBay
and saw that the rack was listed. I took a look at them and knew I had to have them. Those two purchases turned into a mixed illegal T-Mold set that has worked really well for one/two tournaments that I've had the chips in play. The yellow JV chips I've yet to use, but would like to use them in the future when possible. The JVT chips, from what I've read and done research about, were the owner of the 4807 Club's personal chips. John Varlas (Varlos) was part owner with Joseph Vaccaro. "The red "JVT" chip is, therefore, most definitely stamped with John Varlas's monogram, the T representing his middle initial. Slightly more than twelve thousand of the "J&J" chips were ordered from 1959 to 1960. The record shows the order was placed by Johnny Varlos, for the 4807 Club, also called the Rock Garden on the card. The same information is on the record card for the "JV" stamped chips, of which over 12,500 were ordered in a variety of colors between 1952 and 1957. A single order for 2020 of the "JVT" chips was placed for the Rock Garden/4807 Club (with no mention of Varlos's name on the record) in July 1957." (John J. Binder,
A Batch of Illegal Chips from Cicero
")
More recently I've been able to acquire more of the Horseshoe Collinsville Casino chips. Making it possible to have an almost playable set of those chips. I currently have $1s, $10s and some $25s from there, but not many. I've been told that the $25s are hard to find. One of the more dedicated illegal casino chip collectors, Riverboat Rick, immediately sent me an email when he saw that I had acquired some because he had never seen them before. With that this is how that set currently looks like.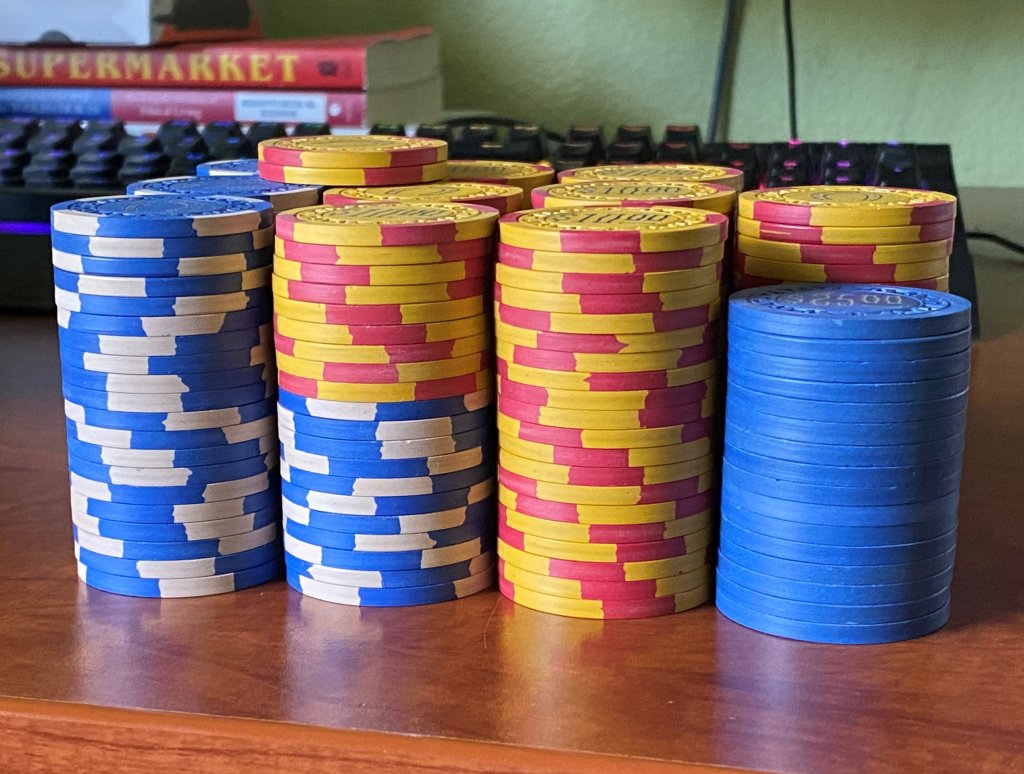 As of yesterday I was able to add another rack of T-Mold chips into my collection. These chips are from the Stateline Country Club Casino that was located in Lake Tahoe during the 1950s. Most of the chips that were from there were hot stamped like I mentioned above, but they did have two inlay $100 chips. This almost rack of chips was picked up from
eBay
just last week and was sort of an impulse buy on my end, but I couldn't live without them. They'll make a great addition to any set that needs a $5 in my collection.
Here they are in a small set that would be pretty fun to play with:
Share your T-Mold chips and sets! Let's see them!
Last edited: