Chips picked up from
@ChadB
and
@Jeevansluck
just last month or so, but, I've got a JACK addiction to feed. So, I'm moving on from them, which is a shame because it's a really cool set. Anyway, for full transparency my total cost in this set is just over 1,900 - but to save time, bumps, price drop bumps etc, I'm letting it go at a small loss to clear out the room.
Details: $1,650 Shipped
Santa Ysabel cash set (620 chips)
(120) $1's - Used but now cleaned and it good condition, lots of life left in them
(100) $2's- Very near mint, bought from
@Jeevansluck
last month, you can see additional pics in his thread
(300) $5's- Very, Very near mint.
(60) $25's - Crisp, very good+ condition, sharp and stand on edge
(40) $100's - Mintish, very nice and sharp
Check out the pictures below and you can see the condition of all the chips compared to one another. The racks are Paulson racks and I will ship the chips in them. Shipping is flat rate USPS conUS only. This is a dibs thread, so just call it in the comments and pm me, thanks for looking guys.
Aaron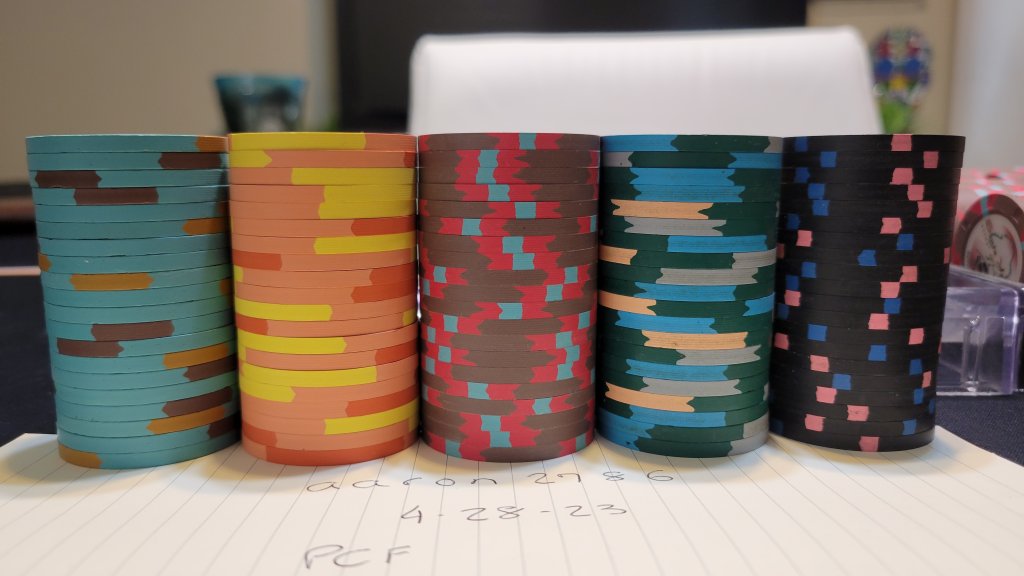 Last edited: