Need to trim down some purchases, I think I went a little overboard... Lol
CPC
Rounders Scroll Mold
200 x .25
99 x $1 scroll mold and 1 x $1
CSQ
lol (1 rack sold)
100 x $25
$187/rack + shipping
$700 shipped
I'll cover shipping, throw in a gemaco setup and include the dealer button if you take all four racks.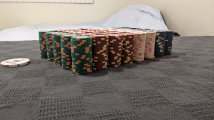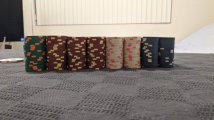 Purchased these used and I've only used them for two games. Awesome chips but I got a good deal on another cash set so these wont be getting too much use. I'd say the chips are in good condition, a few chips have some fleabites but nothing major. There's one
CSQ
so if you don't want that I'll knock the price of one chip off the price lol.
Thanks for taking a look.
Edit: I prefer ppff for no fee but if you're ok with paying the fee g&s is ok. I have an ok amount of feedback on
eBay
and on reddit selling keyboards and computer hardware so lmk if you'd like to see it. Shipped prices are CONUS only, international lmk and I'll get a shipping quote.
Last edited: