As pretty as these look at the top of my birdcage on display, I abandoned the project I painstakingly acquired these for and couldn't bring myself to sell them with the rest of the chips. My soul is ready to move on. I'm looking to get a spotted THC set, preferably cash for a .25/.50 home game that plays fairly large, but I would consider a tournament set as well. Ideal breakdown would be 100/200/300/100 of .25/1/5/25. '98 CDI and AS cash are two sets I know I like, but I know there are others out there as well.
In addition to the Isle $500s I have an HSI cash set ($1a, primary $5 and $25), a large Isle tournament hotstamp set (t.50 through t500, with an extra rack of purple tunica t500), and a bud jones s2 Big Easy set, or cash for the right set. I've begun planning a CPC set as well, so while I'd prefer to trade the Isle $500s for THCs right now, funding a good chunk of that isn't off the table. Other sets are not for sale, trade only.
Show me what you got!
Obligatory pr0n:
Isle $500s are mint and tight in paulson racks. Color is blaze orange for those that don't know, and my phone sucks at capturing the beauty of these chips.
Isle hotstamps (not shown rack of purple tunica t500, and rack of tunica t1 which are nearly identical to the Isle outside the name). t.50 and t1 are mint, t5 are near mint to excellent, rest are good to excellent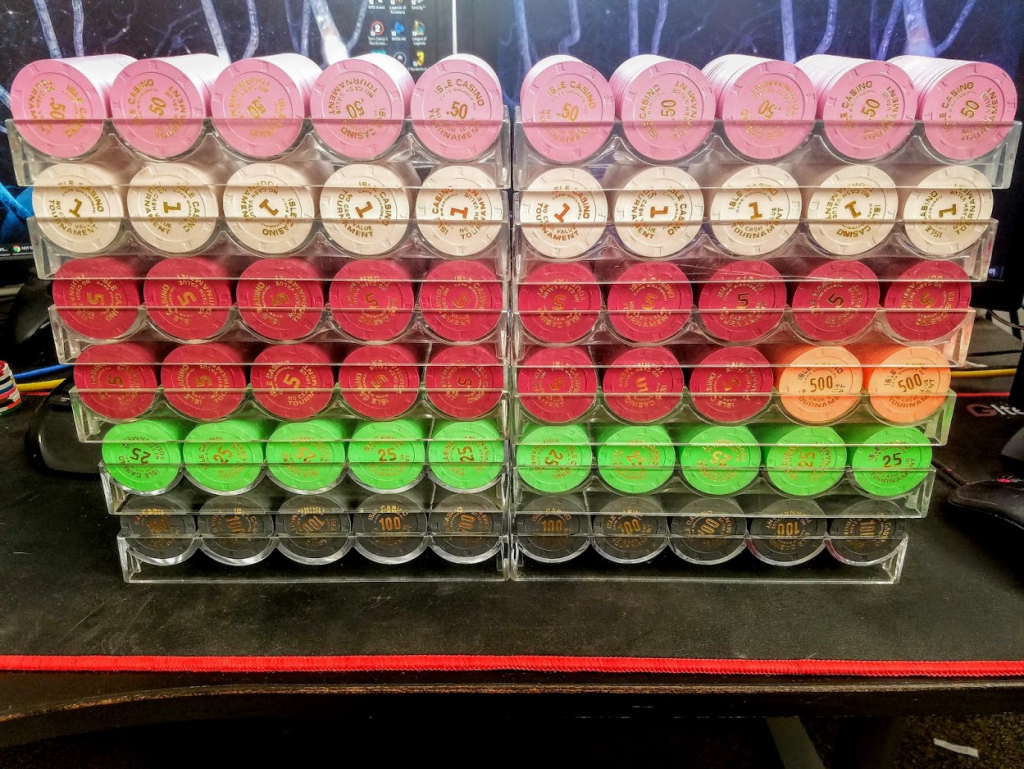 HSI set (not showing rack of mint primary snappers and 2 more racks of $1a) $5 and $25 are used, but still in good condition *BCC CDIs are not available
Big Easy (rack of HS roulettes used for fracs)