Joined

Apr 13, 2023
Messages

18
Reaction score

51
Location
Selling a set of Paulson Pharaoh chips that I posted about a few days ago. These chips were the cash game set from a close friend of mine who passed away about 6 months ago. I am helping his wife with the sale.
In the previous posting, I asked members of the forum to give input on approximate value, and the consensus was $3,500 - $4,000. Asking price is now $3,350 (shipping included).
As for the condition of the chips, I would say that they are in very good used condition. My friend assembled this set in the 2006-2009 time frame, and all the chips were in mint condition when he purchased them. He would host about 6-8 cash games per year, so I would say that these chips were used a total of about 100 times (or about 500 hours total). The quarters, dollars, and $5 chips were really the only chips ever used in our games. The higher denomination chips haven't seen any play.
I realize that I am very new to the PCF forum. To be honest, the only reason that I found the site was because I was doing research on the current value of Pharaohs. I used to post occasionally on Chiptalk.net, but that was about 10 years ago. I certainly realize that this is a large investment, and I would be more than happy to talk with anyone who has qualms about buying from someone so new to the forum. If you private message me, I will be happy to respond and talk on the phone. Also, if any buyer lives near the Richmond, Virginia area and wants to see the chips in person first, we could work that out as well.
As for payment, it seems like most postings prefer Paypal Friends & Family. I also have Venmo.
Please note that some of the chips in this set are the "James Bond" variety, rather than Pharaohs (17 of the $25's, 50 of the $100's, plus extra singles). The chip breakdown is listed below:
203 $0.25 Pharaoh
1 $0.25 James Bond
302 $1 Pharaoh
1 $1 James Bond
302 $5 Pharaoh
1 $5 James Bond
93 $25 Pharaoh
17 $25 James Bond
10 $100 Pharaoh
50 $100 James Bond
20 $500 Pharaoh
20 $1000 Pharaoh
1020 Total Chips
I will monitor this thread and respond to any questions posted.
Thanks, Rob
Edit: The chip carrier and racks will be included in the sale at no extra charge, if the buyer wants them.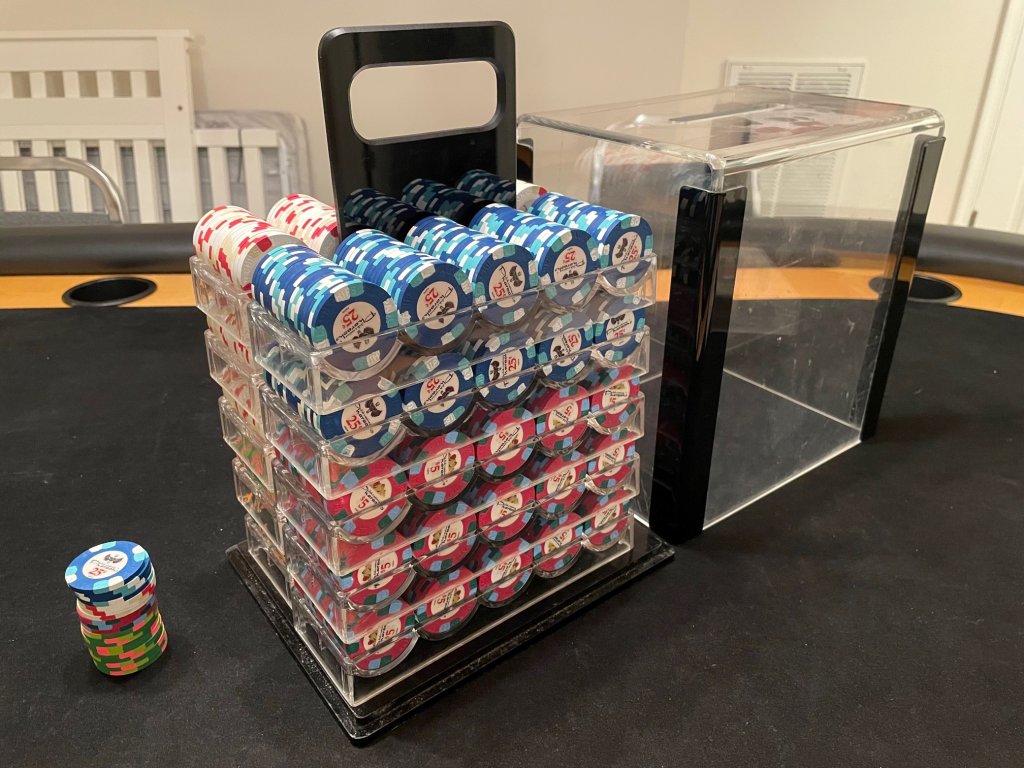 Last edited: