Joined

Jan 2, 2020
Messages

2,332
Reaction score

3,233
Location
I've been spending too much chip money recently, so it's time to sell some stuff off!
If more than 1 person is interested in a lot, then for the first 24 hours of the sale or once 10 people are interested (whichever comes first) I will do a drawing to see who gets it (excluding lots 3 & 4). You must have a US address, and PPFF only.
Interest in sub-lots is eclipsed by interest in the whole lot, meaning if Person X is interested in the Jack $1s and Person Y is interested in the whole cash set, person x does not have a chance of getting the $1s anymore unless they decide to switch interest into the whole cash set. I won't split up a denom into separate racks, that's a lot of work.
Lot 1 - Jack Cincinnati Cash set: (Sold to @pokrgeek21)
- $1900 + shipping for the whole set
- All chips are in the same condition as when I bought them from the Chiproom, they are practically mint

$1: 300 chips
$5: 300 chips
$25: 200 chips
$100: 100 chips
Total: 900 chips
Interest list:
@pokrgeek21
@jrs146
Lot 1a - Jack Cincinnati $1s:
- $900 + shipping for all 3 racks





Lot 1b - Jack Cincinnati $5s:
- $450 + shipping for all 3 racks (33 are GO w/giant inlays)




Lot 1c - Jack Cincinnati $25s:
- $340 + shipping for both racks




Lot 1d - Jack Cincinnati $100s:
- $250 + shipping for the rack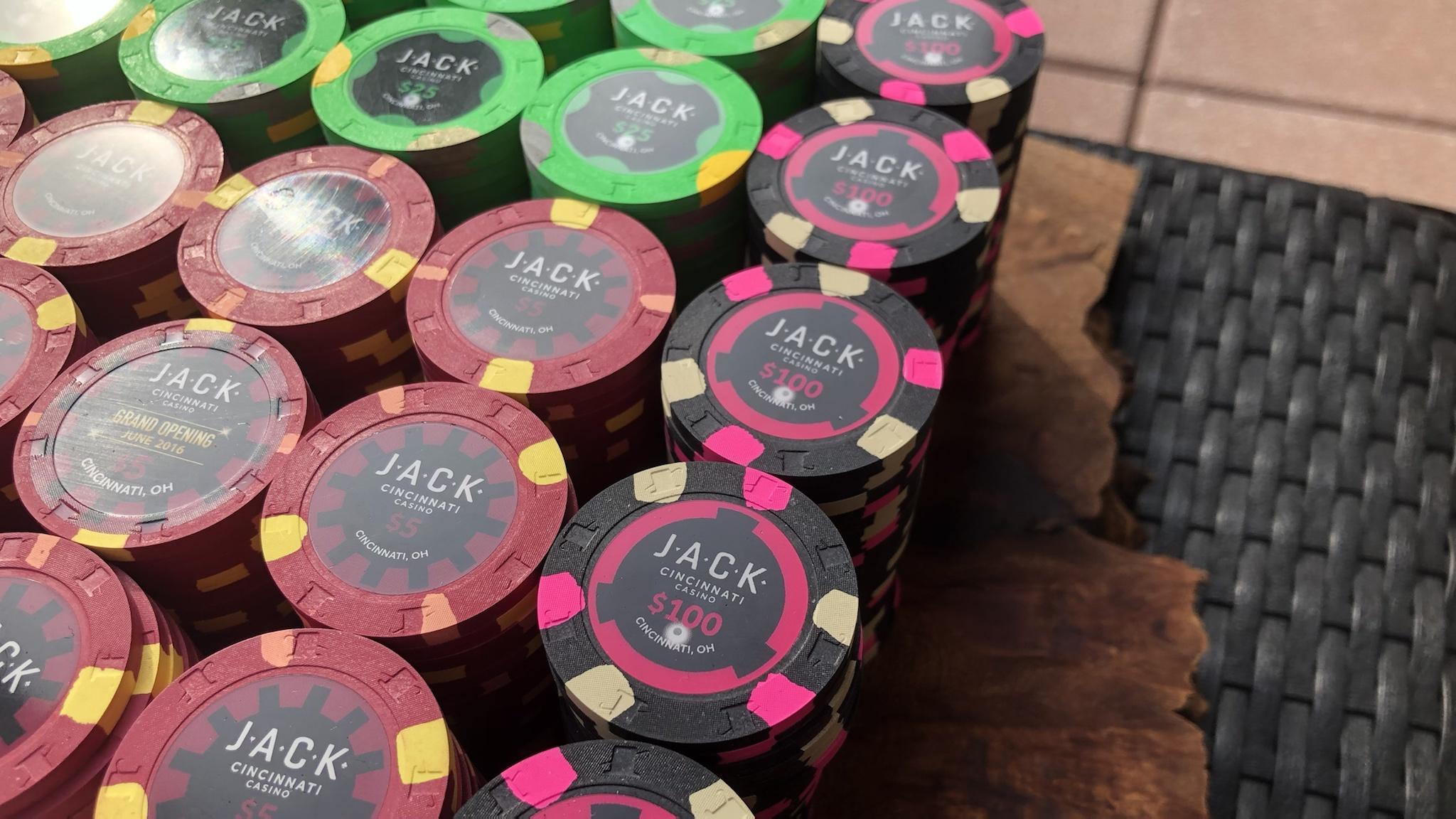 Lot 2 - Outpost $20s: (Sold to @johnsj12)
- $239 + shipping for the rack
- These are quite used to the point of not being able to stand on edge, but clean
Interest list:
@colter ripton
@johnsj12
Lot 3 - St. Charles NCV IHC Solids:
- $40 per barrel + shipping
- I am splitting these up and they are first come first serve because I've already put these up before
- I'd say these are in VG/EX condition, but the photos are the best way to tell for yourself
(SOLD to @Gear)
Lot 4 - Matsui Emerald Bay Red $5s:
- $50 per rack + shipping
- These come with Matsui racks
- I am splitting these up and they are first come first serve because I've already put these up before
- These have been played once, but being plastics you can't really see a difference from completely mint ones
(SOLD to @Ghoti)
Thanks,
Greg
Updated as of 5:14pm, 6/19
Last edited: