Recently got ahold of some different 1's and 5's we are using for a mixed set now, so we are moving on from these guys.
PLEASE READ: THIS IS A DIBS SALE FOR THE WHOLE (900) CHIP SET.... HOWEVER, THERE WILL BE PRICING LISTED FOR RACK SPLITTING. YOU CAN DIBS WHAT YOU WANT IN THE THREAD - BUT IF ANYONE DIBS THE FULL SET WITHIN 24 HOURS OF THIS POST (UNTIL 12:00PM CENTRAL 2/24/23)
-
THE SET WILL BE THEIRS. AFTER 12:00PM CENTRAL 2/24/23 - ANYONE WHO HAS DIBS'd ANY AMOUNT OF CHIPS IN THIS THREAD, WILL HAVE THEIR DIBS HONORED AND I WILL GET IN TOUCH THROUGH PM TO WORK OUT PAYMENTS AND SHIPPING.
Now that we are done with the shouting bold capital letters, let's get on with this.
There are (300) Jack Cincinnati $1 Chips up for Sale - They are in Good used condition, have been hand cleaned and stayed that way since we picked up the set in October of Last year.
There are (600) Jack Cincinnati $5 Chips up for Sale - They are in just slightly less good condition than the $1 chips, they were also hand cleaned and also stayed that way since they were bought with the same set in October of last year.
Link to the sale thread we bought these from so you can se how they've been maintained:
https://www.pokerchipforum.com/threads/jack-cinci-1200-piece-cash-set.95808/
I've tried to capture these is every angle I can and with comparisons so you can judge them all for yourselves. If you need any other pictures or information, just let me know.
After 24hrs have passed, anyone who has dibs on a rack, the pricing will be as follows
JACK Cincinnati $1's will be $120 Shipped (Flat Rate USPS) per Rack
JACK Cincinnati $5's will be $130 Shipped (Flat Rate USPS) Per Rack
Dibs on the Whole 900 chip set - $1,050 + Shipping of your choice
Shipping only to the CONUS, and much prefer payment through Paypal F&F - If you want to use G&S that is fine, but you will need to pay the service fee (around 3%) on top of the order.
On to pictures and happy chipping guys.
$1 Chips compared to a mint barrel of 100's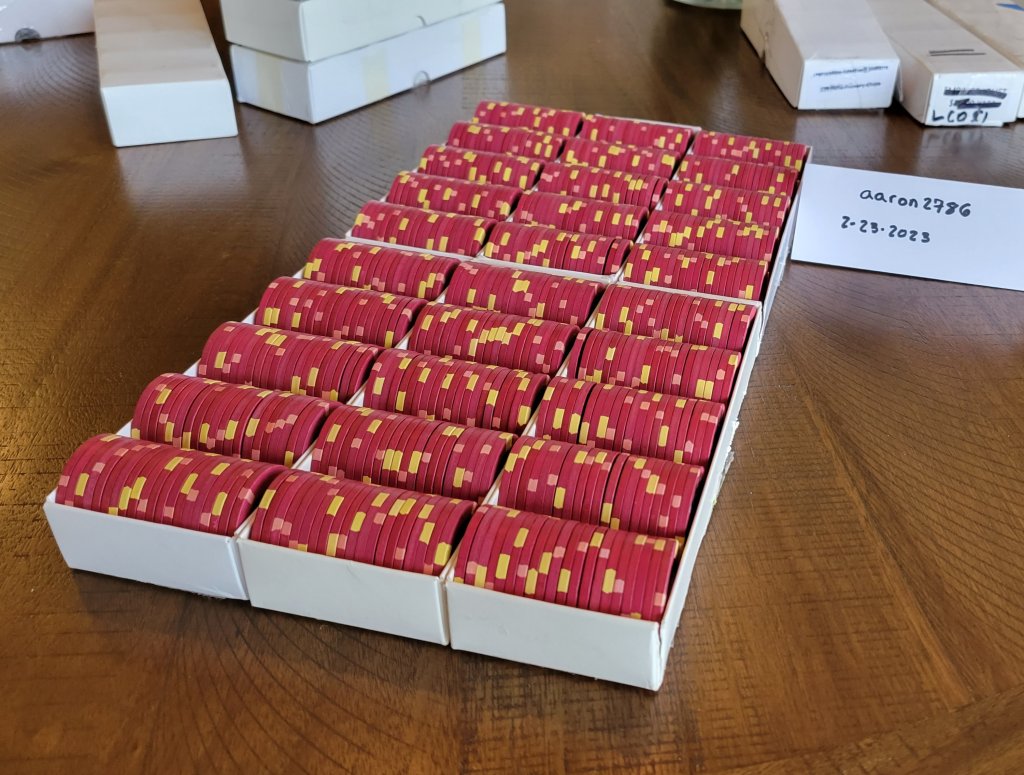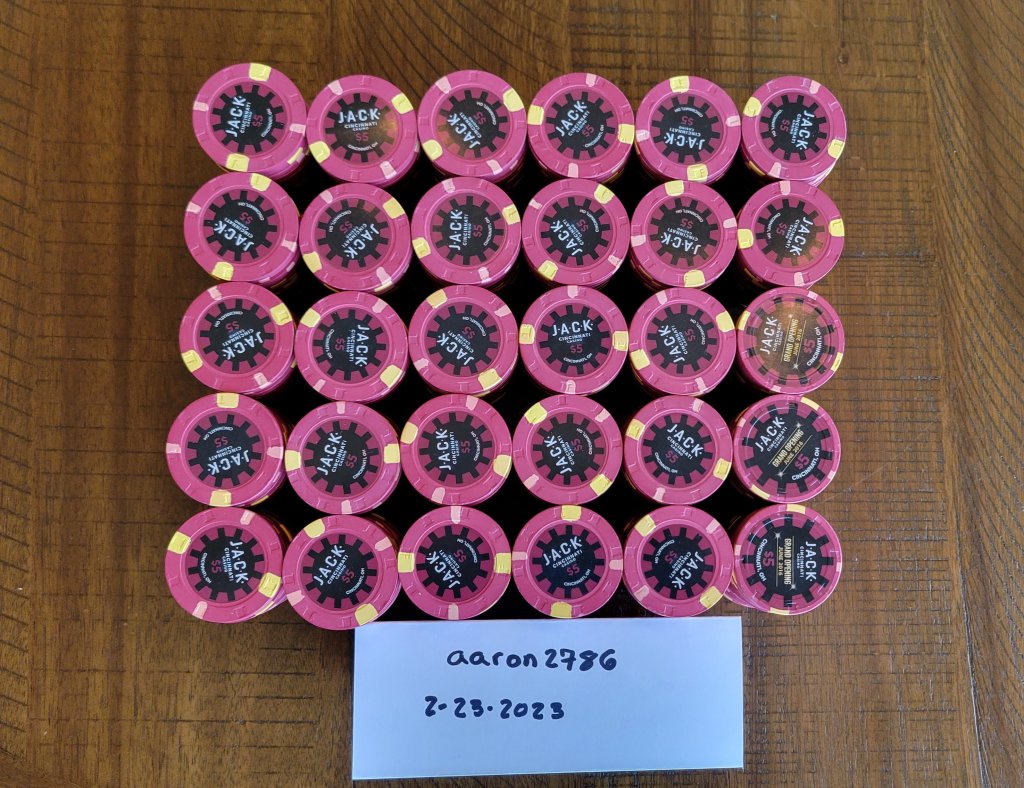 $5 Chips compared to a mint barrel of 100's
$5 Chips Compared to a random barrel of the $1 Chips for condition comparison