Full House
Supporting Member
Joined

Sep 20, 2017
Messages

2,815
Reaction score

4,970
Location
Hi PCF - The time has now come to order some buttons. Sorry for making you guys wait so long for the Karate Kid Buttons, but right after My Karate Kid Buttons were done I had the Superhero buttons in the works and made the decision to have one Group Buy as I didn't want to run two. My Superhero buttons came in this week and they came out pretty awesome I think. Thanks to my designer
@timinater
for all his great work on all my Projects. If anyone is looking for a great designer to work with Tim is kick ass!!!
I will be running a Group Buy for my Cobra Kai/Miyagi-Do Buttons and my Superhero please see the Buttons below. The Karate Kid Buttons will be sold as Pairs which is one Cobra Kai Button and one Miyagi-Do Button. It will be $15 for the pair. The Superhero Buttons will be $7.50 each. The prices are without shipping
Here are my simple rules below:
1. You can order as many buttons as you like. However, the
minimum order is 2 buttons
. If you order the KK set that counts as two buttons.
2. Please post your order below like the example below:
Hi
@Nuhockey
,
I would like to order the following buttons below.
A. Karate Kid Button Set (Cobra Kai/Miyagi-Do) X1
B. Hulk Black X 2
C. Hulk Purple X 1
D. Spiderman X 1
E. Deadpool X1
F. Flash X1
Thanks,
@JoeyPeeps
3. I will leave the order thread open until Next
Monday June 7th at 12PM
. At that time I'll close the order thread.
4. I will then collect everyone's order info and put people into multiple groups and will send a group PM to your group confirming everyone's orders and ask them to share their Zip code or country and postal code so I can calculate shipping. Once confirmed I will attempt to calculate shipping and give everyone a final cost and collect payments. I will need to collect ALL payments before I order as I have gotten burned beforehand two or three times where I placed the order with one or two persons yet to pay to only get Radio Silence from the interested party afterwards. It didn't affect me as I was able to get the buttons sold, but it was just a pain to spend the time to try to get a response from people after sending PM after PM with no response also seeing them online everyday.
5. If overseas if there are multiple people to any one country outside the US I will ask one person to be the person I ship the button package to and they can reship and split the cost of the International shipping amongst the people getting the buttons. I will separate all orders within the package and put the PCF user names on each package. I believe it will be more cost effective for all parties and less of a P.I.T.A for me. If you are the only person in your country I will just ship to you with no issues. If you have a US re-shipper I can do that too.
THE BUTTONS
A. Karate Kid Button Set (Cobra Kai/Miyagi-Do)
B. Hulk Black
C. Hulk Purple
D. Spiderman
E. Deadpool
F. Flash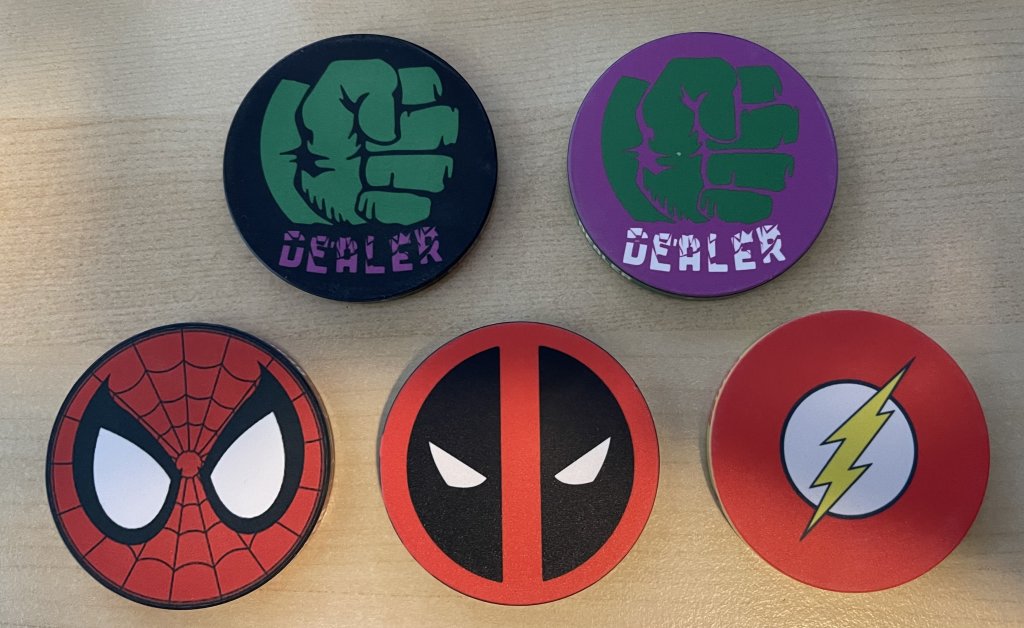 I think everyone from the original interest thread is tagged below. If I missed someone I apologize.
@johnjohn
@Ocharacato
@Marhault
@DuffCal
@BearMetal
@davislane
@72o
@Regularjohn
@gmunny
@DJ_Fett
@JRald07
@TKEUofM
@BamaT8ter
@mcguiles
@JWJ
@Pinkdan
@Vince Bustillo
@RowlettTexasChipGuy
@ChipTalker
@UnicornFlash
@bentax1978
@Pinesol13
@wolfpack
@MatB
@Goldfish
@markleteenie
@inca911
@Goldfish
@Mooneypenny
@megarises
@brewdawg
@pokerplayingpisces
@Kyle
@colter ripton
@Richard Cranium
@12thMan
@Jhoov2412
@DrDysfunctional
@pokerpig
@Sunshine
@jja412
@Cliff
@DonkeyKing
@aces
@Percy7
@Saoliver
@moose
@OfficerLovejoy
@timinater
@Solid Snake
@jpietrella